This post may contain affiliate links. Please read my disclosure.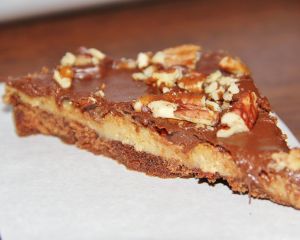 The other day, I needed a dye-free treat for my daughter to take to a birthday party. I didn't want to make a cupcake, I didn't want brownies, I wanted something different. So, my daughter and I talked about it and we came up with this recipe. It is a spin on a regular brownie, but with toffee, chocolate, and nuts. Everyone that tried them, loved them. I quickly got them out of the house and off to hubbyman's office, so that we wouldn't eat the entire batch.
Toffee Nut Brownies
1 cup butter, softened
1 cup confectioners' sugar
1 1/4 cup AP flour
1/3 cup cocoa powder
1 (14oz can) sweetened condensed milk
2 tsps vanilla extract
1 cup (1/2 bag) chocolate chips
1/2 cup chopped pecans
Preheat oven to 350. Prepare a 9×13 inch baking pan with nonstick spray. In a large mixing bowl combine butter (reserve 2 tbls for later) and sugar. Beat until light and fluffy. Add flour and cocoa powder. Mix well to combine (batter will be VERY stiff). Press into the bottom of dish with your hands (lightly flour hands, if needed). Bake for 15 minutes.
Combine reserved butter and milk in a medium saucepan of low-med heat. Continue stirring until thick about 10 minutes (watch and stir frequently to prevent it from burning on the bottom). Remove from heat and add vanilla. Pour over crust and return to oven for about 15 minutes or until milk layer is set and golden.
Remove from oven and immediately sprinkle with chocolate chips. Let sit for 1-2 minutes (or put back into oven for 30 seconds) to allow the chips to melt. Spread the melted chips (the chips change color when they are melted, but don't change shape until you spread them). Top with nuts. Store covered at room temperature.