This post may contain affiliate links. Please read my disclosure.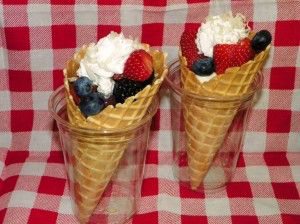 My kids are always begging for dessert. And I don't like giving it to them more than once a week or so. Sometimes, I am able to talk them into a piece of fruit for dessert…but not often.
I figured, if I could make the fruit look fun, then they might just buy it for dessert. It's not 100% healthy, but it's way better than most typical desserts.
Plus you could easily turn this into a fun breakfast fruit parfait too!
Fruit Parfaits
4 waffle cones
4 clear plastic cups
2 cups of mixed berries, washed and drained
1/2 cup vanilla ice cream
whipped cream
coconut
Wash and dry berries, cutting into bite sized pieces. Place a waffle cone into each cup. Spoon in 1/8 cup of vanilla ice cream in the bottom of each cone, top with 1/2 cup berries, whipped cream, and coconut. EAT!
For breakfast: replace ice cream with vanilla yogurt. The addition of nuts would add some nice protein for breakfast.