This post may contain affiliate links. Please read my disclosure.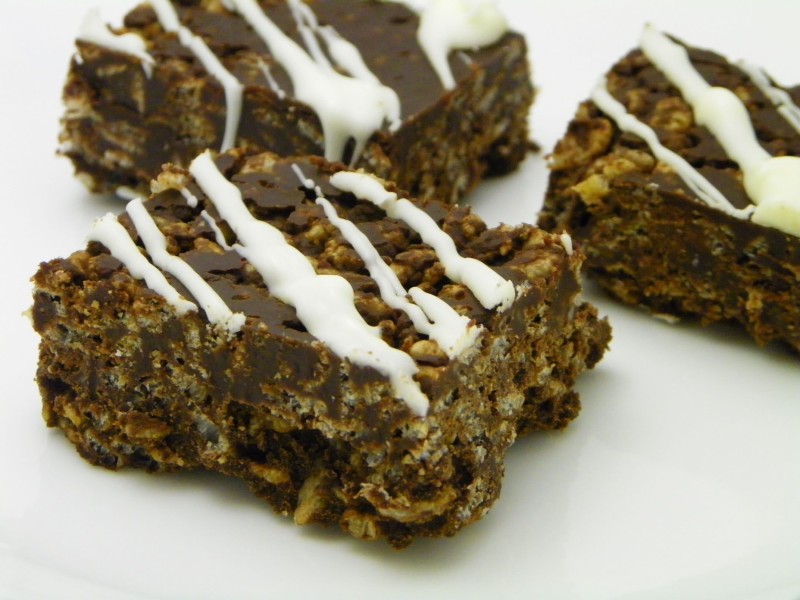 I know it's the middle of May, but I really wanted some chocolate fudge. I also had some Rice Krispies in the cabinet, so I figured I would combine the two. We had a block party to attend last night, so it was the perfect time to make these. I could eat one or two and then share the rest (so that I wouldn't eat the whole pan).
These treats don't use marshmallows, so save them for another batch of your favorite treats.
Chocolate Rice Krispies Treats
2 cups dark chocolate chips (1 12oz bag)
1/2 cup butter
1/2 cup granulated sugar
2 tsp water
2 tsp vanilla extract
1 cup confectioners sugar
4 cups Rice Krispies cereal
Combine chocolate, butter, granulated sugar, and water in a large sauce pan. Stir over medium heat until everything is melted, well combined, and smooth. Remove from heat and stir in vanilla and confectioners sugar until combined. Gently add in the Rice Krispies. Continue stirring until cereal is evenly coated. Spread into a 9×13 pan. Chill for several hours. Cut into 1 inch squares.
Opt: Drizzle with melted white chocolate.
Join me on my quest as I discover the most delicious rice krispies treat recipe on the planet!