This post may contain affiliate links. Please read my disclosure.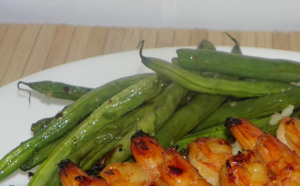 When I was at the store this week, I saw the best looking green beans. I honestly didn't care how much they were, I knew a bag-full would find it's way into our shopping cart.
This weekend were the first 100 degree days of the season, so we were grilling out. I really had no desire to heat up the kitchen even to steam my beans. I figured it couldn't hurt to try them on the grill. Afterall, we grill all other sorts of veggies, but we had never done green beans. It was a huge hit. My picky 6yo daughter even asked for seconds–bypassing the meat on her plate.
Grilled Green Beans
1 lb fresh green beans
1 tbls garlic olive oil
1 tbls coarse kosher salt
1 tsp minced garlic (~2 cloves)
1/4 tsp crushed red pepper flakes
Wash green beans and snap off stem end. Place them in a grilling basket
set over a large platter. Drizzle with oil and then sprinkle on remaining ingredients. Toss to coat (I've been known to scoop up the oil/spices that drip on the platter and put them back on the veggies).
On a low heat grill, place basket directly over the fire. Stir every 3-5 minutes until cooked (about 15 minutes). When done, remove grill basket from heat and place on the platter (to catch any drippings).