This post may contain affiliate links. Please read my disclosure.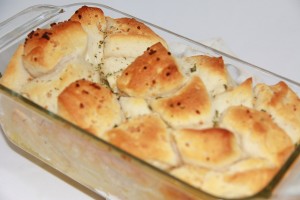 I came up with these one night when I didn't have anything else to go with a soup that I had thrown together. It's a spin off from one of my family's favorite holiday breakfasts, Monkey Bread. They were super easy to make, since I took the convenience of canned biscuits that hubbyman had picked up earlier in the week.
They are super buttery and the garlic flavor is a nice addition to plain biscuits. Everyone, but my 2yo, loved them! There wasn't any left…which is not a good thing! That means 3 of us ate an entire can of biscuits.
Garlic Pull-Apart Rolls
1 stick of butter, melted
4 cloves of garlic, finely minced or grated
1 16oz can of refridgerator biscuits
Preheat oven to 350 degrees and prepare loaf pan with nonstick cooking spray. Meanwhile, cut each biscuit in quarters. Place cut biscuit pieces in loaf pan. Combine melted butter and garlic. Pour over biscuits.
Cook in oven 30-45 minutes or until biscuits are done. Remove from oven and let cool slightly, before turning out the pan onto a plate. Serve warm.