This post may contain affiliate links. Please read my disclosure.
It's so nice to be back here on AMFT. Thank you Wendy, for having me over to visit again. For those of you who don't already know me, I'm Christine from Cook the Story where it's all about the story (except when it's about the food!). Today I'm sharing a summer drink that I can't get enough of, both because of its beautiful color and because of its refreshing ingredients. This is a gin cocktail made with sweet tea and pomegranate juice. It's my fave summer cocktail and I know you'll love it too.
Growing up, we'd often pack some overnight bags, sling them into the trunk and hit the highway for a family getaway weekend south of the border. We lived in Winnipeg, Canada so our southerly destination was none other than North Dakota.
On these trips, we'd inevitably find ourselves sitting at a restaurant ordering our favorite drink: Iced Tea!
We'd order it. Take a sip. And then we'd remember.
Oh yeah, iced tea in the states is gross!
You see, the iced tea we drank at home was made by mixing a brown sugary powder with cold water. It tasted a bit of lemon. And of sugar. But not at all of tea.
So when we'd take a gulp of that that real, unsweetened tea-tasting tea, we'd gag. And then we'd start pouring in sugar from the white packets on the table hoping to salvage our chosen drinks.
I've lived in Florida for 4 years now. I have acclimatized to the weather to the point where I enjoy sitting outside on a July evening, or even, heaven forbid, going for a run in the late afternoon sun.
And I've acclimatized to the tea. I now love iced tea, both the sweet and the unsweet varieties.
I love sweet tea so much that I not only drink it as an afternoon pick-me-up but it has become one of my favorite cocktail mixers. A few months ago I was all over a Bourbon and Sweet Tea with Blood Orange Juice.
Now, my new fave is a perfect pre-BBQ sipper: A gin cocktail made with sweet tea and pomegranate juice.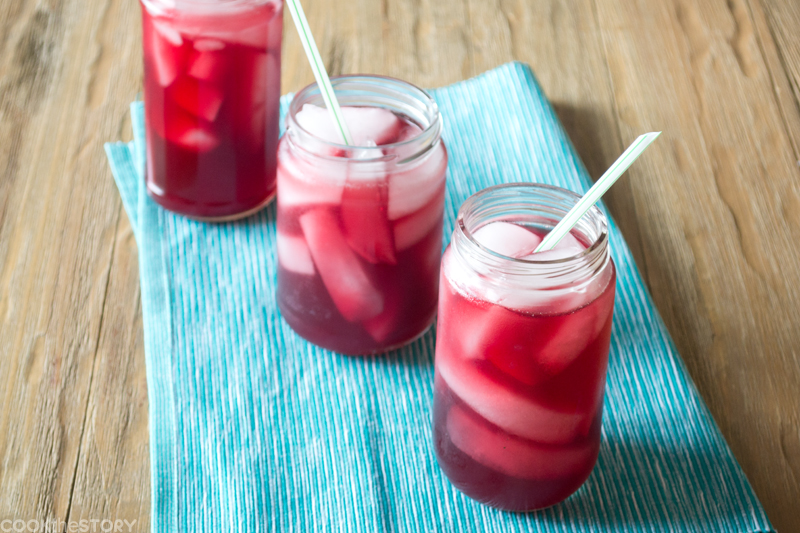 Recipe:
A Gin Cocktail with Sweet Tea and Pomegranate Juice
I love to serve summer cocktails in jam jars. I love using jam jars for drinks so much that I often choose which jam I buy based on the jar it comes in. The ones I've used here are 15.25 ounce jars which I find hold the perfect amount of ice and cold cocktail for a relaxed pre-BBQ drink hour. Note that the bitters really make this drink sing. Please don't leave them out. They're easy to find in any liquor store are aren't expensive. They even sell them at my grocery store in the wine section!
1 and 1/2 cups hot strong tea
1 tbsp honey
ice
16 oz (2 cups)pomegranate juice
6 oz (3/4 cup) gin
6 big drops of angostura bitters
1) In a heat-safe pitcher or large mixing bowl, combine the hot tea with the honey. Add 1 cup of ice and stir. Add the pomegranate juice, gin and bitters. Stir again.
2) Fill 6 15.25 ounce jam jars with ice. Divide the gin cocktail between them. Admire the pretty color and then sink into the deliciously refreshing taste.