This post may contain affiliate links. Please read my disclosure.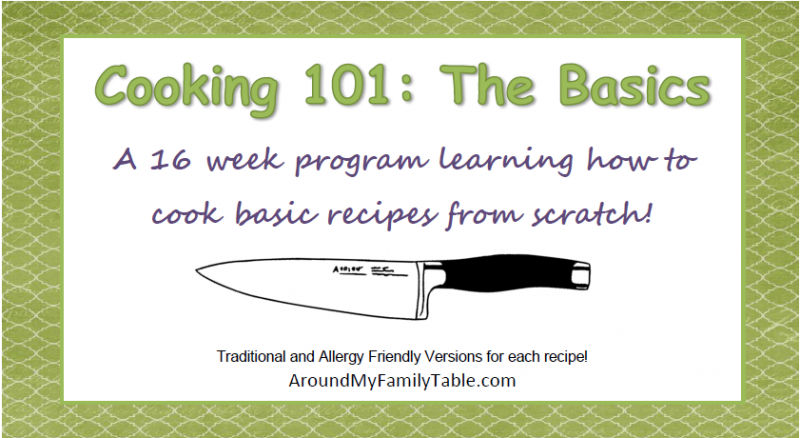 How To Sign Up:
If you'd like to join the cooking classes challenge, sign up by joining the Cooking 101: The Basics group on Facebook. Over there you can ask questions, post tips and recipe photos, and help each other along the way.
Please Grab a Button:
If you are following along, the please grab a class button. Put it on your sidebar and/or in your recipe posts you link up (just link it to my home page). I'd love for you to share the classes with your family, friends, on Facebook, and on Twitter!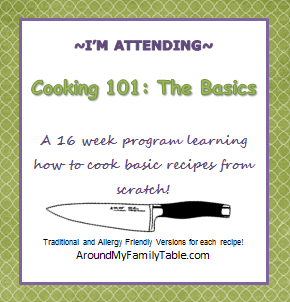 How the Classes and Challenge Work:
Cooking 101: The Basics is a 16 week class on Wednesdays. I will post a new recipe with tips on getting great results along with pictures. It's like your own personal online cooking school! Take as long as you need, but once you make the recipe (or a similar version) come back and add your link to the post to share with everyone. No blog…no worries…add your pictures to the Facebook group, we'd all love to see them!
Got questions? Email, leave a comment, but the best place will be the facebook group!
Grab your aprons and let's get cooking!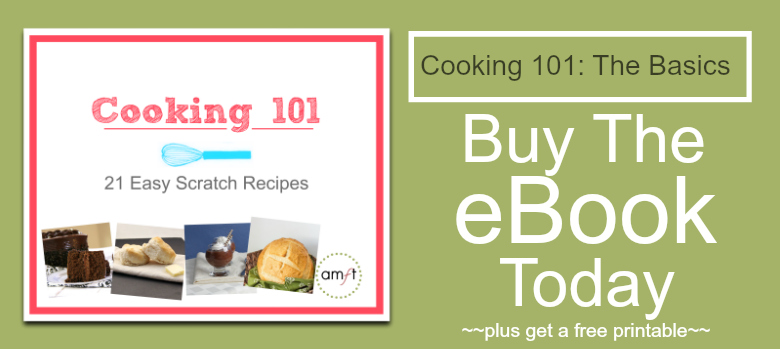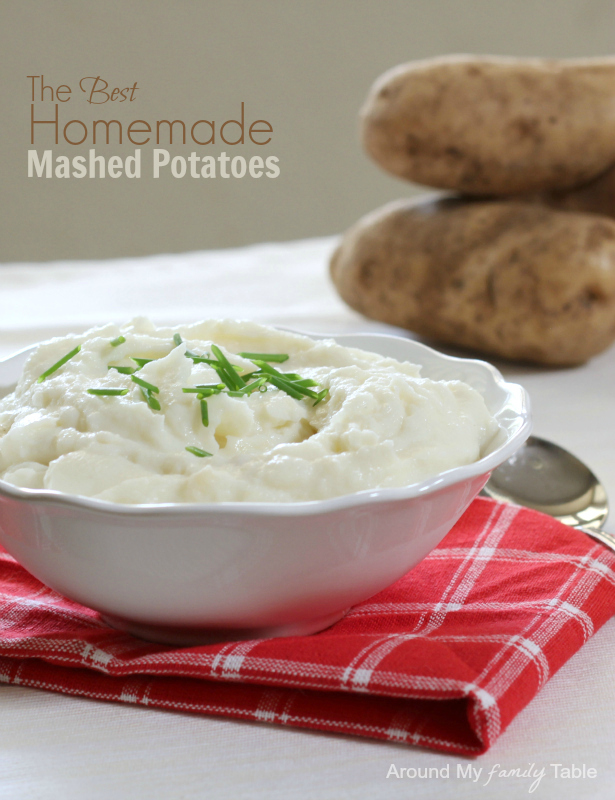 WEEK #9 – MASHED POTATOES
I grew up with mashed potatoes from a box. Hubbyman grew up with homemade mashed potatoes from scratch. So, of course this was a source of many newlywed arguments. He thought my box potatoes were gross and I thought scratch potatoes would be too hard and time consuming.
I'm happy to announce that we came to a happy agreement and just celebrated 15 years of marriage…a mashed potatoes from scratch marriage. Yep, Hubbyman won this battle and I'm so glad he did. Once I made my first batch of homemade mashed potatoes, I never looked back. There is no way you'd catch me buying a box of potato flakes.
I know they seem easy, but I can make homemade mashed potatoes in the same amount of time as it takes to whip up some potato flakes. No joke. I can have them on the table in under 20 minutes if I use my pressure cooker and under 40 mins if I use a regular ol' pot.
I was worried that I wouldn't be able to have mashed potatoes after being diagnosed with my dairy allergy, but I'm so excited that they taste just as good with some dairy free alternatives…my kids had no idea that I switched things up on them. However, I find that simple is the way to go with mashed potatoes…I know people get super fancy with all their ingredients, but I really like to have the potato shine!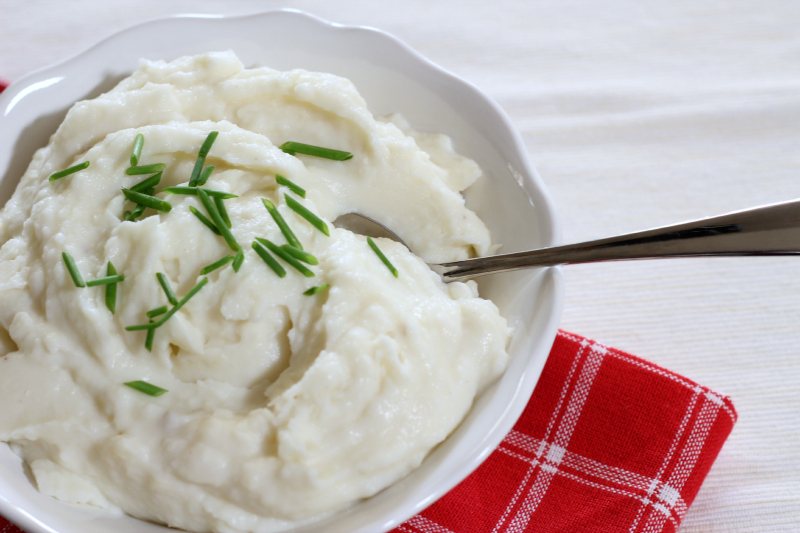 I've read that you should only use a certain type of potato for mashed potatoes and other potatoes for fries or baking, but honestly….I just use whatever is on sale that week. I've never had a problem with my mashed potatoes using Russet potatoes. However, they will get gummy if they are over beaten.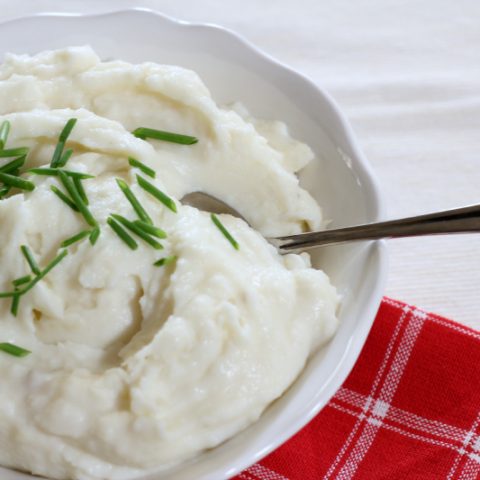 The Best Homemade Mashed Potatoes
Nothing beats the taste of creamy homemade mashed potatoes. Follow these tips to make sure that you don't end up with gummy or dried out potatoes.
Ingredients
2 1/2 lbs potatoes, cut into 8 chunks per potato (skins removed if desired)
4 tbsp butter (see notes for dairy-free version)
1/2-1 cup milk (unflavored rice or soy milk or whole milk)
1 tbls garlic powder
salt & pepper, to taste
Instructions
Add cut potatoes to a large stock pot filled with water (at least several inches above the potatoes). Bring to a boil over high heat and cook until fork tender (about 20 minutes). Test for doneness by inserting a fork into one of the larger pieces of potato (there should be no resistance).
When potatoes are fork tender, drain potatoes in a colander then return to the hot pot. Add butter and 1/2 cup of milk, garlic, salt, and pepper. Begin mashing with a potato masher. Mash to desired creaminess. If a super creamy mashed potato is desired, use a hand held mixer to finish the potatoes but do not over beat them or the potatoes will become gummy.. Add more milk as needed to reach desired consistency.
Taste for seasoning and adjust salt, pepper, and garlic if needed.
© Around My Family Table
Notes
For dairy-free mashed potatoes, use vegan butter (I use Earth balance) and unflavored rice milk, soy milk, or nut milk of your choice)
Nutrition Information:
Yield:

8
Serving Size:

1
Amount Per Serving:
Calories:

391
Total Fat:

7g
Saturated Fat:

4g
Trans Fat:

0g
Unsaturated Fat:

2g
Cholesterol:

17mg
Sodium:

137mg
Carbohydrates:

74g
Fiber:

7g
Sugar:

4g
Protein:

10g
{Last week: Pizza Dough Next Week: Sugar Cookies}