This post may contain affiliate links. Please read my disclosure.
Even though Granny doesn't cook much anymore, she has left us all with an entire cookbook of yummy recipes. One of her favorite desserts is this pear bread.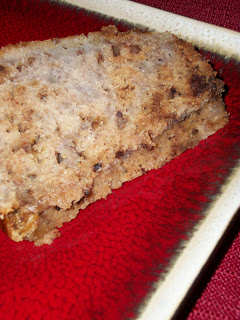 My cousin, Cheryll, invited all of us over to her house for supper while we were in Texas. She made lasagna and Granny's Fresh Pear Cake for dessert. It was so moist and full of flavor. Granny swore it didn't need a glaze or frosting…I was a bit skeptical, but after my first bite I was sold! No glaze needed!!!
Granny's Fresh Pear Cake
4 cups grated fresh pears (that have been pealed and cored)
2 cups sugar
1 cup chopped pecans
1 cup vegetable oil
1 tsp vanilla
2 large eggs, beaten
3 cups flour
2 tsps baking soda
1/2 tsp salt
1/2 tsp cinnamon
Combine pears, sugar, and pecans. Set aside for 1 hour to accumulate juice.
Preheat oven to 350 degrees. Grease and flour a large bundt pan
.
Stir into the pear mixture, the oil, vanilla, and eggs. Stir well by hand. Add the dry ingredients which have been sifted together. Stir well. Pour batter into prepared pan. Bake for 1 hour and 15 minutes or until brown and tests done.
This cake needs no frosting and freezes well.
Can be baked in 2 small bundt pans
. Reduce baking time to 50 minutes or until tests done.