This post may contain affiliate links. Please read my disclosure.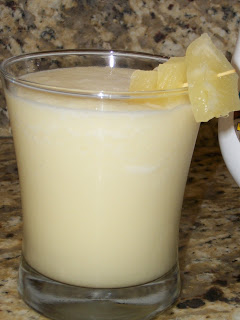 This is one of my daughter's favorite drinks. She loves it as an after school snack. It's funny to hear a 6yo ask for a pina colada, but it doesn't have any alcohol.
I don't usually point out what brands I use, but I thought this one might be tricky for the cream of coconut I find it in the alcohol section of my grocery on the bottom shelf, near all the other mix in flavors. I'm sure there are plenty of other brands out there, but this is the one that we have.
Pina Colada
1 1/2 cups pineapple juice
1/2 cup cream of coconut
2-3 cups ice
Combine all ingredients in a blender. Blend on high and continuing adding ice until you reach your desired thickness. Top with a swirl of whipped cream and cherry for an extra special treat.
Yes, you can add your own rum of choice…that would be delicious.
Yield: enough for one Mommy and two little ones for an after school snack
Tip: I find that one large can of pineapple juice and one bottle of cream of coconut go together. No need for the expensive tiny cans of pineapple juice. You will likely use them up at the same rate in this recipe (make sense….by the time the juice runs out, you will be out of coconut).