This post may contain affiliate links. Please read my disclosure.

This Green Chile Pulled Pork is a party favorite. Only a few simple ingredients and a lot of slow and low cooking makes this pork a crowd pleaser.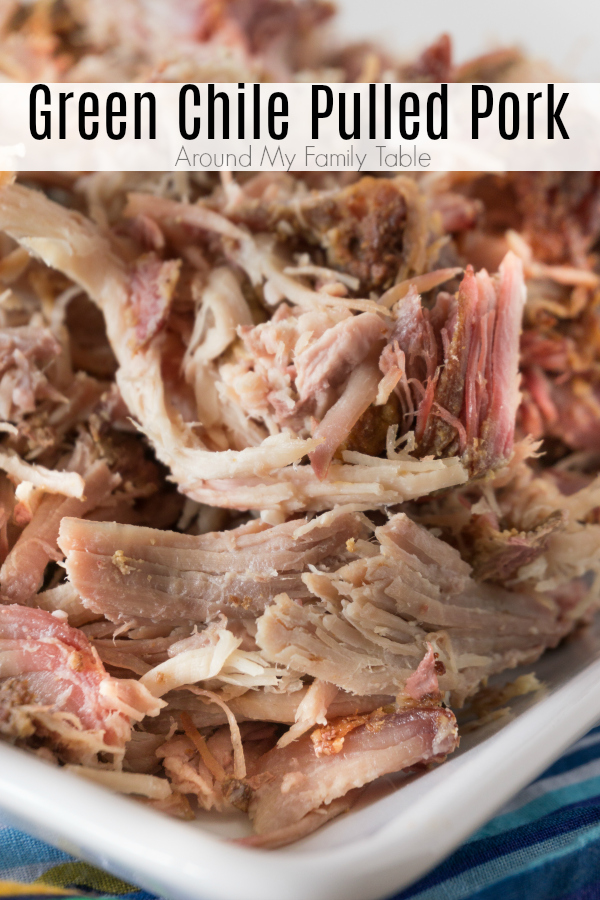 Green Chile Pulled Pork
One of our favorite micro breweries here in Arizona has green chile pulled pork slider on their appetizer menu and it is scrumptious. They are so delicious that I often order the appetizer for my meal and enjoy every last bite!
After ordering them for about the 1oth time, I knew I had to recreate this simple sandwich at home. Luckily, I love a good smoked pork butt and enjoy slow cooking in my smoker (but I know you can totally make these without the smoker too…you just won't get that hint of smoky goodness).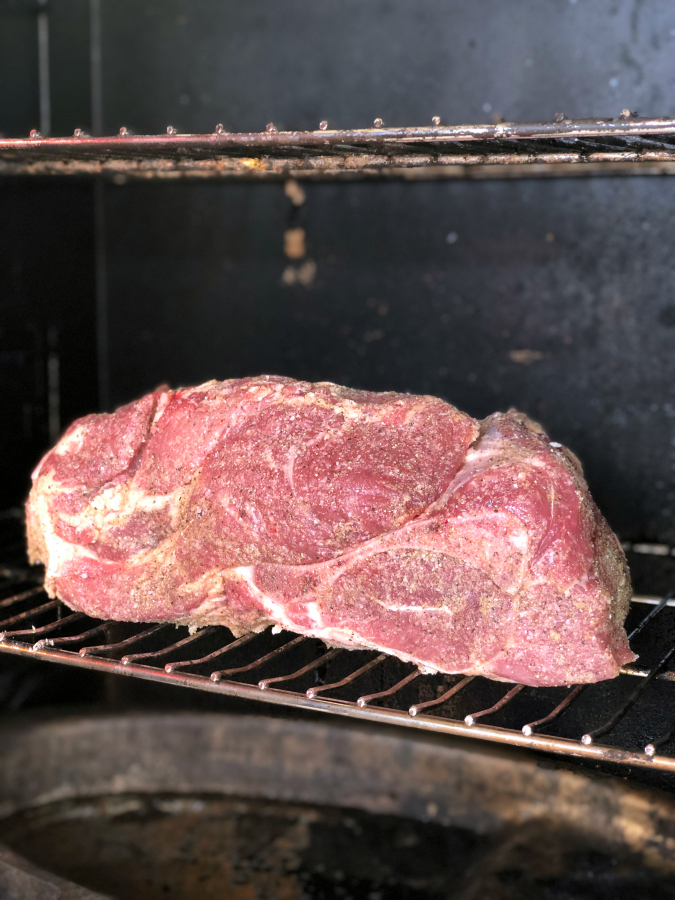 What's the Difference Between Pork Butt and Pork Shoulder
Pork butts and pork shoulders come from the same part of the pig. The should is just right around the actual foreleg shoulder and the butt is directly above it (the pork butt does not come from the actual butt of the pig).
They are used interchangeably in most recipes as they are both tough and fatty cuts and need to be cooked low and slow. However, I prefer the pork butt if I have the option. Once you start cooking with both you'll probably decide on a favorite, but both work.
How to Smoke a Pork Butt
I've found a good rule of thumb is to smoke a pork butt at 225F for about 1 1/2 hours per pound of meat. Add wood chips every half hour for about 6 hours. Then remove the pork, wrap it in heavy duty foil and put it back in the smoker (no more wood is needed) and let it keep cooking for 4-6 more hours until it shreds easily with a fork.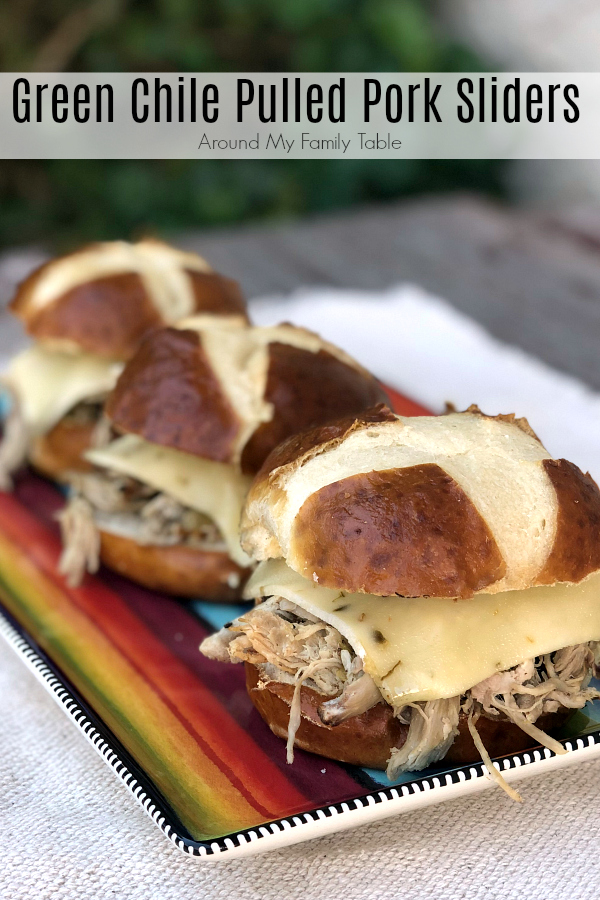 Best Wood For Smoking a Pork Butt
The best woods for smoking a pork butt (or pork shoulder) are Apple, Cherry, Maple, and Pecan. Although one of my favorites is an equal part Oak and Pecan. It's delicious!
What Temp is Pork Butt Done
Technically, pork is done around 180F (for slicing) and 205F (for pulling); however, just because the pork butt reaches that temperature it does not mean it is "ready". It really does take 10-12 hours to get the pork butt to the perfect doneness.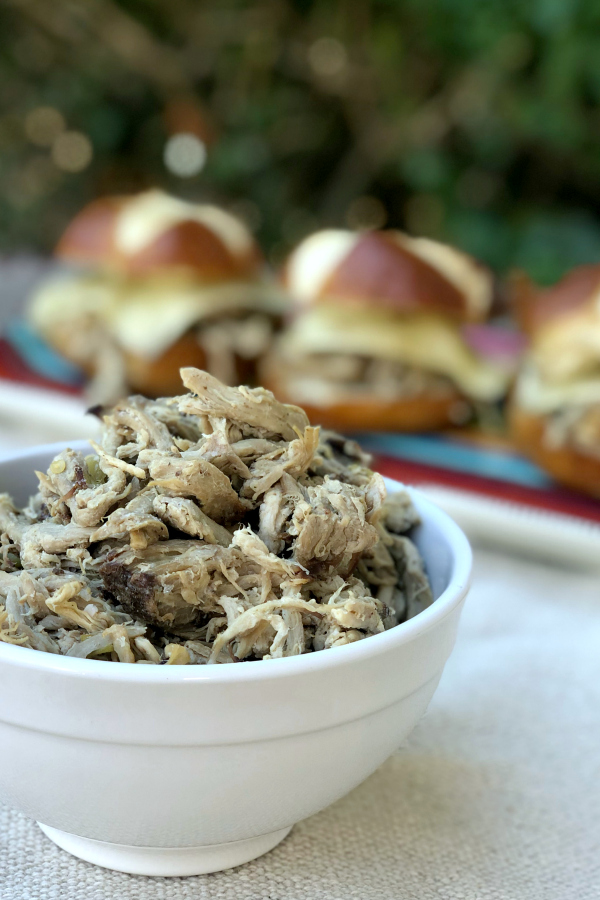 At 200F is when the connective tissue begins to break down, which is what makes pork fall-apart tender. Before it reaches this point, the meat will be cooked through, but will be tough and won't shred. That extra time makes all the difference in the world!
How to shred a Pork Shoulder
Over the years, I've used all sorts of tools to shred my smoked pork. I've tried forks, pork claws, having my husband do it, but the EASIEST way is to use a Kitchen Aide mixer (or another heavy duty mixer like a Bosch).
WARNING: The meat has to be hot and fully cooked. If it's not, then you will ruin your mixer. The mixer needs to be a heavy duty one otherwise you could burn out your motor.

Break off big chunks of meat and fill the mixer bowl about half full and starting on low speed with the paddle or bread hook attachment shred the pork. It will take a minute or two and as it starts to break up the meat turn the speed up slowly. I promise this is the easiest and fastest method to shred pork or chicken or whatever.
If you don't have a good mixer and want to try this method, try using less meat (fill 1/4 full) and going on the lowest speed possible to test it.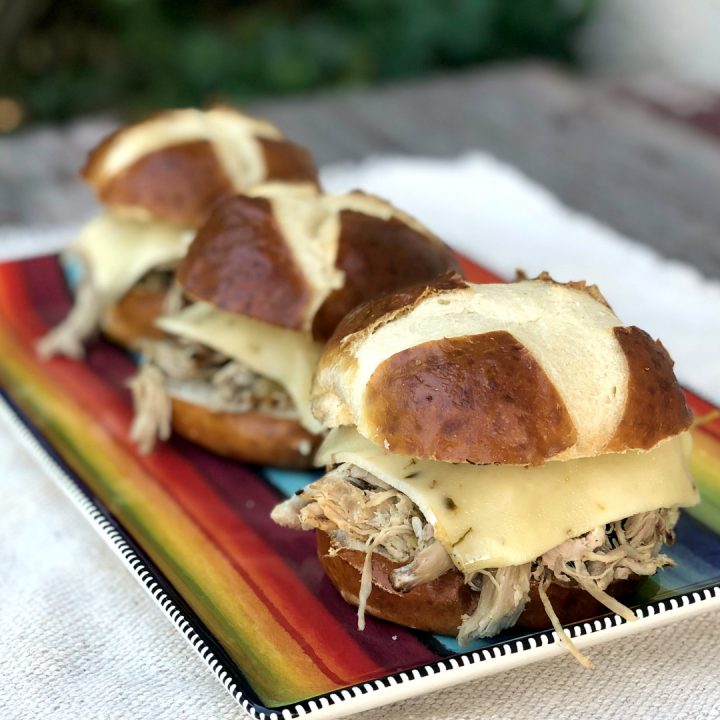 Green Chile Pulled Pork
Total Time:
12 hours
30 minutes
This Green Chile Pulled Pork is a party favorite.  Only a few simple ingredients and a lot of slow and low cooking makes this pork a crowd pleaser. 
Ingredients
4 tablespoons coarse Kosher salt
2 tablespoons garlic powder
2/3 tablespoon freshly ground coarse black pepper
9-10 pound pork butt (or pork shoulder)
4 (4.5 oz each) cans chopped green chiles
For Sandwiches: pretzel buns and pepper jack cheese
Instructions
Prepare the smoker's water pan according to the manufacturer's instructions and preheat
the smoker to 230°F. While it heats, fill a medium bowl with water and add 3 or 4 handfuls of wood chips to soak. Soak an equal amount of pecan and oak chips
together.

Remove the pork butt or shoulder from its packaging and trim off any large pieces of fat. Pat dry and set aside. Combine salt, black pepper, and garlic powder in a small bowl and apply liberally to prepared pork butt (you may not use all rub).

Place the pork in the smoker and add a small handful of the soaked wood chips to the chip loading area. Add more chips at least every 30 minutes.

After 6 hours of smoking, remove pork from smoker and wrap in heavy duty tin foil. Return to the smoker for an additional 4–6 hours. Do not add any more wood chips after the pork is wrapped. The pork is done when it shreds easily with two forks.

While shredding the pork, add in the cans of green chiles and mix well.

To serve as sandwiches: put meat on pretzel buns and top with a slice of pepper jack cheese. Makes about 30 sandwiches.




Notes
To cook in the oven: Cover the pork with aluminum foil, sealing the edges of the pan. Cook for 3 hours at 325F. Remove foil and carefully pour off liquid in bottom of baking sheet. Return pork to oven and cook, uncovered, until well browned, tender, and internal temperature registers 205F, about 1½ hours. Transfer pork to serving dish, tent loosely with foil and let rest for 20 minutes.
To cook in a slow cooker: Cover with a lid and cook on low for about 8 hours, until it reaches an internal temperature of 190F. When the pork is done cooking, remove it to a board, and let cool for 15-20 minutes before shredding.
Nutrition Information:
Yield:

30
Serving Size:

1
Amount Per Serving:
Calories:

419
Total Fat:

29g
Saturated Fat:

11g
Trans Fat:

0g
Unsaturated Fat:

15g
Cholesterol:

132mg
Sodium:

1093mg
Carbohydrates:

2g
Fiber:

0g
Sugar:

0g
Protein:

35g