This post may contain affiliate links. Please read my disclosure.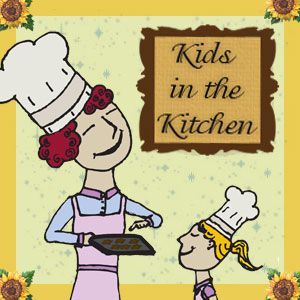 Every summer, I make a ton of jam so that we have a healthier, all fruit version jelly/jam all year long. Since my family's favorites tend to be berries, I make it in the summer. However, if your family is fond of more wintery fruits, make yours when the fruit is at it's peak. I make pear and pumpkin butter in fall and jam in the early summer!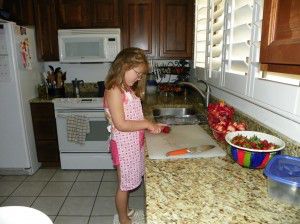 I decided that it was time to start teaching my daughter how to can and what better way than with her favorite Strawberry Jam. My daughter is 6 now (almost 7), but I did this with her last year when she was only 5. Let me tell you that she had a blast and I even took a break while she worked in the kitchen. So, if a 5 year old can do this, so can you!
There is some talk that the non-water bath (ie. flipping the jars upside down) method isn't safe. Well, I've been doing it for years…my mom has done it even longer, and I think this is the same method my Granny has used. If you are worried, then process in a water bath. Use your judgement and make a decision that works for your family.
See my Easy Canned Fruit and Pumpkin Butter recipes for more canning ideas.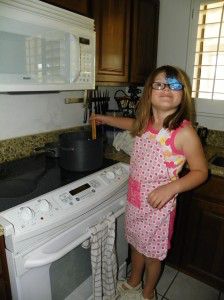 Easy Fruit Jam
Equipment Needed (these can be used except the sealing lids which must be new):
quart-sized canning jars (wide mouth are best)
rings and sealing lids
large pot for water bath
jar lifter
funnel
tongs
dry cloth
pot holders
spoons and ladle
magnet on a stick
butter knife
Easy Canned Fruit
-strawberries or other ripe berries
-sugar
-water
-pectin (I like the low sugar variety…it's still a ton of sugar, trust me)
**There are no amounts listed. It will take a lot of fruit (~4 pt of Strawberries). It's better to have too much than too little. I always prepare more jars than I think I will need…a good amount to start with 6 quart jars and a couple pint jars as you should get about 8 cups of jam.
The pectin box has the amounts listed for various types of fruit in the instructions. I use this as my guide, but I will walk you through it here as well.

1. Fill your large canning pot 2/3 full with water and let it come to a boil while you work on everything else.
2. Prepare your jars and rings. I find it easiest to wash them in the dishwasher using the hottest setting. Others like to boil the jars and rings. You need them hot and sanitized while working with them.
3. Prepare your fruit. Wash and remove the greens and any blemishes from the fruit. Cut strawberries in halves or quarters other smaller berries can remain whole. Mash the fruit up a little bit. This step helps it break down faster when it's on the stove.
4. Place a small pot on the stove, put in your sealing lids, and bring to a low boil. Leave them here while working.
5. Work quickly from here on out! Follow the instructions in your pectin package. Basically you will combine the strawberries and sugar in a large pot. Bring to a boil and add the pectin…follow your pectin box for specifics.
6. Ladle hot strawberry/pectin mixture into jars, leaving a 1/4 inch open space at the top. Wipe ridges of jar clean. Use a butter knife to gently work out any air bubbles.
7. Use magnet stick to get a sealing lid from boiling water, place on jar. Screw on ring.
8. When all the jars are ready, place them in the large water bath using the can lifter or wire rack. (Note: one method is to turn the jars upside down for about 30 minutes and then flip upright. The jars will seal as they cool.)
9. Make sure the water completely covers the jars. Process for 5-10 minutes in boiling water (start timer after water has returned to a boil).
10. Remove from water bath using jar lifter and tongs. Place on a dry towel and allow to cool. As the jars cool. you should hear the "ping" of the lids sealing and note the slight depression in the lid. Wipe clean, add a label, and store in a cool dark cabinet.
Note: If the jar looks off to you, don't eat the fruit. This includes (but not limited to): jar not sealed, leaking, cracked jar, bulging lid, etc.
We made a lot more, but my daughter decided to start giving away our jam before I got a picture.
Teachable Moments: knife safety, hygiene, why pectin works, oven safety, fruit quality, homemade vs store bought (ie ingredient list)