This post may contain affiliate links. Please read my disclosure.
I love celebrating Halloween with my kids. It's always a great time of year for dressing up, cute and spooky food ideas, and eerie decorating. Scare up some fun with these 4 spooky Halloween popsicles! They are deliciously chilling and refreshing- the perfect Halloween treat.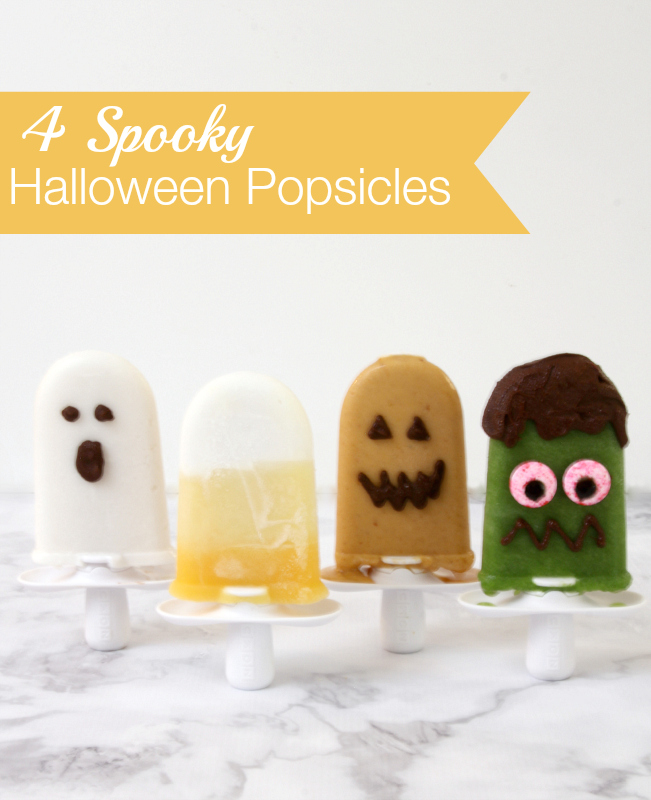 I used my Zoku quick pop maker and then embellished each one. When doing the layers, it was helpful to measure and pour with the Zoku quick pop tools. I also like the Zoku storage case if you are making batches of different flavors it comes in handy. The eyeballs for the monster can be found here for the veiny eyes or here for plain white. If you don't have the Zoku tools, you may find using a paper cup with a pinched end, or a pipette helps you pour a little easier when creating the layered look.
I love this spooky little ghost pop. He looks so cute and tastes divine with the little bits of coconut throughout. The monster below was really fun to make. Magic shell is easy to work with and the kids love eating it. I don't even think they tasted the spinach!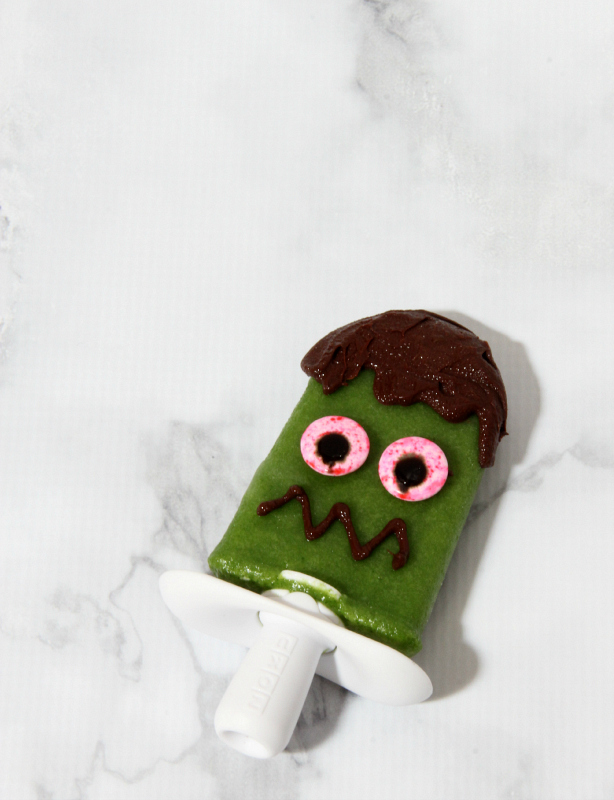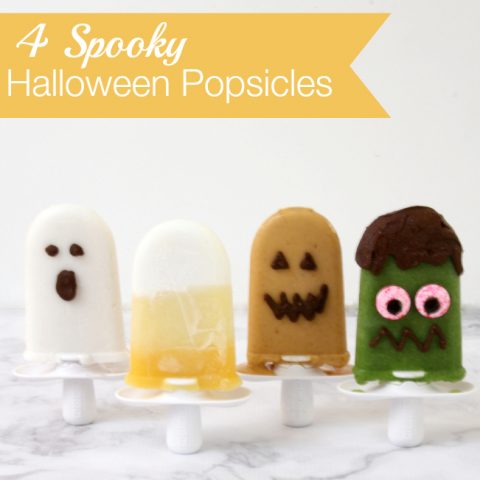 Halloween Popsicles
These Halloween popsicles are delicious and such fun Halloween treats. Let the kids help you decorate them!
Ingredients
For Ghosts:
2 cups Coconut milk
1 Tbsp Coco Rèal cream of coconut
1 Tbsp shredded coconut (if desired)
For Candy Corn:
I used my extra coconut mixture from my ghosts.
1 cup crushed pineapple or pineapple juice
1 cup orange juice
For Green Smoothie Monster:
1/2 banana
1 cup fresh spinach
1 cup crushed pineapple or pineapple juice
Chocolate Magic Shell
candy eyes
For the Pumpkin:
1/4 cup pumpkin
1 cup coconut milk
Instructions
Mix coconut milk with Coco Rèal and shredded coconut. Pour into mold for ghost pops. Decorate with magic shell. I put some magic shell into a plastic baggie, cut the top and squeezed out the features.
To create layers of the candy corn, you will start with the coconut layer, place stick in and freeze until hardened. Then continue with layer of orange juice. Finish with pineapple layer.
Blend the green smoothie monster ingredients in blender and pour into your molds and freeze. Remove frozen pops and decorate with homemade magic shell. Dip top of popsicle for hair and squiggle a mouth with the piped magic shell. The eyes were stuck on with a dab, too.
Combine pumpkin and coconut milk together and stir. Pour into molds. Decorate with magic shell.
You may need to run popsicle mold under warm water so you can remove them easily.
This recipe makes several pops, depending on the size of your popsicle molds. Enjoy!