This post may contain affiliate links. Please read my disclosure.
There's more to saving money at the grocery store than just using coupons. I'm sharing my tips for shopping for Groceries on a Budget. Keep reading to save on groceries besides cutting coupons and not shopping while hungry.
Food is typically the third biggest chunk of a household's budget, after housing and transportation. Keep your grocery dollars in check and you may find it doesn't "eat up" as much of your monthly budget. These tips will help you keep your dollars where you want them. Sometimes I think of grocery shopping on a budget as a bit of a game. Like…how much can I save this week? Can I do better than last week?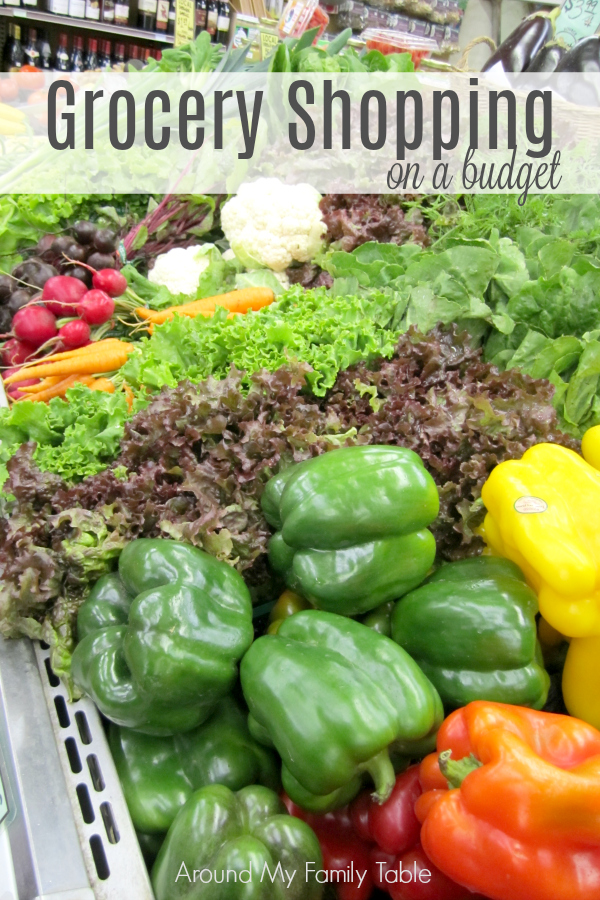 Groceries on a Budget
Even saving a little per week adds up fast- stick to it! Use cash/envelope so you don't go over. It's easy to overspend when you don't have limits set. If you budget is $400 a month for food and you get two paychecks a month, take $200 when you get paid and set it aside for groceries till the next paycheck. If your grocery bill is $205.00, put a few items back. This way you are insuring money saving habits.
Shop in Season
Do not waste your dollars on expensive out of season produce: you are just paying to have it shipped to you from farther away. While bananas, potatoes, and onions are pretty stable year round, many items will fluctuate greatly depending on the time of year.
Also look for seasonal sales on other items:
School supplies at the end of summer
Baking items during fall
Healthy items at the beginning of the year, plus holiday clearance
Frozen food items in March
Dairy and summer items in June and July
By watching the sale cycles at the store, you can learn to predict upcoming deals and save even more.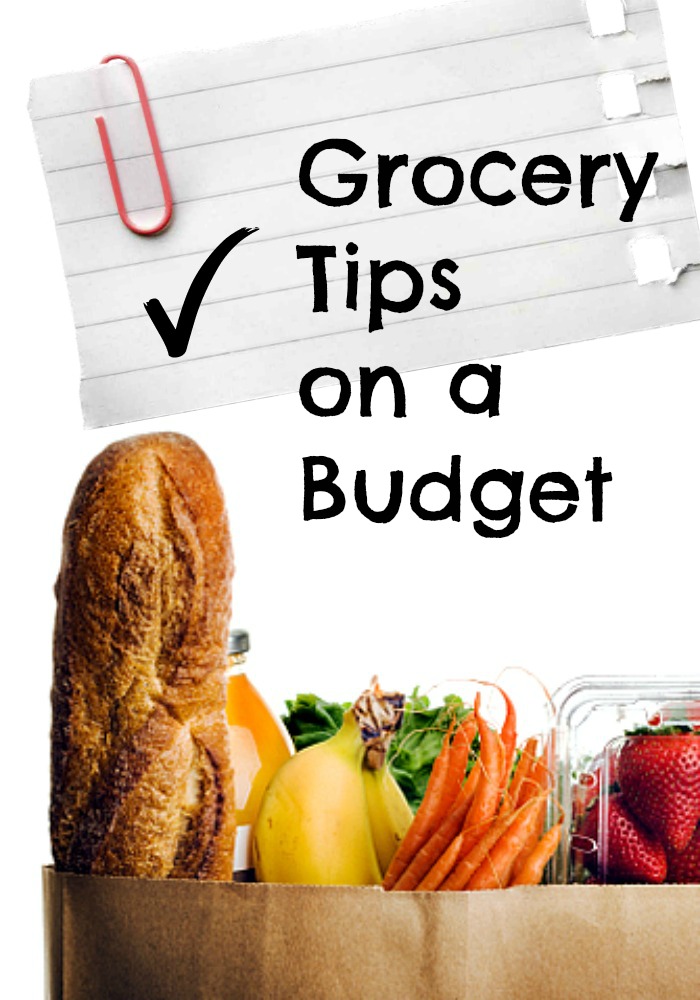 Price List
Having a price list on hand when you shop or make your list can give you a good idea if something is really a good deal or not. Grocery stores are specifically designed to sell items in an appealing way, so just because a sign reads "SALE" doesn't mean it's the best deal. Once you have a few menu plans under your belt, you can probably pick out those items that you typically get when you shop. Items like toiletries and household staples are good places to start when making your price lists.
Stock up on Sales
When you do find a great deal, you might as well stock your fridge or pantry for items that your family can use. Items that are perishable are generally not good to stock up on unless they can be used quickly or canned/frozen for later use. Say there is a great sale on tomatoes (in season) and you want to make salsa or sauce- that is a score! If you can utilize it, you are saving. Be smart and know your family so you aren't wasting instead.
Use your price list and take advantage of deals. Find a sale on facial tissue and you can buy several for your household, plus a few to donate to your child's class? Perfect!
Utilize Coupons and Store Loyalty Cards
You do not need to go crazy with 100 bottles of mustard, but using coupons and matching grocery ads is an easy way to pay less for the items you buy. Not only can you get coupons in the paper, but many coupons are now available online, through Facebook, and mobile apps. Loading paperless coupons to your store loyalty card is a pretty hassle-free way to see your grocery bill drop. Many mobile apps, like ibotta, are also available that give you cash back for uploading a receipt picture or scanning the product you've purchased. Here are a few more:
Saving Star– get cash back on items by using linked store loyalty card or scanning receipts.
Favado– compare prices and search for coupons to get the best deal
Checkout 51– Earn cash back on select items by snapping a photo of your receipt.
Cartwheel- Target specific coupons and discounts
Don't waste your time with coupons you don't see yourself using. My general rule is that if I would normally buy the item, then it is worth the effort of a coupon. If there is a great coupon for hot sauce but your family hates spicy food, then don't bother. If your kid's favorite cereal has a coupon and goes on sale then that's a great deal!
Other ways to save money on groceries & shopping:
Use your grocery store's app to download coupons with just a click. The coupons are applied at checkout automatically.
Order groceries for pick up or delivery (I love this place…join and get some free pizzas with your first order). Less impulse buys.
Sign up for this app (use code: pxwyeri when you join) and add your loyalty cards…then after you make your shopping list go on and click the cash back on any items you will be buying. It will do the rest for you. Or if you shop at a store without a loyalty card…you can go in after you shop and add your items purchased and take a pic of the receipt. Super Duper Easy!
I also just recently found this app (use my referral code to get 3,000 points when you join). Instead of cash, you earn points that you trade in for gift cards. It's so easy and no preplanning or selecting offers…just snap a pic of your receipt and it does the work for you.
Lastly, for online shopping I use this website to earn a % back on my online purchases from Amazon to hotels to clothes stores. Pretty much every store I shop at is there and I earn a % back just for clicking through their link. Plus, get a bonus $10 back after your first purchase.
It's little things like these that start to add up. They take very little effort, but if you are diligent you can stick to your budget!
Check Your Receipt
Before you leave the store, quickly scan your receipt. Oftentimes I have bought an item on sale and realized all too late that it didn't ring up correctly. Mistakes happen, but don't be afraid to point out the error before you leave the store. My husband recently checked our receipt after clothes shopping with the kids to find a $14 error. Well worth the two minutes correcting the problem.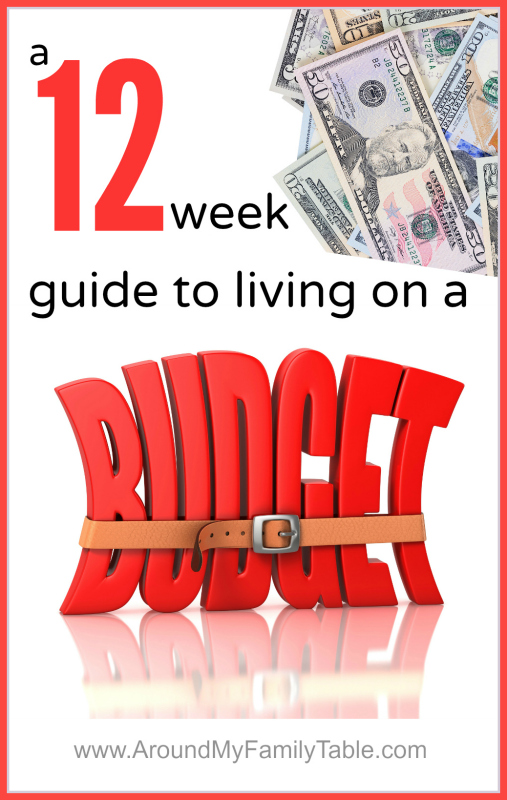 Don't forget to check out the other On a Budget posts.
Holiday Decorating on a Budget
How to Plan a Trip to Disney on a Budget
Party Favors on a Budget
Family Vacations on a Budget
31 Recipes on a Budget
Feeding a Family on a Budget
Having Fun on a Budget
Snack Ideas on a Budget
Military Living on a Budget
Cooking Healthy on a Budget
Menu Planning on a Budget
Dinner Party on a Budget