This post may contain affiliate links. Please read my disclosure.
Halloween time and the Not So Scary Party at Disney is amazing. If you can't make it, then you can celebrate at home. You won't believe how simple and easy these Homemade Disney Halloween Mickey Crispy Treats are to make. They are perfect for Disney fans, young and old.
Be sure to sign up for my email list….seasonal recipes in your inbox every week!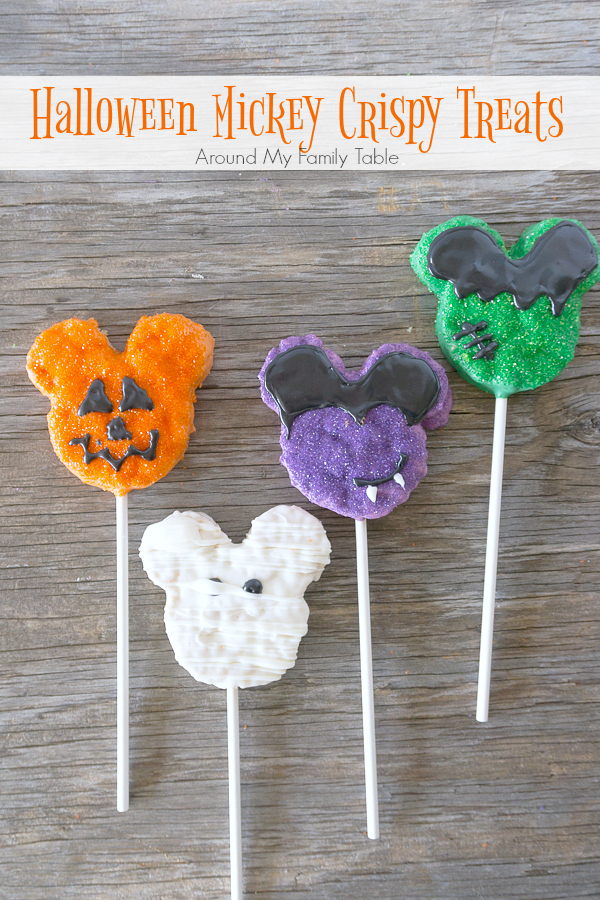 Disney Halloween Recipes
If you've ever been to Disney during Halloween Time, then you know the kids are all about all of the Disney Halloween recipes, especially the Halloween Mickey Crispy Treats! And when you can't make it to the parks, then homemade is the next best thing. You won't believe how simple and easy these Homemade Disney Halloween Mickey Crispy Treats are to make.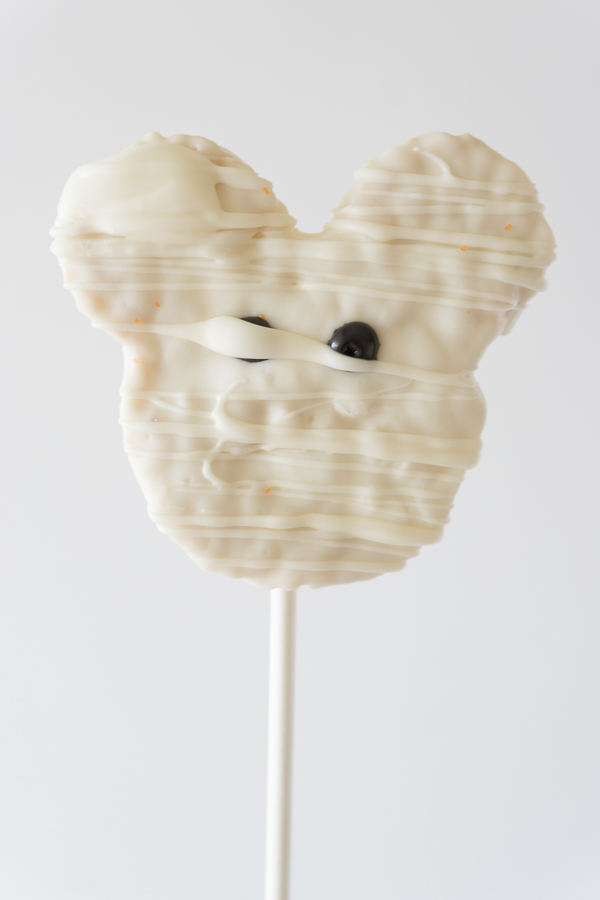 Checking out the treats at Disney are always one of our top priorities. The kids love seeing what new thing they can find on each visit. Though, I'm a creature of habit and I'm good with just a Dole Whip every time.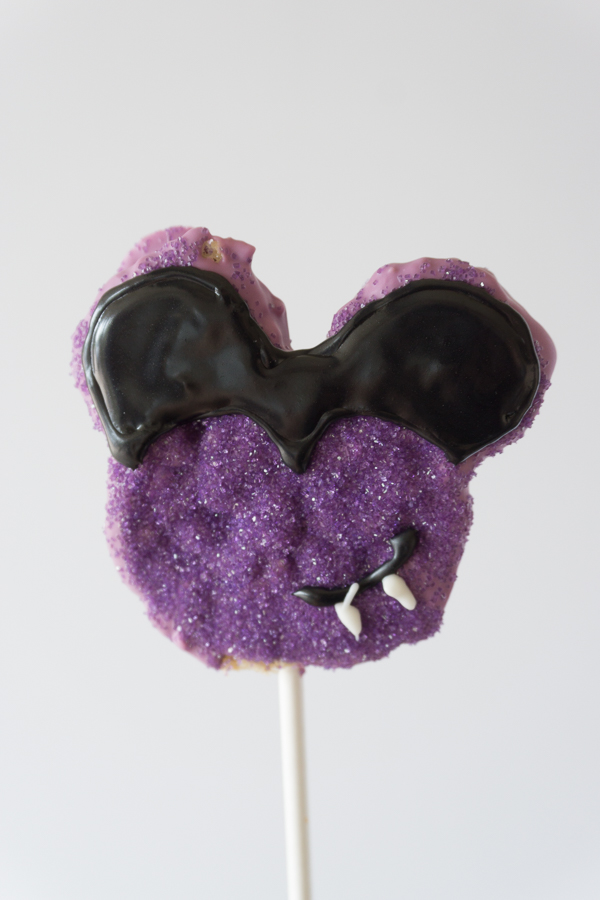 Isn't he the cutest Vampire that you ever did see???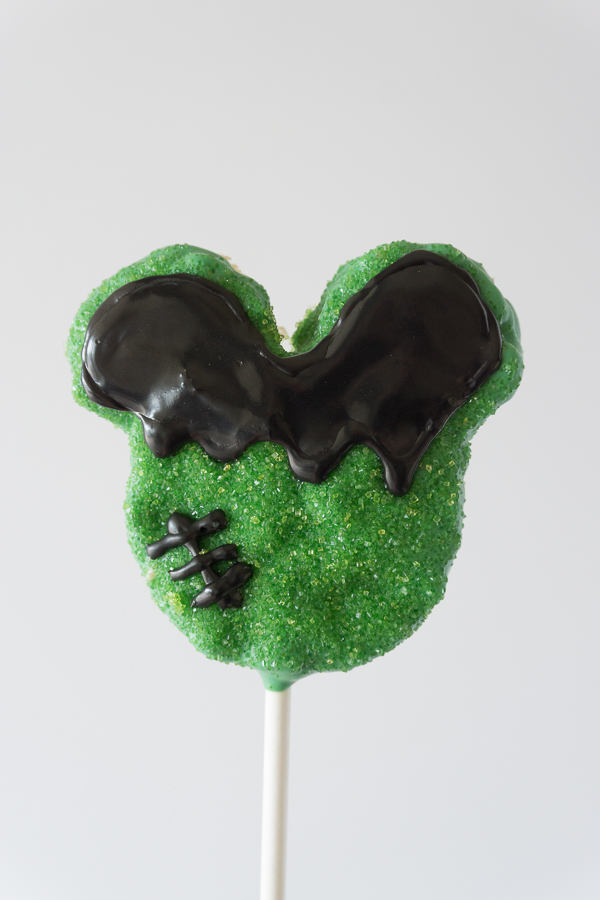 Tips for the Perfect Mickey Crispy Treats
Press the crispy treats firmly in a 13×18 rimmed baking sheet that has been lined with parchment paper. This is not the time for light and fluffy treats.
Let the treats cool for a couple hours on the counter before cutting with a cookie cutter.
After cutting the treats, use a sharp tool (ice pick or meat probe) to poke a hole in the bottom and insert the sticks. Let the treats sit out for 6-8 hours to harden. If they aren't hardened a little then it's harder to dip and decorate.
Add a tablespoon of shortening to the candy melts to thin it for easy decorating.
Use coordinating candy melts and sprinkles.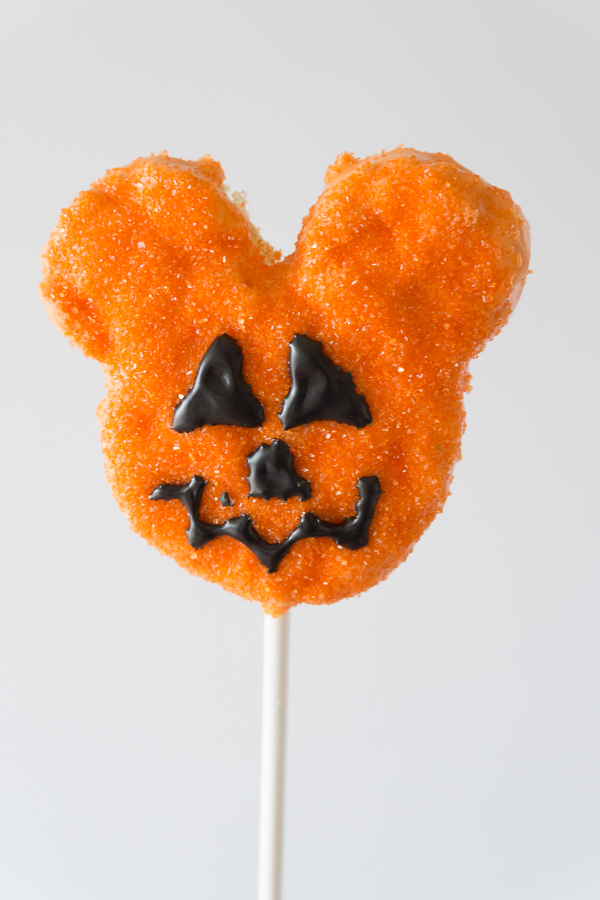 Tools & Supplies I Used & Loved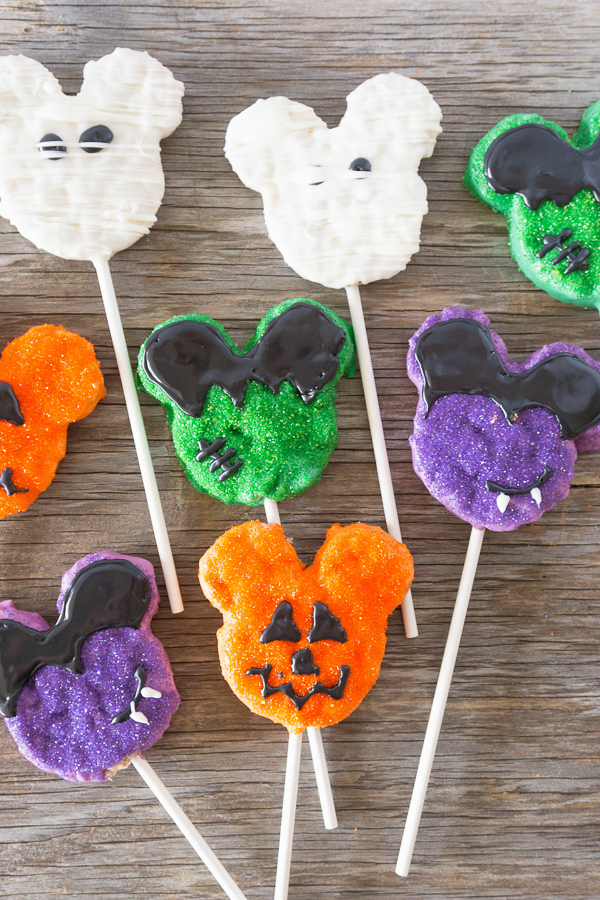 I'm not the only one who loves Southern California vacations. I got together with some awesome AZ bloggers to share our love of So Cal! Check out these super fun Disney inspired not so scary treats and crafts to get you excited about Halloween Time at Disneyland.
Disney Rice Krispie Treats Recipe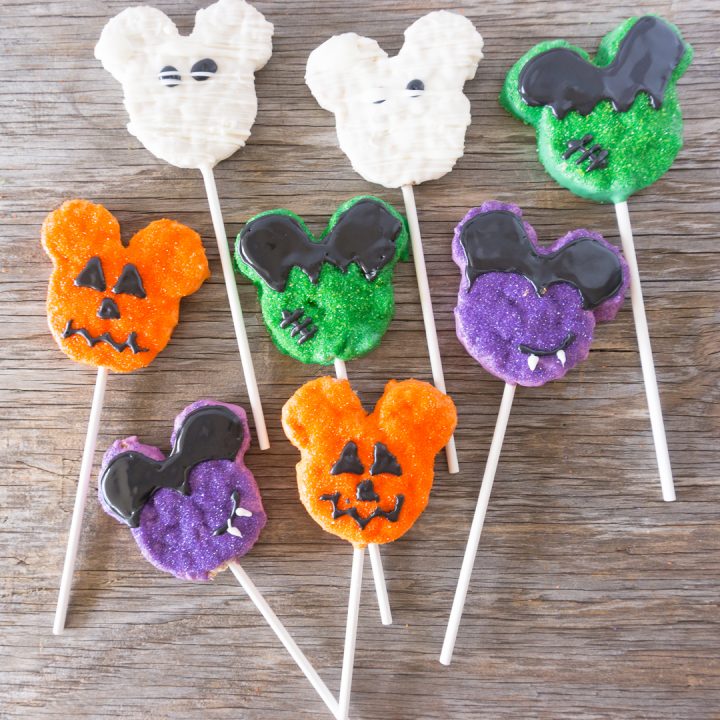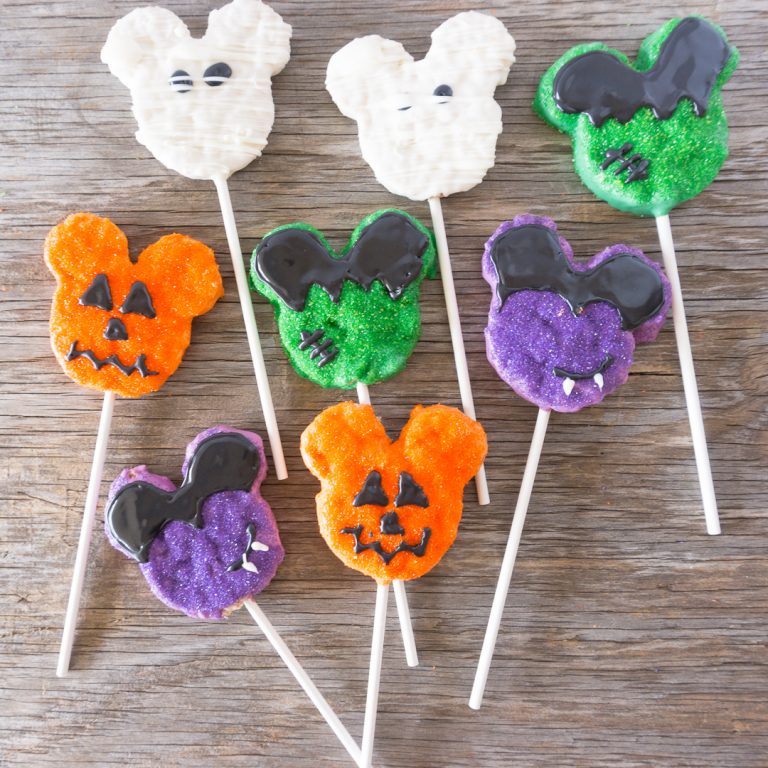 Homemade Disney Halloween Mickey Crispy Treats
Everyone's favorite rice crispy treats are decked out for a Disney Halloween.
Ingredients
6 cups Rice Krispies cereal
4 cups mini marshmallows
3 tbls butter
12 lollipop sticks
4 bags candy melts (orange, green, purple, and white)
4 tbls shortening, divided
3 small bottles of colored sugar sprinkles (orange, green, purple)
1 container Wilton black cookie frosting
Instructions
Melt butter in a medium to large pot over medium high heat. Add marshmallows and stir constantly until melted. Remove from heat and quickly stir in crispy rice cereal until it is coated in marshmallows. While mixture is cooling, prepare a 13×18 inch jelly roll pan (or 2 smaller pans) with parchment paper.
When the treats are cool enough to handle turn them out of the pot onto the jelly roll pan. Use butter or nonstick spray on your hands and press them firmly into the pan. Press it out to the edges and press down to compact the treats. Allow the treats to dry out for about an hour and then cut with Mickey cookie cutter. You should be able to get 12 Mickey head's using the cookie cutter I suggest. Separate Mickey's and insert a lollipop stick into the bottom of each Mickey head. Allow the treats to dry overnight or 12 hours before decorating. You want them to be able to hold there shape on the sticks.
After the treats have dried overnight, add half of one color of candy melts to a bowl. Melt candy melts according to package instructions and then stir in 1 tbls of shortening into each bowl. Work with one color at a time and use a spoon to drizzle candy onto the treats. Once the top and sides are fully covered, gently tap off any excess candy. Then generously sprinkle with coordinating colored sugar (the white doesn't get any sprinkles). Continue the process with each candy melt color. This will make 3 of each color. Let the candy full harden on the Mickey's and then gently shake off any excess sugar sprinkles.
Using the Black Cookie icing, decorate your Mickey's as desired. No pattern needed, just go for it. The white Mickey's just get eyeballs with the black icing and once those dry, melt a little bit more white candy melt and then drizzle over the top moving from left to right creating a wrapped mummy effect. Let all the icing dry completely before individually wrapping them.
Notes
Since the treats are already dried out a bit, they need to be eaten quickly or wrapped up so they don't dry out any more.
Nutrition Information:
Serving Size:

1
Amount Per Serving:
Calories:

0
Total Fat:

0g
Saturated Fat:

0g
Cholesterol:

0mg
Sodium:

0mg
Fiber:

0g
Sugar:

0g
Protein:

0g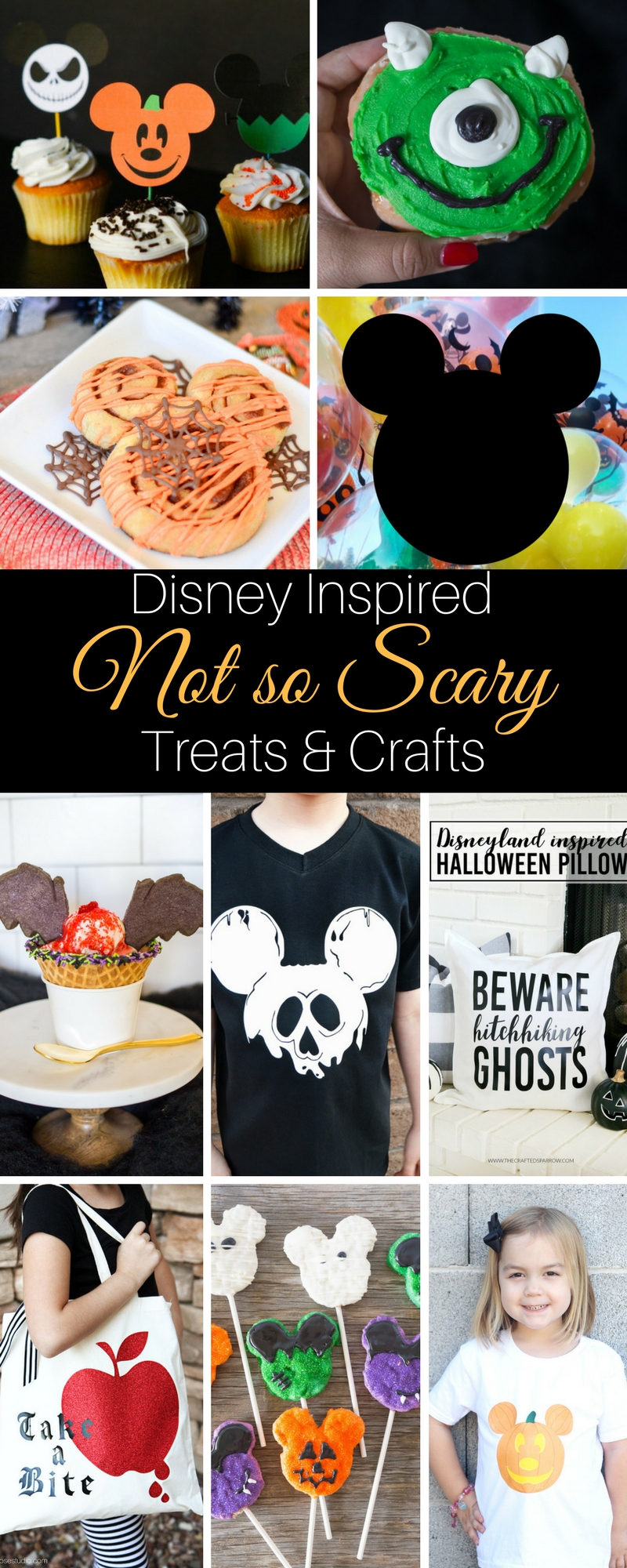 DIY Mickey Pumpkin Shirt from Liz on Call
Mickey Halloween Cinnamon Roll from Pink Cake Plate
Disneyland Batwing Sundae from A Night Owl
Disneyland Monstermallow Donuts from The Disney Belles
Take a Bite Halloween Tote from Sweet Rose Studio
Poison Apple Mickey Ears Shirt from Eclectic Momsense
Haunted Mansion Pillow from The Crafted Sparrow
Disney Halloween Cupcake Toppers from Clever Pink Pirate
Homemade Disney Halloween Mickey Crispy Treats from Around my Family Table