This post may contain affiliate links. Please read my disclosure.
Add this Pumpkin Spice Cookie Recipe to your holiday plans now! They are soft and delicious and get a hit of flavor from the extra cinnamon and sugar.
Be sure to sign up for my email list….seasonal recipes in your inbox every week!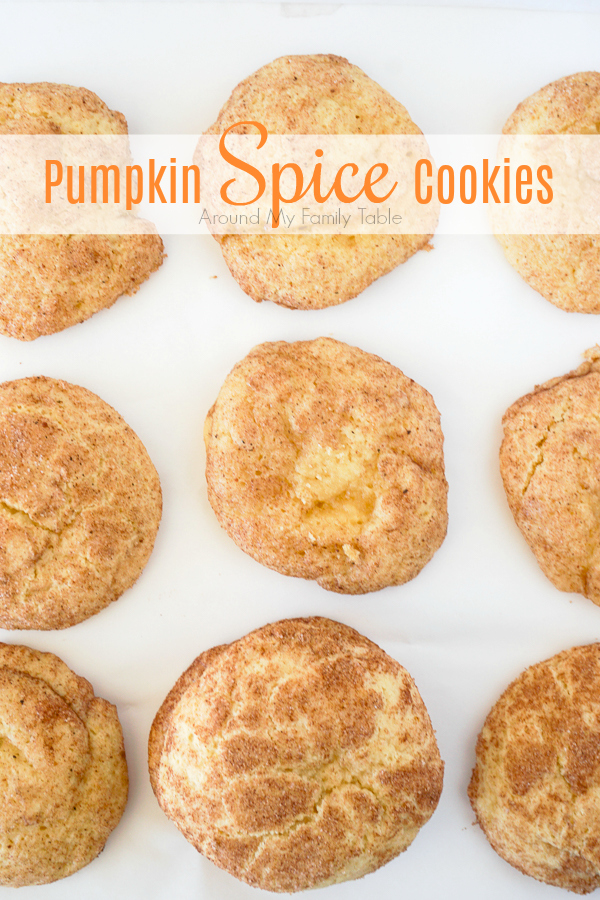 Once the temps start to drop and Oct 1st rolls around, it's pumpkin everything in my house. I've found it's best to stick with plain ol' canned pumpkin. Skip the pumpkin pie filling and just use simple canned pumpkin. Or if you're feeling really adventurous you can make your own pureed pumpkin.
This Pumpkin Spice Cookie Recipe makes the most delicious pumpkin cookie. Plan ahead because the dough needs to chill a little before it gets a little roll around in the cinnamon sugar and baked. Don't skip this step, otherwise the cookies will spread out too much when baking. And if it's going to take more than bake cycle, pop the bowl of dough back into the fridge while one pan is baking to keep the dough nice and chilled.
I've nicknamed these Pumpkin Spice Cookies, Pumpkindoodles. I don't even know if that's a real thing, but it totally should be. And that's just what they taste like. Like a snickerdoodle with lots of yummy pumpkin.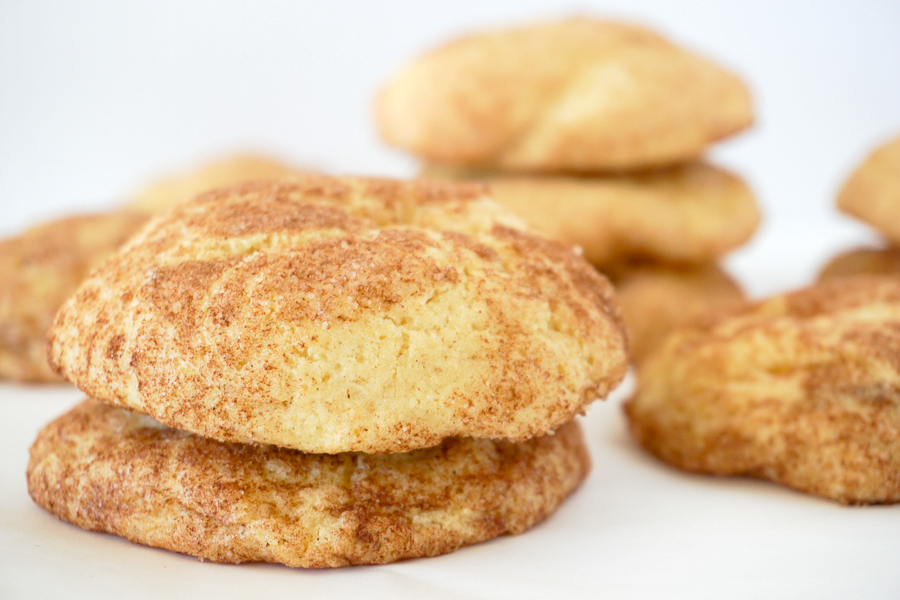 Tips for the Perfect Pumpkin Spice Cookie Recipe
Use pure canned pumpkin, not pumpkin pie filling.
Keep the dough chilled.
Don't over bake the cookies, the cookies should be still very soft but set up on the sides and top.
Switching to gluten free and dairy free for this recipe is easy and just as delicious.
Let the cookies cool for a few minutes on the baking sheet before moving to a cooling rack.
These cookies would even be delicious with some leftover mashed sweet potatoes instead of pumpkin.
Looking for more Easy Pumpkin Recipes? I've got ya covered!
These are some of my favorite baking tools that really help these cookies come out perfect:
Watch how easy these PumpkinDoodles are to make: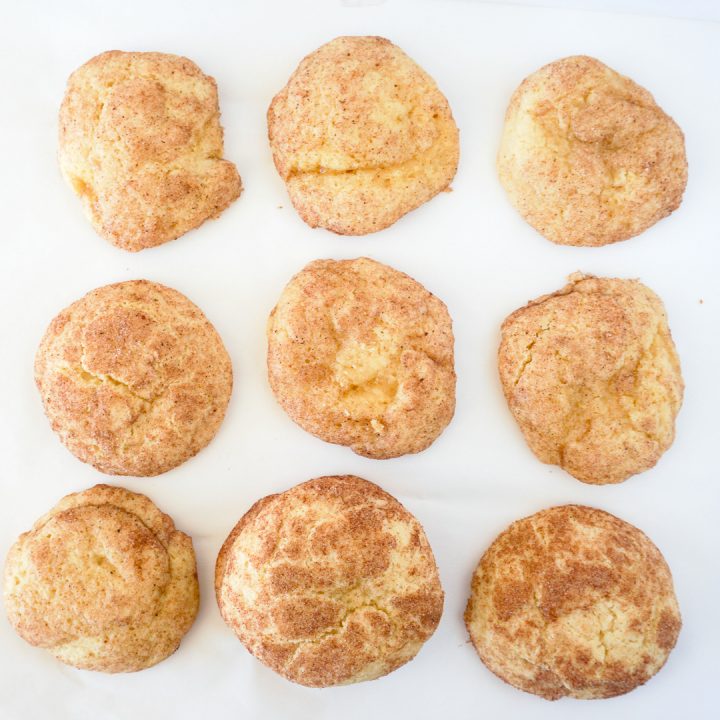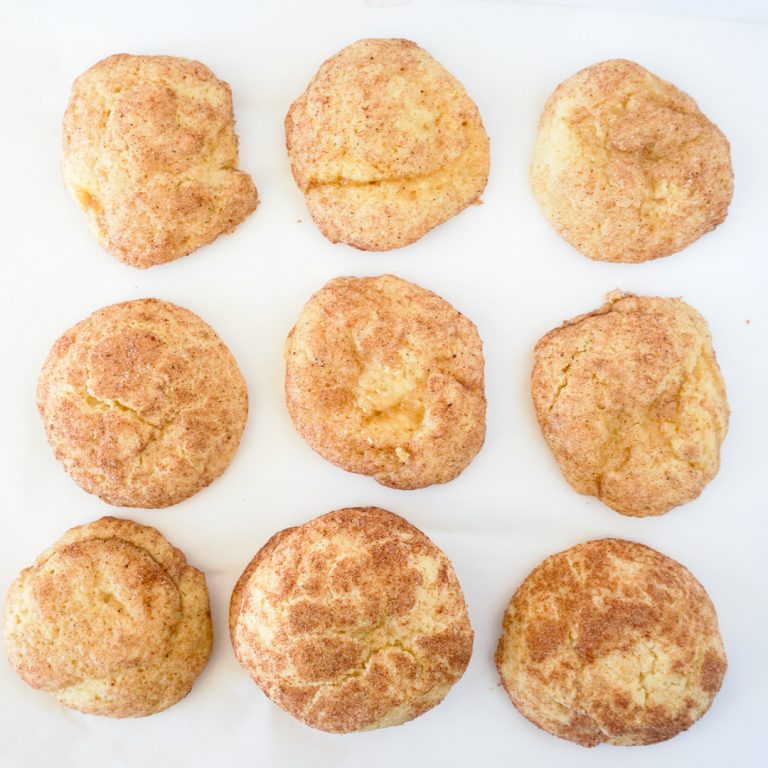 Pumpkin Spice Cookie Recipe (Pumpkindoodles)
Add this Pumpkin Spice Cookie Recipe to your holiday plans now!  They are soft and delicious and get a hit of flavor from the extra cinnamon and sugar.
Ingredients
3/4 cup butter (dairy free or traditional)
1/2 cup canned pumpkin
1 1/2 cups sugar
1 tsp vanilla extract
2 large eggs
2 3/4 cups flour (gluten free AP flour with xatham gum mixed in)
2 tsps cream of tartar
1 tsp baking soda
1/4 tsp salt
3 tbls sugar
3 tsps cinnamon
Instructions
Preheat oven to 350°F.
Mix butter, pumpkin puree, 1 1/2 cups sugar, vanilla extract, and eggs thoroughly in a large mixing bowl. In a separate bowl, combine flour, cream of tartar, baking soda and salt. Blend dry ingredients into the butter mixture. Chill dough and chill an ungreased cookie sheet for about 10 minutes in refrigerator.
Meanwhile, mix 3 tablespoons sugar, with cinnamon in a small bowl. Scoop 1 inch balls of dough into the cinnamon-sugar mixture. Coat by gently rolling balls of dough in the cinnamon-sugar mixture.
Place on a greased cookie sheet and bake 10 minutes. Let cool slightly and then remove from pan to a cooling rack to cool completely.
Nutrition Information:
Amount Per Serving:
Calories:

223
Total Fat:

8g
Saturated Fat:

5g
Cholesterol:

41mg
Sodium:

112mg
Fiber:

1g
Sugar:

19g
Protein:

3g