This post may contain affiliate links. Please read my disclosure.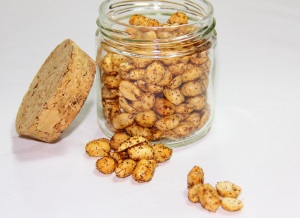 We recently drove to San Diego for a week long vacation. I hate stopping a lot for snacks and lunch so I always pack a picnic lunch and make a bunch of snacks to take with us. I remember my mom packing a ton of snacks including her version of spicy peanuts on our road trips. I know I can buy them pre-made at the store, but they are just so easy to make that I can't bring myself to buy them.
I have several travel posts lined up including some great dining/hotel reviews over the next month.
Hot & Spicy Peanuts
1 tbl vegetable oil
3 cups roasted, unsalted peanuts
1 tbl chili powder
1/4 tsp cayenne powder
1/2 tsp garlic powder
1/2 tsp salt
Heat oil in a large pan over med-high heat. Add peanuts to pan and coat with oil. Stir until peanuts are warm. Add in chili powder and cayenne powder. Stir until well coated. Remove from heat and drain on paper towels for about 10 minutes. Sprinkle with garlic powder and salt. Toss to combine. Store in an airtight container.