This post may contain affiliate links. Please read my disclosure.

Everything you've wanted to know about Pinto Beans. This How to Cook Pinto Beans guide features instructions on using a slow cooker, Instant Pot, and stovetop for cooking pinto beans, plus there are a few delicious recipes to try as well.
Be sure to sign up for my email list….seasonal recipes in your inbox every week!

About Pinto Beans
Pinto are small oval beans that are a staple in many areas. They get their name from their red-brown streaks or splotches- pinto is the Spanish word for "painted." The markings disappear when cooked, and they become a solid pink color. Pinto beans are often served with rice, soups, stews and Mexican food. They are nutrient-dense and contains many essential nutrients. Pinto beans are low in saturated fat and are a good source of protein, phosphorus and manganese.
Can Pinto Beans be Frozen?
Cooked pinto beans can absolutely be frozen. In fact, I usually make an entire pound beans when I'm planning on cooking because it doesn't take any additional time, but then I can freeze what I don't use and have beans then next time I need them.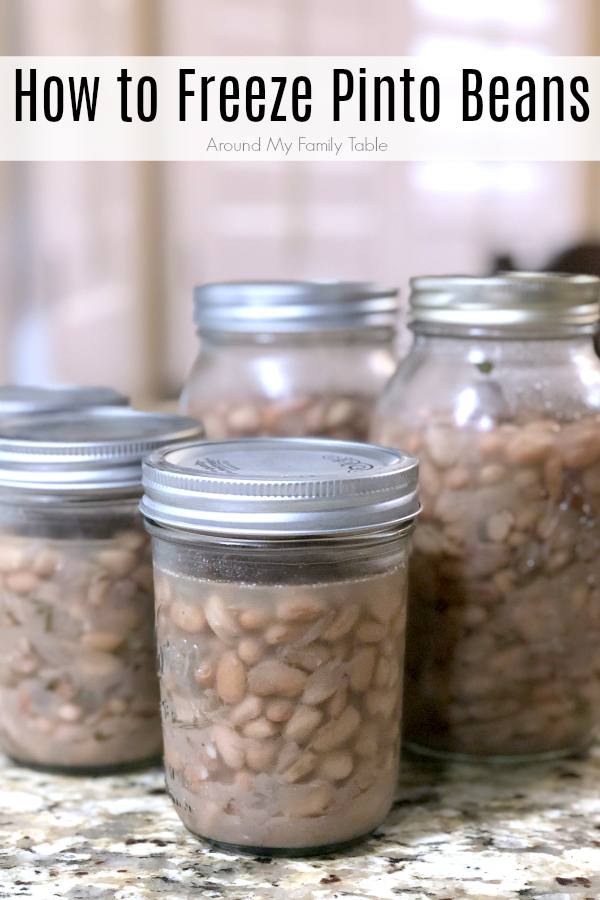 To freeze pinto beans let them cool and scoop beans & liquid into freezer bags (in amounts that your family will use), label, squeeze out the air, and seal. Lay bags flat to freeze. Or my favorite, scoop beans into mason jars (or leftover clean salsa/jelly/pickle jars). Leave at least an inch to an inch and a half headroom at the top and fill with bean liquid (keeping the 1 – 1 1/2 inch headroom). Let cool completely before putting on the lid. Chill in fridge for 1-2 additional hours and then place in the freezer until needed.
How to Cook Pinto Beans
Pinto beans are probably these easiest beans to cook. They are versatile and delicious. And the leftover bean juice can be added instead of water to other recipes to add flavor.
How to Cook Pinto Beans on the Stove
Sort and rinse 1 cup pinto beans and place in a bowl, cover with cold water and let soak overnight. Drain and rinse, then put them in a large pot and cover with water about 2 inches. Bring to a boil, then reduce to a simmer and cook until the beans are tender, 2 to 3 1/2 hours.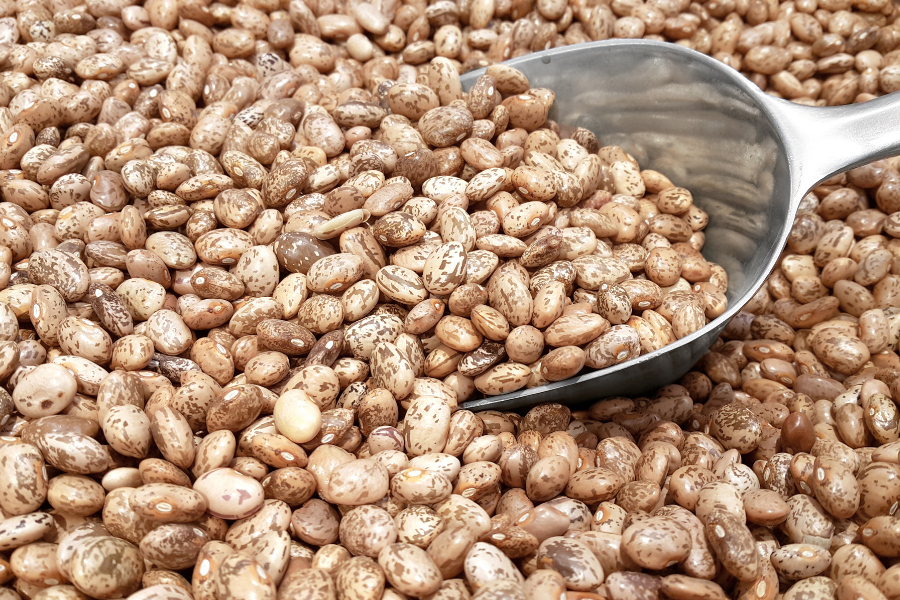 How to Cook Pinto Beans in a Crock Pot
You can soak beans if desired. Add 1 cup rinsed and sorted pinto beans in slow cooker covered with about 2 inches water. (If pre-soaking beans overnight, drain out the original soaking water and use fresh water to cook the beans.) Set on high for 5-6 hours, or 3-4 for pre-soaked.
How to Cook Pinto Beans in a Pressure Cooker
Pick over beans, rinse and drain. Combine 1 cup beans, 4 cups water in the cooker and cook for 22 minutes. For soft cooked beans, add 2 extra minutes under high pressure. Naturally release pressure Drain any excess water. You can pre-soak pinto beans overnight for faster cook time: cooking time will be adjusted 7 to 10 minutes.
For Instant Pot, use manual/high setting for 30 minutes. Let natural release.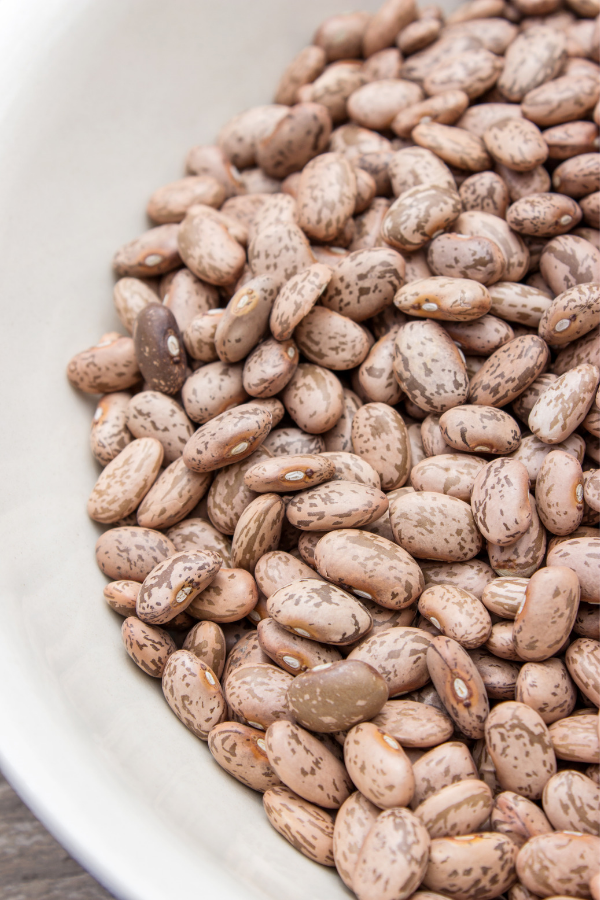 Cooking Pinto Beans without Soaking
As I mentioned above, pinto beans are so easy to cook…with and without soaking. If you don't have time to let the beans soak (or forget, like I do), then just plan on doubling the cooking. And if the beans aren't as soft as you'd like then keep cooking.
For example, to make refried beans they will need to be pretty (like you can squish them between your fingers), but if they are going into a chili that will cook even longer then it's okay to have a little bite left in them.
Check out these delicious recipes using pinto beans:
Slow Cooker Refried Beans
Tex Mex Taco Salad
Spicy Chocolate Chili
Pinto Bean & Pepper Salad
Not Refried Beans