This post may contain affiliate links. Please read my disclosure.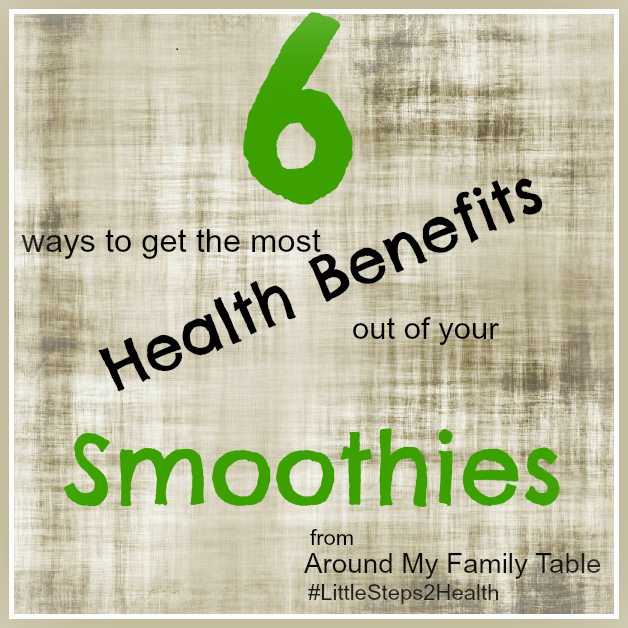 I've mentioned a few times, mostly on Facebook, that I'm on a quest to get my tooshie in gear and make healthier choices. I eat reasonably well, but I do splurge and eat way to much…so I'm making some small changes every week to improve my health. That started this week! Will it work, I have no idea, but I do know that something has to change. Will I lose weight, who knows! I hope that you will join me on this journey and feel free to share yours with me too. That's how we learn.
My first goal is to increase my fruit and veggie intake and lower my caffeine intake! It's harder than it sounds. So, I've gone back to making more green smoothies. Did you know…they don't have to be green in color to be a "green smoothie" only that you put greens in the smoothie. I'm not a nutritionist, these are just some things I've learned a long the way. Besides using a good blender like a Vita-Mix or BlendTec (you have to have a good blender or you might burn out your motor)….here are a few suggestions to help you get the most health benefits out of your smoothies.
1. Start with carrots and cabbage! If you're not used to the idea of adding a couple cups of spinach, kale, or chard to your smoothie, start with veggies that the color and flavor with be complementary and covered up with the fruits. Carrots are sweet and a bright orange color and cabbage is light green (almost white) and has no flavor once mixed with fruit. Go wild…add both!
2. Already hittin' the start greens? Try adding some flax seed. Buying it in seed form is best…it will last longer; however, our bodies digest it better if it's ground. I use a coffee grinder to grind enough flax for the week and then store in the fridge. Add a couple tablespoons to your smoothie. Flax seed is a powerful food and is thought to disease from heart disease to diabetes to breast cancer. It has Omega-3 fatty acids and fiber. In just 2 tbls of ground flax seed you can get 4g of fiber (about 25% of the daily recommended value).
3. Switch from sugar or artificial sweeteners to a more natural one. Honey or Agave Nectar are best, if you need your smoothie sweetened. Pick a raw, local honey to use or switch to agave nectar. Agave is more healthy and vegan! It's milder in flavor and a great pick for subbing for sweeteners that are high on the glycemic scale. Agave is low glycemic and therefore won't make your blood sugar spike.
4. Add in some protein powder. Whether you pick soy or whey or whatever, if you need a little extra protein….add it in.
5. Add only water. Steer clear of adding extra calories with juice, juice concentrates, or dairy. Trust me, it will be sweet enough. If you like it creamy…add in a banana or avocado.
6. Experiment with other additives, each has their own benefits. Don't go crazy, try just one new item at a time to make sure your body doesn't react to them. I buy them from amazon, but I know these are found at good health food stores too!
My favorite morning drink:
2 cups packed spinach
1/2-1 cup water
1 cup frozen mixed berries
1 cup frozen strawberries
handful of baby carrots
grapes or an orange if I have it
couple tbls of ground flax seed
Mix well in a blender and enjoy cold!
The smoothie in the photo above comes from my friend Denise over at Creative Kitchen Adventures and her Mango Pineapple Green Smoothie. YUM!
Or check out some of my other smoothie ideas.