This post may contain affiliate links. Please read my disclosure.
Thinking about going to Knott's Berry Farm in California? Find out how to visit Knott's Berry Farm in one day! It's a fun change from the mouse and close enough to hit it for a day while you're in town.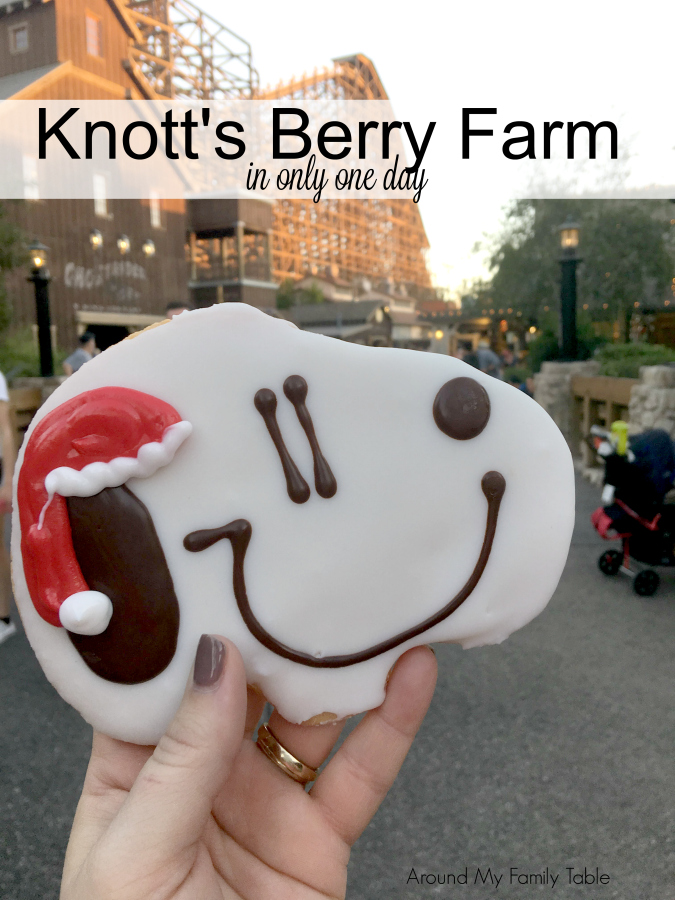 How to Visit Knott's Berry Farm in One Day
Hubby and I took a kid-free week long vacation recently and had a day to do something fun before we boarded our cruise. We decided to spend the day in Buena Park and most of the day was spent at Knott's Berry Farm. I had been a few times, but this was Hubby's first visit so I wanted to make sure we hit the important things.
Since this was an adult only trip, we didn't spend anytime in the kid's area. We did walk through it and all the kids seemed to be having an amazing time. With that said, the bulk of this post will not include any details about the kids area.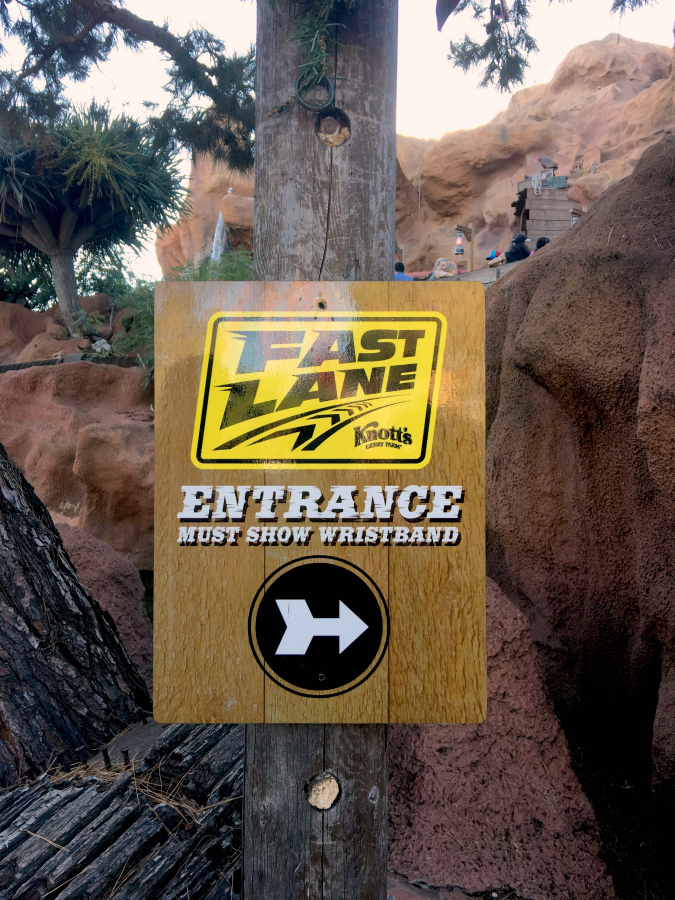 Knott's Berry Farm Tickets
Knott's Berry Farm Tickets are under $50 for a day/per person if you buy in advance online. They run about $79 at the gate. Knott's Berry Farm also offers a Fast Lane Pass that is $60/per person. The Fast Lane Pass has no ride limits…meaning you can ride your favorite ride as many times as you'd like; however, they do limit these passes so get there early to get one.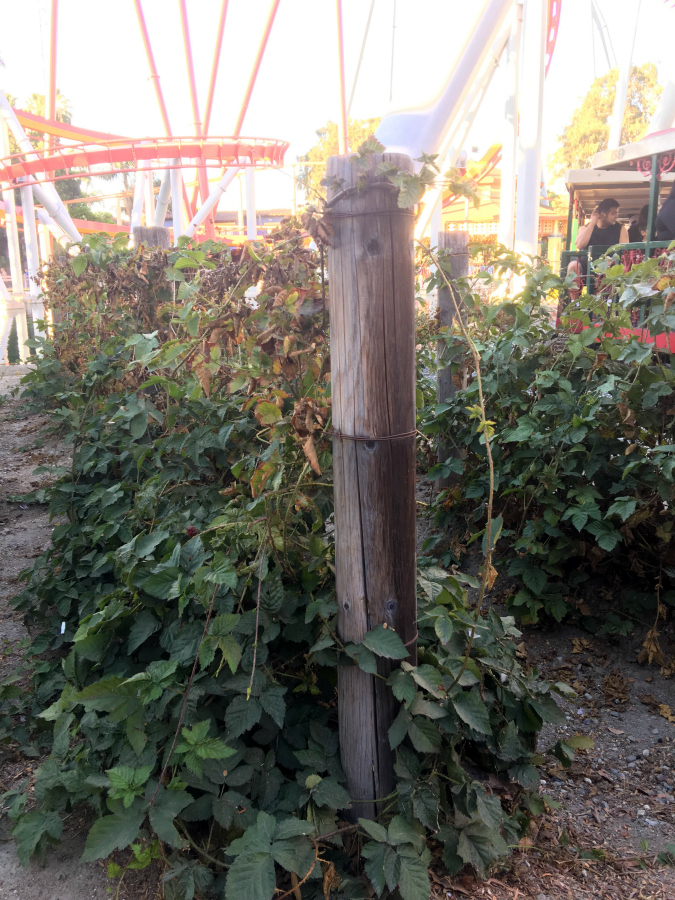 Knott's Berry Farm Restaurant & Food
We honestly didn't eat much at the park. I've found that Knott's Berry Farm isn't super allergy friendly (if you have one allergy then you should be fine, but finding something to eat with multiple allergies was difficult). We ate an early lunch before we arrived and ate dinner outside of the park as well.

They are known for their boysenberry products, so I did get a boysenberry drink which was delicious. Definitely don't skip getting one or any of the other boysenberry items. Hubby really wanted to try their holiday churro, but the churro machine was down so he wasn't able to try it.
If you don't have allergies and plan on spending the entire day at Knott's then you might consider the All Day Dining Plan. Right now, it's running about $32 a person for an entree and side dish every 90 minutes. I don't believe that includes a drink, but they do have a refillable bottle if you want to carry it around all day.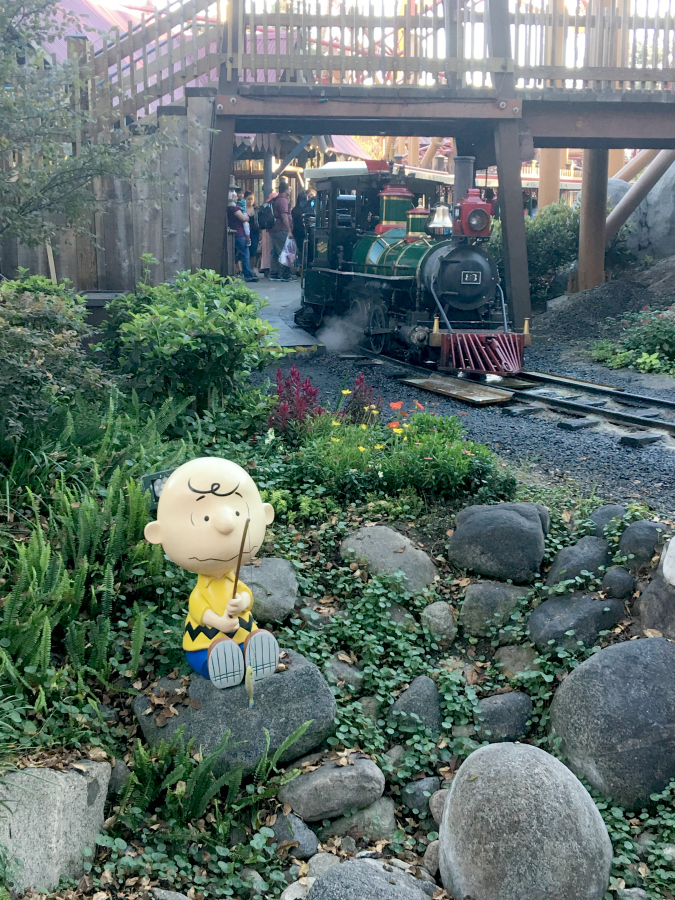 Knott's Berry Farm Water Park
The Knott's Berry Farm Water Park is located right across the street from the main park. It was November when we were visiting (and we didn't have the kids with us), so the water park wasn't open. However, it looks super fun and we are trying to find a time to take the kids back. They would love it!
Knott's Berry Farm Wait Times
Knott's Berry Farm Wait Times can be insane! Some of the more popular rides have hour or two wait times during peak season. Even when we visited in November the lines were long.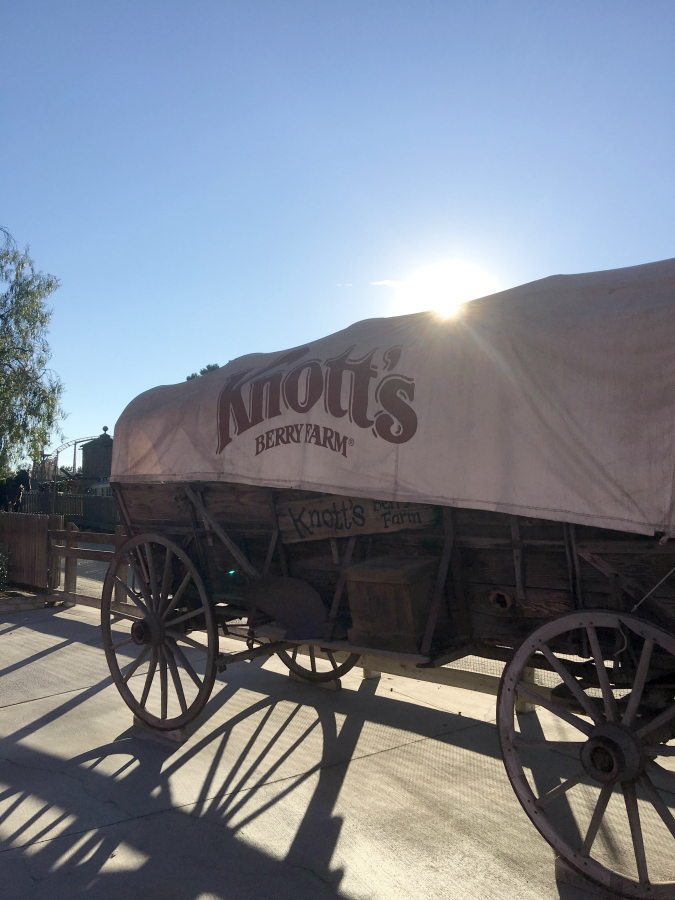 How to Visit Knott's Berry Farm in One Day
If you are in town for a fun vacation, make sure to add a day at Knott's to your must-do list. Add a second day, if the water park is open.
Arrive before park opening! Eat breakfast at your hotel and arrive 30-60 minutes before the park opens. You will have to find parking and sometimes those lines can get really long (and slow). FYI…parking runs around $18.
Be at the front gate prior to opening and plan to hit the major roller coasters (GhostRider, Silver Bullet, and Xcelerator) as fast as you can. Skip the awe and picture opts at the front gate…you can get those at anytime. Make sure to check ride closures before you arrive.
The longest waits are for the riding in the front car or last car of a ride, so just go for any other seat and the line will move faster. Side note: Did you know that you get to pick where you sit on a ride at Knott's Berry Farm? They don't assign seats like the other parks.
If you can afford it and only have one day, opt for the Front Lane Pass. There were hardly any people in those lines…even on one of the busiest days of the year. It's sooo worth the money.
Add in the other rides that you really want to do and start hitting those in after you ride the 3 major roller coasters. These lines tend to be shorter.
We also brought our own bottled water to the park, 2 bottles for each of us. After we drank our first we threw out the bottles; however, we kept filling up our 2nd bottles whenever we found a place to fill them up. It saved us from constantly stopping for drinks (and saved some money too). We did buy a few treats and drinks, but only when we needed a break or needed to get out of the sun for a little bit. Stay hydrated! Even though it might not feel super hot, you are in the sun and it wears you down. Getting heat exhaustion or heat stroke will ruin a good vacation!
Plan your meals, so you can watch a show at the same time. There are lots of cute shows to see. So pick your top one or two and plan your rest time, snack time, or meal time accordingly.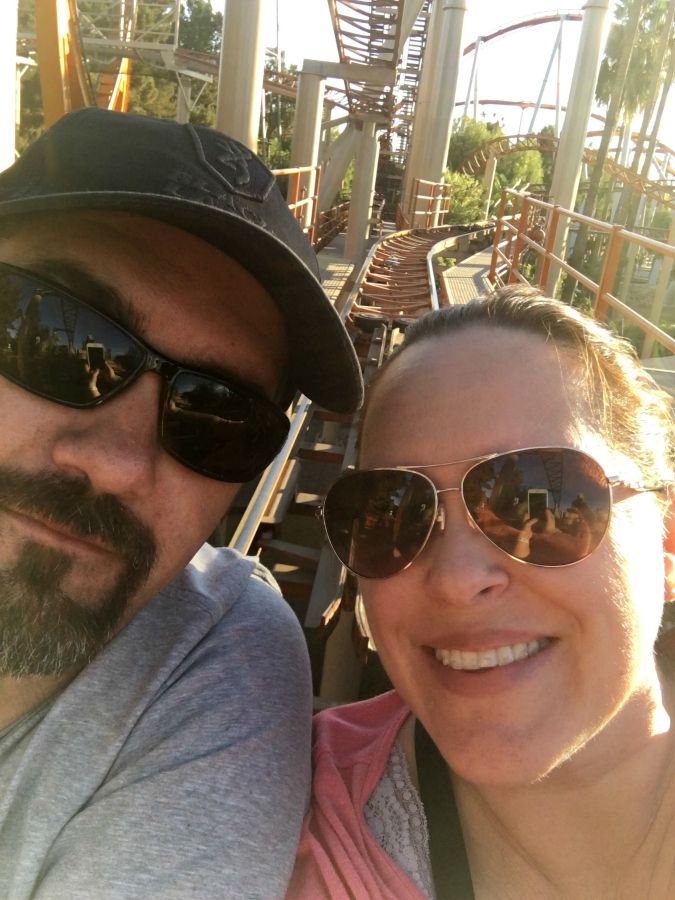 There you have it, my plan for how to visit Knott's Berry Farm in one day. It's definitely doable with or without the Fast Lane Pass, but the FLP makes it a lot easier!
Did I miss something? Have you been? Tell me about it in the comments below.