Ooey gooey S'mores Dip will be your new family favorite!  A blend of chocolate and heavy cream that's topped with roasted marshmallows makes a scrumptious dessert!
Be sure to sign up for my email list….seasonal recipes in your inbox every week!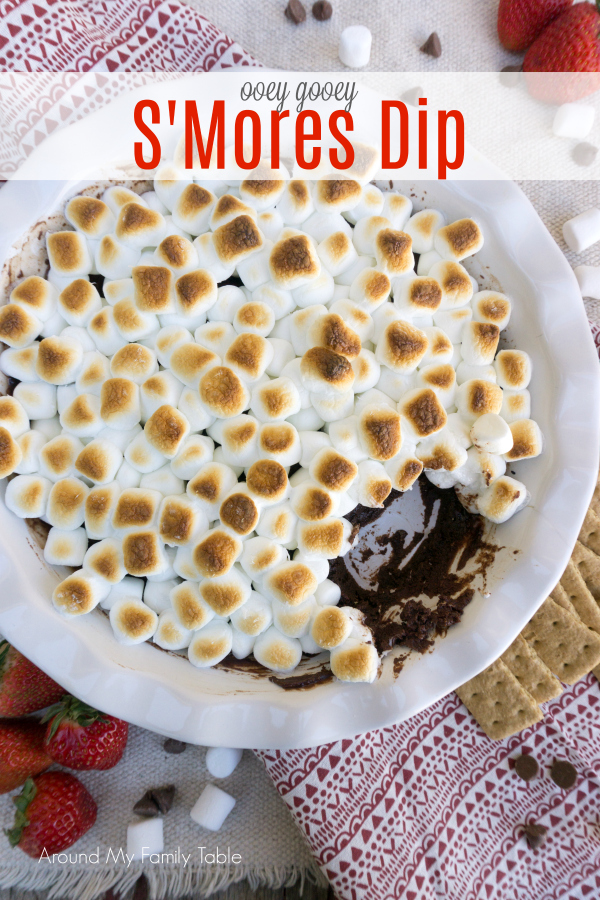 Everyone in my family loves a good s'more!  Whether it's a traditional s'more, s'mores stuffed with strawberries, or a play on s'mores like my s'mores popsicles and s'mores krispies treats.  Seriously, some nights we fire up the grill just to toast our marshmallows for a quick dessert after supper.  I think we might have a problem.
I didn't have any chocolate bars last week, but I did have a couple half bags of chocolate chips and a bunch of odds and ends in the pantry and fridge and so this S'mores dip was born.  It takes less than 5 minutes to throw together so it's perfect for a quick weeknight dessert or even an after school snack for a special occasion.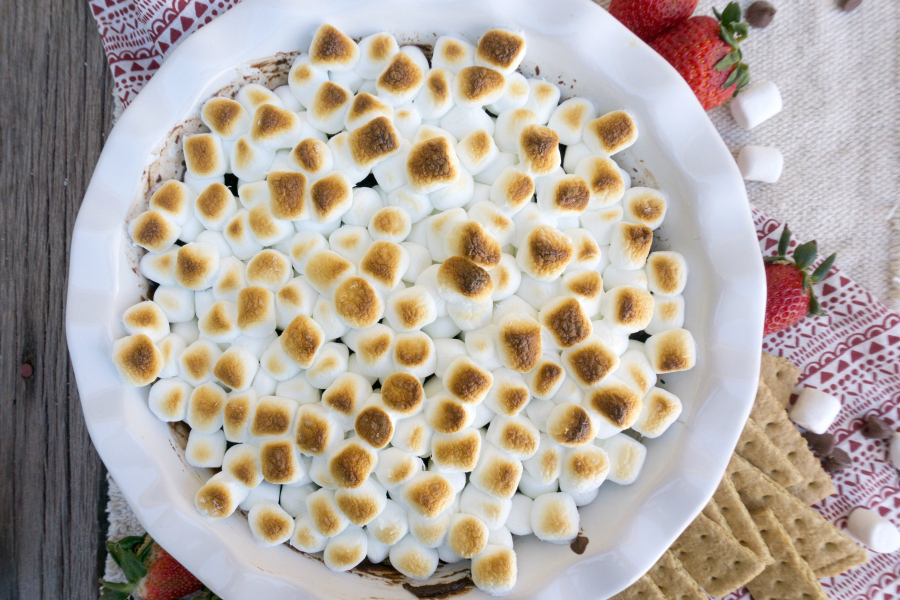 I see so many possibilities with this dip.  I'm thinkin' of all the add-ins and little changes to make it a totally new dip, but with the same base.  Nutella, nuts, liquor….the possibilities are endless!
Y'all….I cannot tell you enough how much we love this dip!  I've made it several times now and no one is tired of it!  In fact…the kids have started making it on their own and then don't even share with me!  How Rude!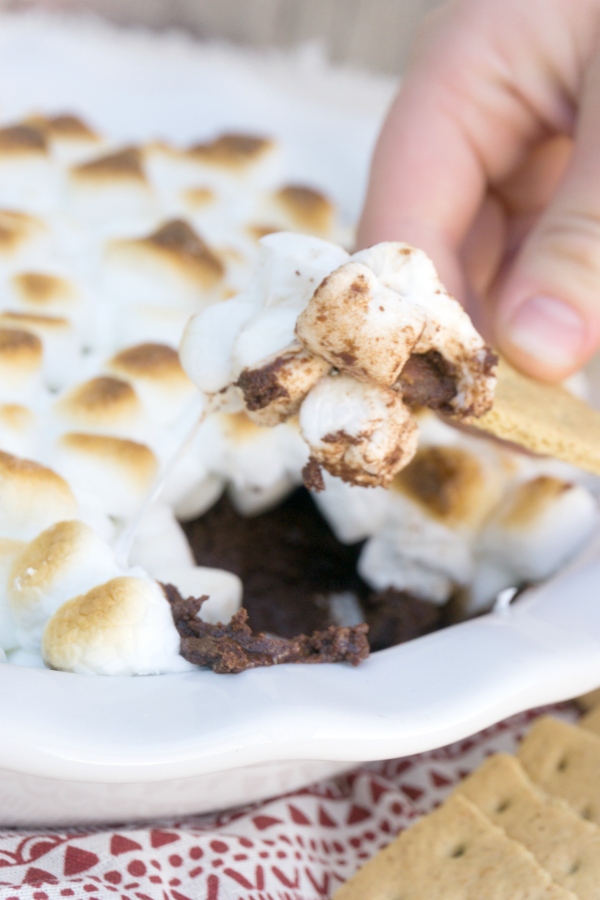 So dig out all those half bags of chocolate chips and grab your heavy cream (or steal some half and half from your morning coffee) and make a big batch of this delicious S'Mores Dip.  You'll be promoted to "best mom ever"….promise! I use a combo of semi-sweet and milk chocolate, but you can totally use any combo that you have or use just one type…it's really up to you and your tastes.  Though, the combo of semi-sweet and milk chocolate is AH-MAZ-ING!

S'Mores Dip
Ingredients
1 cup semi sweet chocolate chips

1 cup milk chocolate chips

1/4 cup heavy cream (opt, see note)

1/2 to 3/4 cup miniature marshmallows

Graham crackers and strawberries, for serving
Directions
Heat oven on the broiler setting.
Combine chocolate chips and heavy cream in microwave-safe and ovenproof ramekin, pie plate, or dish. Microwave at 50% power for 30 seconds; stir. If necessary, microwave at 50% power for an additional 15 seconds; stir until chocolate is melted and mixture is smooth.
Cover surface of chocolate mixture with mini marshmallows. Heat in oven 2-3 minutes or until marshmallows are puffed and just begin to brown. Leave the oven cracked and watch closely, this process happens fast. Remove from oven; cool 5 minutes.
Serve with graham crackers and strawberries. Makes about 2 cups of dip.
Recipe Notes
Adding heavy cream changes the consistency of the chocolate and makes it more fudge like. If you prefer a runnier chocolate dip, skip the heavy cream.
Loading nutrition data...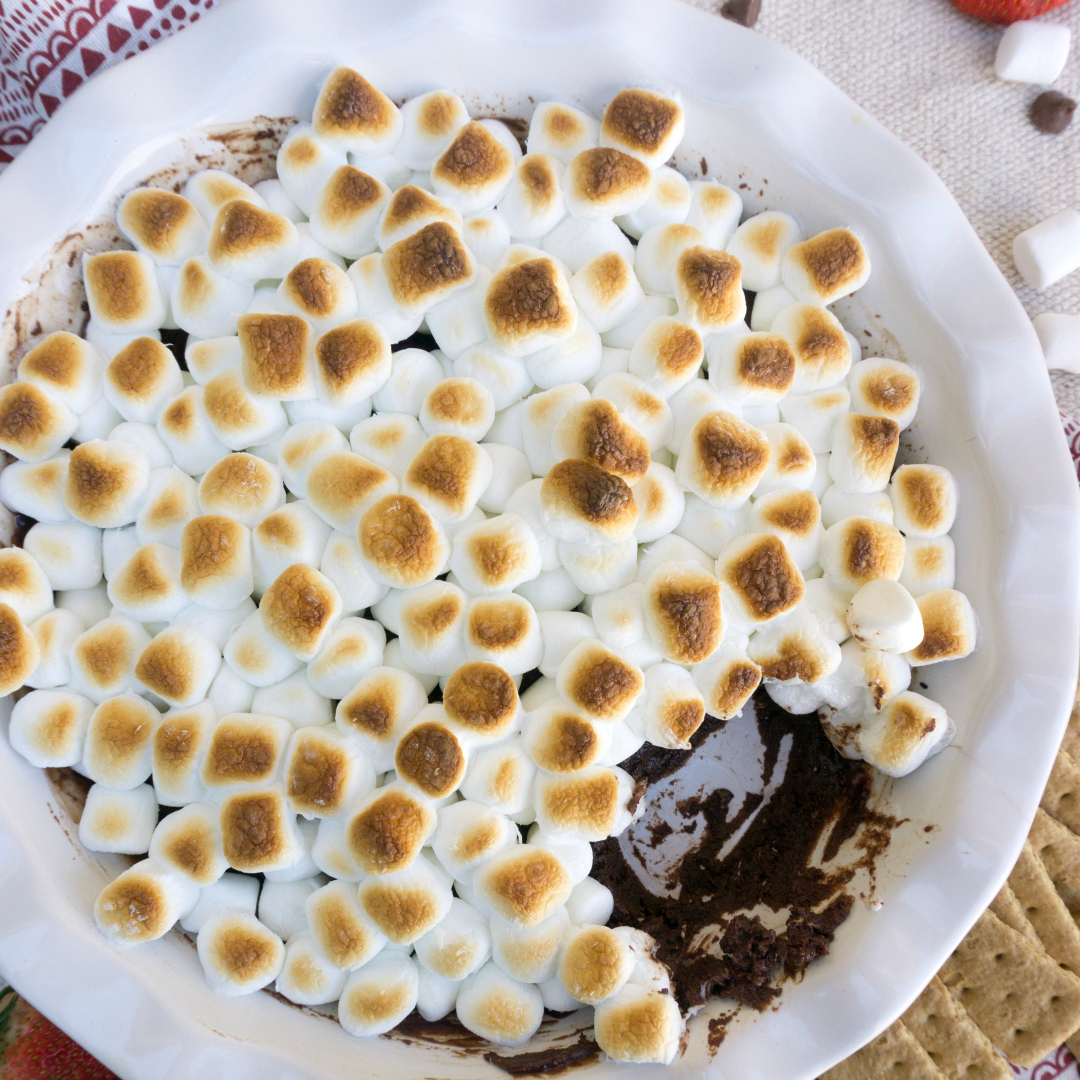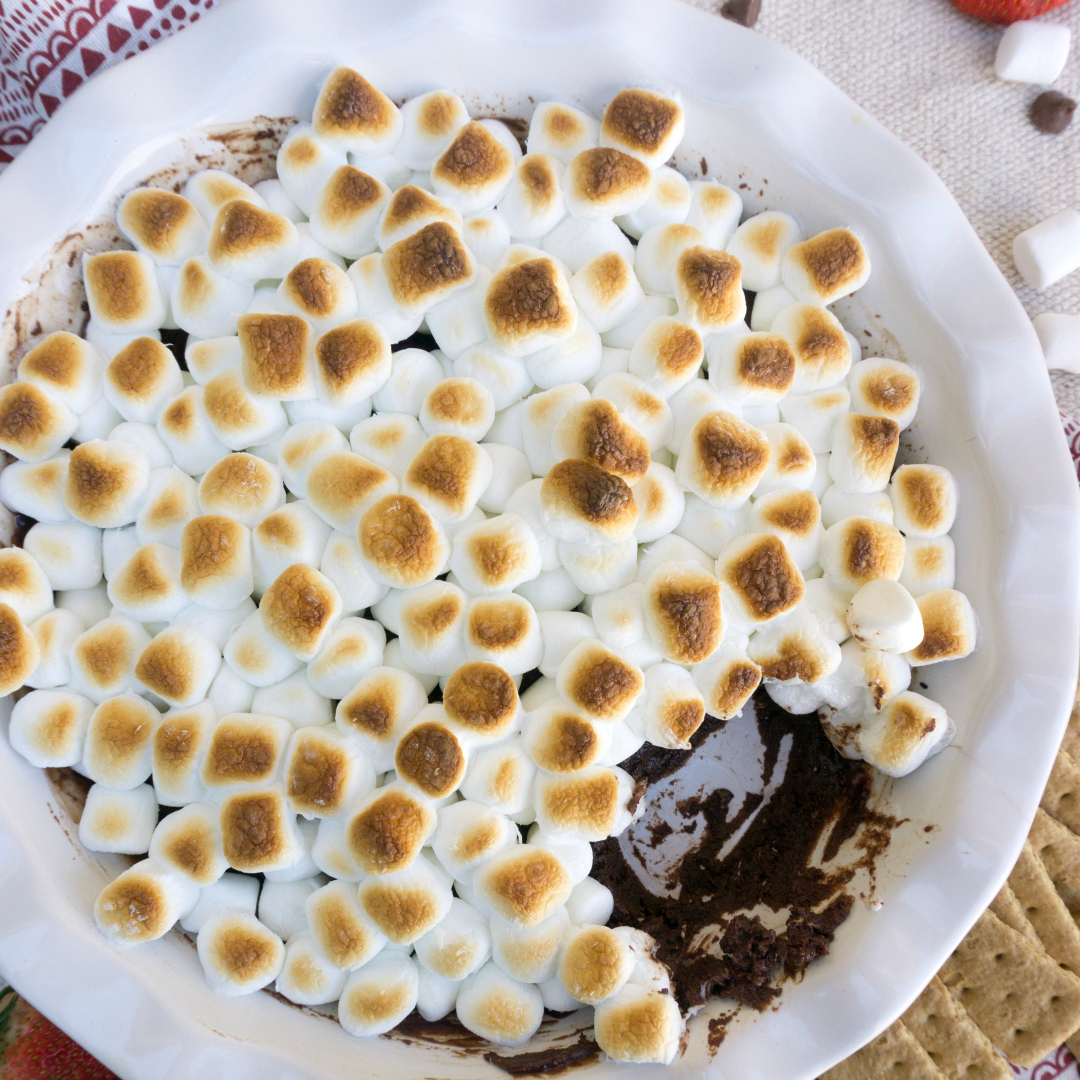 Did you make this recipe?
Leave review!

Join the Club!
Get delicious recipes delivered straight to your inbox each week! Plus learn how to take back suppertime in your home.

And get started with my NEW Take Back Suppertime 5-Day Jump Start Guide.