This post may contain affiliate links. Please read my disclosure.
This was something I just threw together to use up the gravy and mashed potatoes. It got two thumbs up from my daughter. Her goal during supper was to name the dish….she settled on Leftover Turkey Casserole.
Next time, I plan to take my pan to my in-laws and prepare the dish with leftovers before we even leave the party. I bet it would freeze and reheat nicely later as well.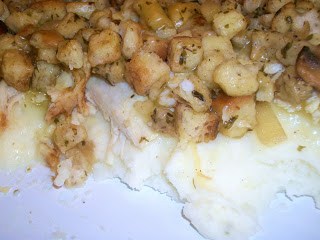 Hope you like it!
Leftover Turkey Casserole
turkey, shredded or cut into to small chunks
mashed potatoes
dressing/stuffing
gravy
Preheat oven to 375. Use either an 8×8 or 9×13 inch pan (depending on the amount of leftovers and size of family you need to feed).
In the bottom of the pan, spread the mashed potatoes evenly. Then add a layer of turkey. Cover with dressing/stuffing. Pour gravy over the top.
Bake for 15-20 minutes or until everything is heated through.