This post may contain affiliate links. Please read my disclosure.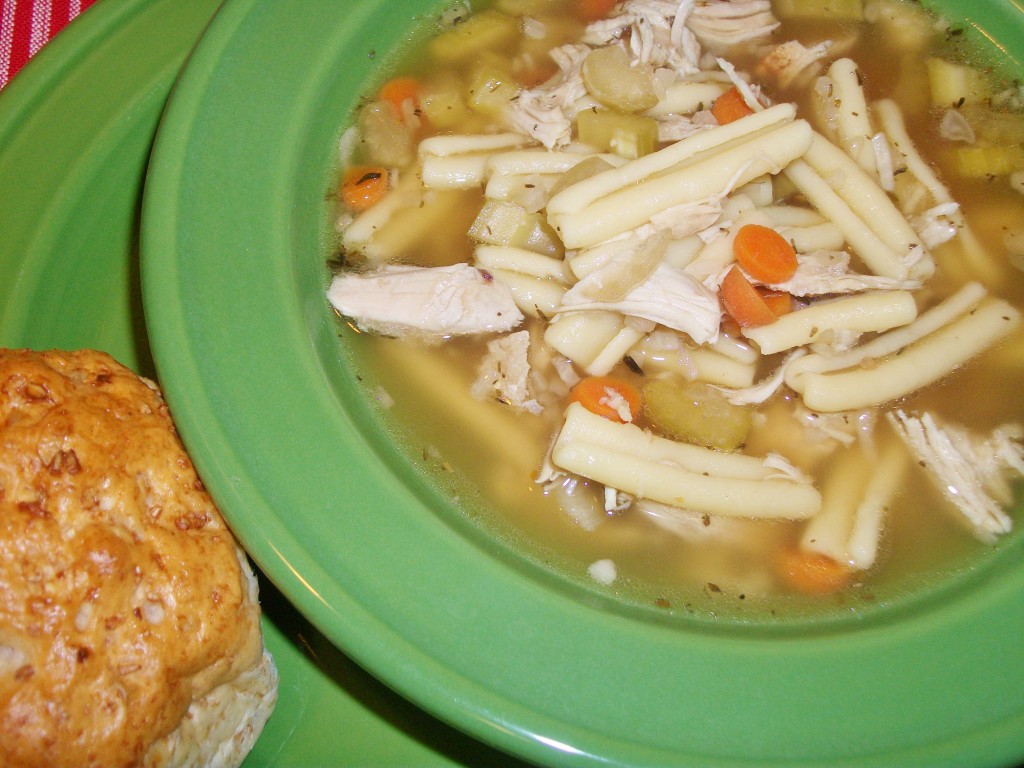 Today, and all the way up until Christmas, I'm sharing some of my family's favorite recipes for using up all the holiday leftovers. Next Thursday, I hope you'll come back to link up your favorite holiday leftover ideas and recipes during Tip Day Thursday.
I always make this easy soup the day after Thanksgiving and Christmas. Why the day after you ask? For two reasons…1. We eat way too much the day before and this is a nice light meal and 2. It quickly gets the carcass out of my fridge.
Of course you could make this anytime of year just substitute a chicken carcass for the turkey and you'll have a nice chicken noodle soup. If you don't have a leftover carcass, just substitute a good chicken stock for the water. This makes an excellent soup to have when your sick too!
Turkey Noodle Soup
1 turkey carcass
1-2 ribs celery, diced
1-2 carrots, diced
1/4 tsp salt
1 tsp thyme
1 small onion, diced (or small handful of dried onion flakes)
1/4 tsp red pepper flakes
1/2 lb of noodles (egg noodles, broken fettechini noodles, or any short straight
noodles)
1-2 cups leftover shredded turkey
Add first 7 ingredients to a large slow cooker(7qt works nicely). Fill with water almost to the top. Cook on low all day.
About 1 1/2 hours before you want to eat. Remove the carcass and add shredded turkey and noodles. Taste and adjust seasonings. Continue cooking until noodles are done, 1- 1 1/2 hours. Serve with leftover rolls.