This post may contain affiliate links. Please read my disclosure.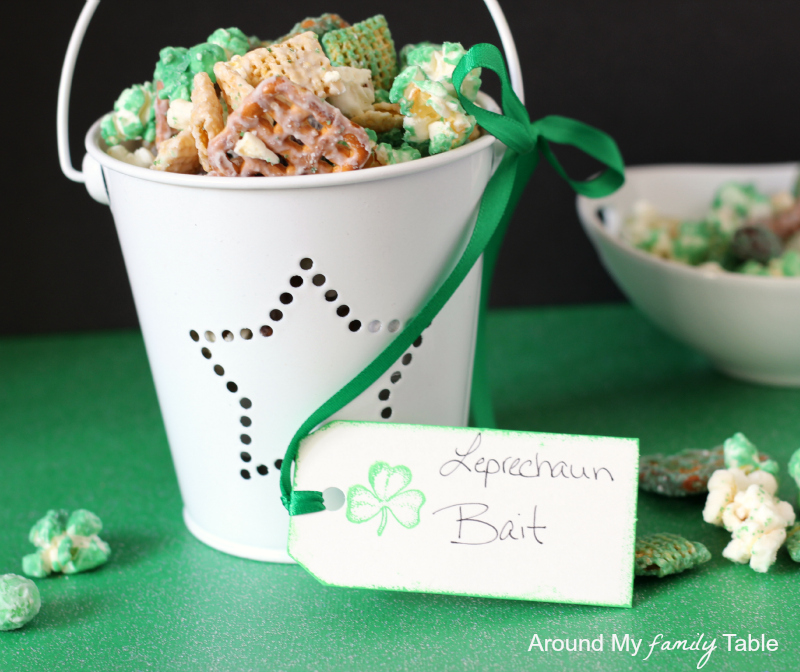 Leprechauns! Love 'em or hate 'em? They always show up at our house sometime before we wake up on March 17th. The leprechauns cause all sorts of mischief at our house. This year the kids and I decided we would set out some leprechaun bait and try to catch them.
Do they come to your house? You have to check out what the mischievous leprechauns did a couple years ago over here…the kids loved it! I've said it before but I think St. Patrick's Day is over looked as a family-friendly holiday. It is more than just a "go out and drink" holiday for us. Mostly because it's too much trouble to find a sitter that will stay that late with our kids. So, we do more of a family friendly day.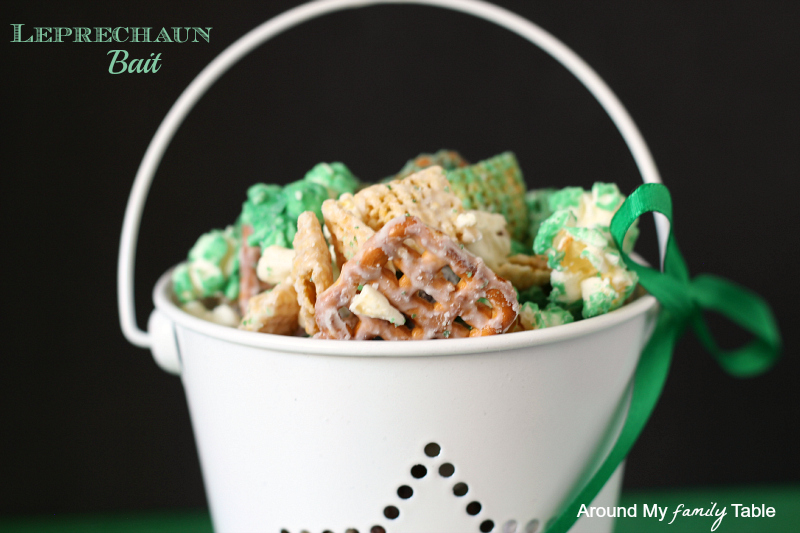 Heck, even if you don't have kids, this treat is so good you will wish there really are leprechauns to come steal it away from you because you can't stop eating it. Making it in two separate batches ensures that there is a nice coating of white and green through out the mix. It takes an extra two minutes, but so worth the pretty outcome!
Want more recipe ideas for St. Patrick's Day? Head over to my St. Patrick's Day recipe page with all my recipes for this green day!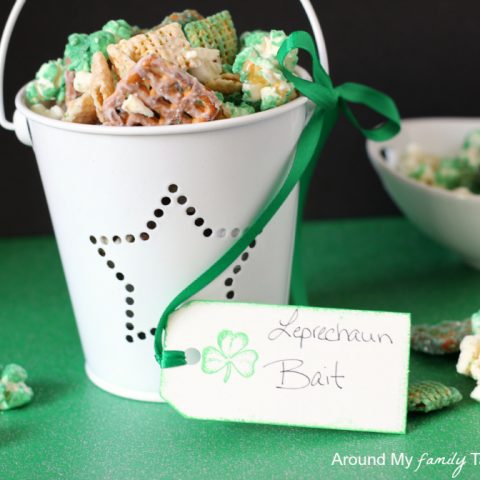 Leprechaun Bait
Set out Leprechaun Bait at bedtime on March 16th to try to catch mischievous leprechauns that cause havoc on the 17th for St. Patrick's Day.
Ingredients
2 cups Chex cereal (rice or corn)
2 cups mini pretzels
4 cups popcorn, popped
2 cups Coconut M&M's
3/4 cup green candy melts
3/4 cup white candy melts or 3 bars of almond bark
sprinkles (white and green)
Instructions
In two large mixing bowls divide the Chex, pretzels, and popcorn evenly and set aside.
In a small, microwave safe bowl, melt green candy melts for 1 minute and stir. Return to microwave in 15 second intervals until completely melted and smooth. Pour over one bowl of popcorn mix, gently stir to coat. As the candy melt starts to cool, add in half of the M&M's and stir to coat. Gently pour out onto the counter lined with parchment or wax paper. Sprinkle liberally with white sprinkles.
Repeat with white candy melts and remaining popcorn mix. Sprinkle with green sprinkles after pouring onto parchment.
Allow to cool completely before bagging it for gifts or setting out to catch a leprechaun.
© Around My Family Table
Nutrition Information:
Yield:

10
Serving Size:

1 cup
Amount Per Serving:
Calories:

319
Total Fat:

8g
Saturated Fat:

5g
Trans Fat:

0g
Unsaturated Fat:

2g
Cholesterol:

1mg
Sodium:

259mg
Carbohydrates:

61g
Fiber:

3g
Sugar:

32g
Protein:

2g