This post may contain affiliate links. Please read my disclosure.
Hiya! Christine from Cook the Story here to tell you how I met and fell in love with that crumbly Mexican cheese called queso fresco. There's also a recipe for Mexican Bruschetta with Queso Fresco down at the bottom. I hope you try it and fall in love with it like I did.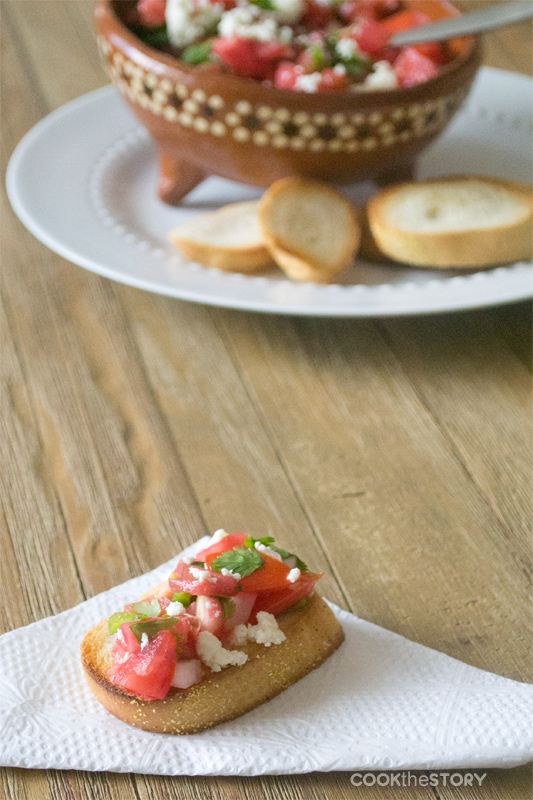 So I'm kind of in love with queso fresco.
I first heard people talking about it and saw recipes calling for it awhile ago.
I was like, "Yeah yeah. Mexican cheese. I've been to Mexico. I ate cheese there. It was cheese. So what?"
But then this summer I noticed rounds of queso fresco in the deli counter at my grocery store. I decided to stop being a dismissive bore and try it on our tacos that night.
A Queso Fresco Affair Began
The queso fresco was dry and crumbly. Kind of like feta. But with a flavor more closely resembling fresh mozzarella. I crumbled it into a bowl, topped it with chopped cilantro and served it alongside our tacos.
Our regular boring beef tacos were anything but boring that night. And after dinner, I couldn't stop thinking about that cheese. I wanted more. So much more.
The next day I was heading to a friend's house to meet her brand new baby. I had offered to bring lunch and knew that I had to sneak in some queso fresco. I had no choice.
I made a pasta salad (this pasta salad) with queso fresco in it. I also took a potato salad with Italian sausage in it (yes this potato salad really has sausage mixed into it and yes that means I can't stop eating it until the bowl is empty and I find myself making more and eating that too) and some peaches. We had a nice visit, I got to snuggle a sweet new baby bundle and I found myself falling deeper under the spell of queso fresco.
That weekend we were having friends over for dinner and I'd quickly jotted down a menu plan and did the shopping. While at the store, the queso fresco whispered to me from the deli counter and I knew that I couldn't get through dinner without tasting its soft white crumbles at least once.
I'd planned to make bruschetta. I decided to set the parmesan aside and add the queso fresco instead. A couple of other Mexican-inspired tweeks and Ta Da! Mexican Brushetta with Queso Fresco came over for a dinner date.
So that's how it all started. Since then, I've been seeing a lot of queso fresco. Maybe even too much. I think my other cheeses (and maybe even my husband!) are starting to get jealous.
(If you can't get queso fresco at your grocery store, you can buy it online. Or you can make your own queso fresco. It's actually really easy).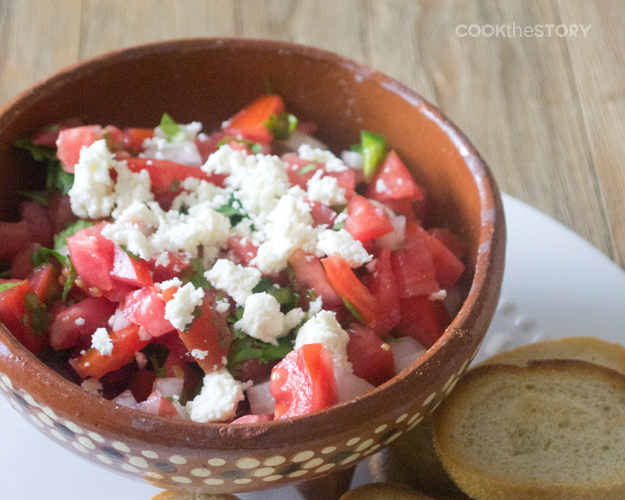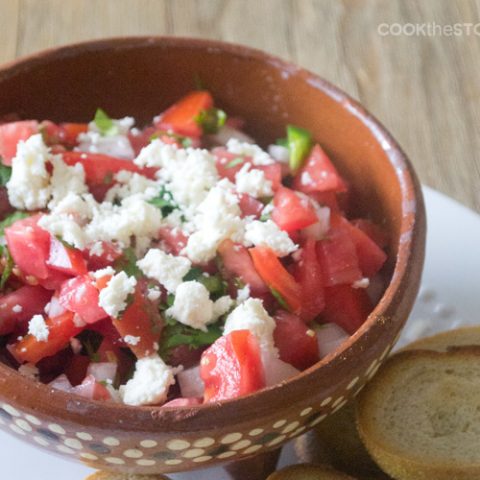 Mexican Bruschetta
You could serve this bruschetta with tortilla chips. But then it would be salsa, which I don't think sounds as interesting as Mexican Bruschetta. Instead, please serve it with toasted baguette, each slice rubbed with the cut side of a garlic clove right after toasting.
Ingredients
3 medium tomatoes, seeded and chopped
1/4 of a medium sweet onion, chopped
1/2 of a jalapeno pepper, seeded and minced
1 clove garlic, minced
1/2 cup cilantro leaves, roughly chopped
1/2 of a lime, juiced
1/4 tsp. salt
1/4 cup crumbled queso fresco
Instructions
In a medium bowl combine the tomatoes, onion, jalapeno, garlic, cilantro, lime juice and salt. I find it best to let this sit in the fridge covered for an hour or two. But you can go ahead with the recipe immediately if you're stuck for time.
Top with the queso fresco and serve.
Nutrition Information:
Yield:

4
Serving Size:

1/2 cup
Amount Per Serving:
Calories:

49
Total Fat:

2g
Saturated Fat:

1g
Trans Fat:

0g
Unsaturated Fat:

1g
Cholesterol:

5mg
Sodium:

210mg
Carbohydrates:

6g
Fiber:

1g
Sugar:

4g
Protein:

2g
Have you tried queso fresco? If not, why not? If yes, what do you love to add it to?
Disclosure: One of the above queso fresco link is an Amazon affiliate link meaning that if you click it and then buy something, I will be paid a small percentage of your purchase price.