This post may contain affiliate links. Please read my disclosure.
I made this corn to go with yesterday's Pollo Asado. It was such a nice change from plain ol' buttered corn. It had a ton of flavor from the grilling, ailoi sauce, to the cotija cheese. It all works perfectly together. I found this recipe alongside the Pollo Asado one in my local paper. It is inspired by rustic street food….super tasty and a tad messy.
Cotija Cheese is a Mexican cheese is a hard cow's milk cheese. I buy it is small rounds. I find it a my regular supermarket, but I realize this is probably because I live in AZ where we have a ton of specialty Mexican ingredients. Please try to find this cheese, it is wonderful in so many dishes. However, a good substitute might be parmesan or even feta.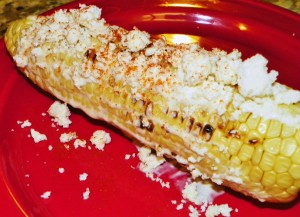 Mexican Cotija Corn
1 cup mayonnaise
6 garlic cloves minced
1 tbl fresh lemon juice
salt & pepper to taste
4 ears of corn
1 cup Cotija cheese
paprika for spinkling
To make aioli: combine mayo, garlic, lemon juice, salt and pepper in a small bowl. Cover and chill.
Remove husks from corn and clean well. Heat grill to medium high. Add the corn, turn frequently, until the kernels start to brown (about 5 minutes). Remove from grill.
Baste the hot corn with aioli, then top with cheese, and sprinkle with paprika.
Serves 4.