This post may contain affiliate links. Please read my disclosure.
We eat a ton of Mexican and Tex-Mex foods at our house. I just can't get enough of it, so I thought I would do a Mexican series this week. I actually have so many recipes I want to share that it would take several weeks to get them all in.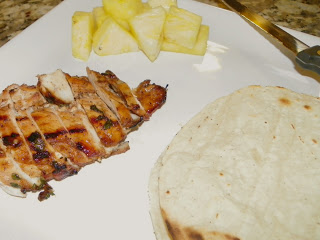 I got this recipe from the Food section in my local paper. I, of course, had to change it up just a tad to make it easier and to fit my daughter's special diet. It was still some of the tastiest Pollo Asado we have ever had. It was citrusy, tangy, and sweet all rolled into one. The chicken turned out so moist and juicy.
Pollo Asado
4-6 large chicken breasts (boneless, skinless)
2 limes, juiced
1/2 cup freshly squeezed orange juice, plus big chunks of the skin
4 tbls minced garlic
2 tsps pepper
1/2 c cilantro
1/2 c basil leaves, torn into small pieces
2 tsps paprika
1/4 c soy sauce
Glaze:
1 c honey
1/4 c apricot preserves
In a gallon sized zip-top baggie, place all the ingredients (except the glaze) Seal baggie and squish around so everything is combined and chicken is coated. Squish occasionally and allow to marinate for 2-4 hours. Prepare glaze by combing ingredients in a small bowl. Set aside.
Prepare a medium heat fire on the grill. Place chicken on indirect heat and cook for 5-6 minutes on each side. Baste each side with glaze while cooking. Chicken is done when juices run clear or internal temperature reads 165 degrees.
Allow chicken to rest a few minutes. Slice thinly for tacos.