This post may contain affiliate links. Please read my disclosure.
This is the third day of sharing my daughter's birthday princess tea party foods with y'all. I hope you are getting some great ideas.
The quiches are a super simple crust-less veggie quiche. I made two different versions for the party (the kid friendly ones and my favorite). The best part about these quiches is that they can be made a day or two ahead or prepped the night before then baked off quickly in the morning for breakfast.
I have done so many variations of this recipe and taken it to many potlucks over the years…there is never a single bite left.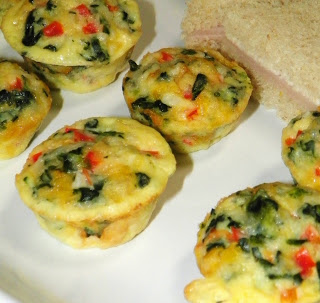 Mini Crust-less Quiches
6 large eggs (or 1 1/2 cups Egg Beaters)
1/2 cup diced red bell pepper (or any vegetable of your choice)
1/2 cup diced onions (or a handful of dried onion flakes)
1/2 cup frozen spinach
1/2 teaspoon kosher salt (or to taste)
opt: 1 cup shredded cheddar cheese (or cheese of your choice) (4 ounces)
Defrost spinach in the microwave. Squeeze out excess liquid.
Preheat oven to 350 degrees F.
Beat eggs with whisk in large bowl. Add the remaining ingredients and mix well.
Spray mini-muffin tins with non-stick cooking spray. Bake 20 minutes.
Makes 24 mini muffins
Other Options:
Use a regular sized muffin tin pan. Makes 12 (6 servings)
Only use egg/cheese/onion for a kid-friendly option.
Add in some diced Canadian bacon or crumbled cooked bacon for heartier dish.