This post may contain affiliate links. Please read my disclosure.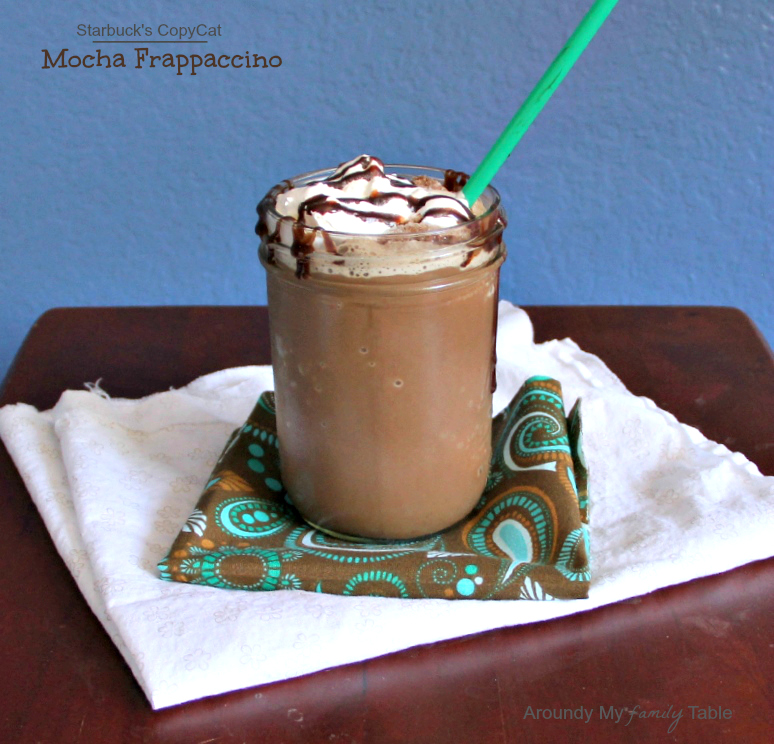 I'm gearing up for Mother's Day and nothing screams brunch more than a lazy day with my family enjoying a late breakfast, early lunch than Mother's Day. This year I'm planning a low key day with my kids and hubbyman with a few of my favorite treats! One of those treats, is a frozen coffee drink. I'm super addicted to any sort of iced coffee drink, so I've been playing around with duplicating a Starbuck's Mocha Frappuccino. Let me just say, this was one recipe that I thoroughly enjoyed testing. My Mocha Frappuccino tastes just like the real thing, but there is a trick to keeping the frap from separating and I have the secret ingredient for you!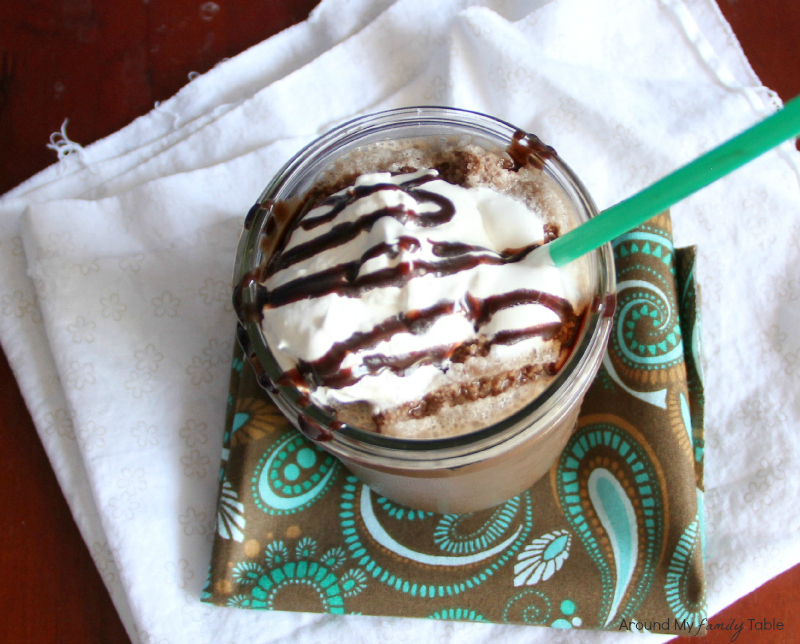 I've joined up with over 30 great foodies this week for #BrunchWeek! We are all sharing some wonderful brunch recipes and a HUGE giveaway (so keep reading past the recipe to find the other bloggers and the giveaway! Trust me…this is one giveaway you won't want to miss! There are over $1800 in prizes from some fabulous companies and I'm so excited to be part of this awesome group of #BrunchWeek bloggers!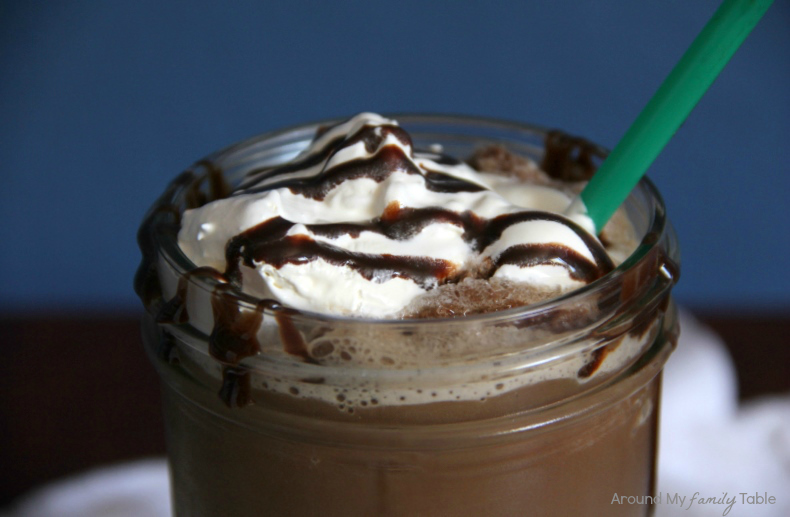 Let's get back to that secret ingredient, shall we? The problem with making these blended coffee drinks at home is that they tend to separate quickly after being blended. The secret? Xanthan Gum!
Xanthan Gum acts as an emulsifier and thickener. Just a pinch added to your blended coffee will keep it from separating! Xanthan Gum can be a bit pricey but it is so worth it and you will only use a tiny bit for each drink. So instead of spending $4.50 for a blended coffee you will only be spending about $.50 for your caffeine fix! It's also good to have around if you do any sort of gluten free baking for yourself, family, or friends! It's a must have ingredient!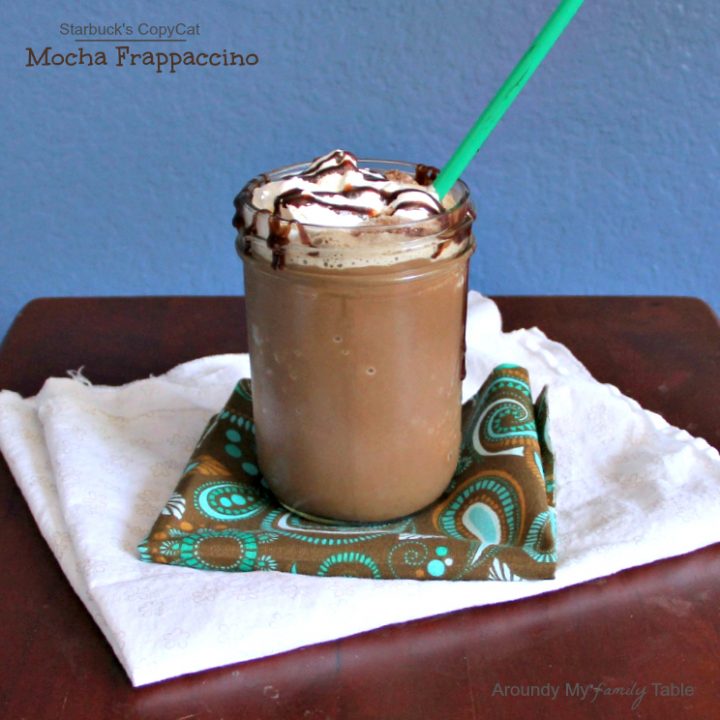 Mocha Frappuccino
Why spend money on the expensive coffee shop drinks when you make a homemade mocha frappuccino for SO much less money!
Ingredients
3/4 cup espresso (or double strength coffee)
3/4 cup milk (soy, rice, low fat, 2%, whole, etc)
4 tbsp sugar
3 tbsp unsweetened cocoa powder
pinch of xanthan gum (about 1/16 tsp)
2 cups ice
Instructions
In a large blender add warm coffee, sugar, cocoa powder, and xanthan gum and process on slow speed for about 30 seconds. (The warm coffee helps to dissolve the sugar and completely blended in the xanthan gum.)
Add milk and blend for about 15 seconds just to combine. Finally, add in ice and blend on high power until ice is completely crushed and blended into coffee mixture.
Pour into a large cup and top with whipped cream and a drizzle of chocolate syrup if desired.
Nutrition Information:
Serving Size:

1
Amount Per Serving:
Calories:

305
Total Fat:

4g
Saturated Fat:

1g
Sodium:

89mg
Carbohydrates:

71g
Sugar:

54g
Protein:

8g
Check out all these other fabulous #BrunchWeek recipes that were posted today!
Beverages
Watermelon Rosemary Champagne Cocktail by Vanilla Lemonade
Pear Hibiscus Brunch Cocktail by Rachel Cooks
Strawberry Rose Sangria by The Girl In The Little Red Kitchen
Pineapple-Basil Tea by The Kitchen Prep
Eggs
Tomato and Mozzarella Quiche by Love and Confection
Cherry Tomato and Chorizo Omelette by Katie's Cucina
Asparagus and Bacon Quicheby Confessions of an Overworked Mom
Meat, Poultry and Fish
Bacon Canapés with Oranges and Maple Yogurt by Cook the Story
Chicken Bacon Ranch Panini by Sweet Remedy
Pancetta Wrapped Chicken by Jane's Adventures in Dinner
Breads, Grains, Cereals and Pancake-type Yums
Spinach and Goat Cheese Muffins by Culinary Flavors
Overnight Blintz Bake by White Lights on Wednesday
Bananas Foster French Toast by by Cravings of a Lunatic
Desserts
Cinnamon Raisin Bread by Katie's Cucina
Chocolate Chip Banana Bundt Cake by Take A Bite Out Of Boca
Strawberry Scones by Kokocooks
Strawberry Mascarpone Tart by Kelly Bakes
Fruits and Veggies
Honey-Watermelon Soup by Culinary Adventures with Camilla
Brunch Week Sponsors:
We are so grateful to have such amazing sponsors for Brunch Week who have given us a fabulous bunch of incredible (INCREDIBLE!) prizes for our giveaway (giveaway ended 5/10/13). Show them some love and appreciation! California Walnuts, Lodge Cast Iron, Flavors of Summer, Black Gold Farms, Food and Wine Conference, #SundaySupper, Bob's Red Mill, Whole Foods Orlando, and Stonyfield Organic.