This post may contain affiliate links. Please read my disclosure.
Yesterday, was my son's 3rd birthday and we celebrated with a Monster Truck Party. He is into everything Monster Trucks, so I knew he would just love this party! A friend of mine is wizard on Photoshop and she made invitations that looked like a ticket to a Monster Truck show. She also sews and made the cute Monster Truck shirt that Gavin is wearing!
Since this is a food site, let's start there! LOL! Hubbyman was out of the country, so I was on my own for the party and all the preparations. I took a few short cuts, but I think it turned out cute anyway. Sandwiches with checkered flags, Energy Bite licorice sticks, Mud Shots (crushed oreos, chocolate pudding, and an oreo on top), chips and salsa, and individual veggie cups!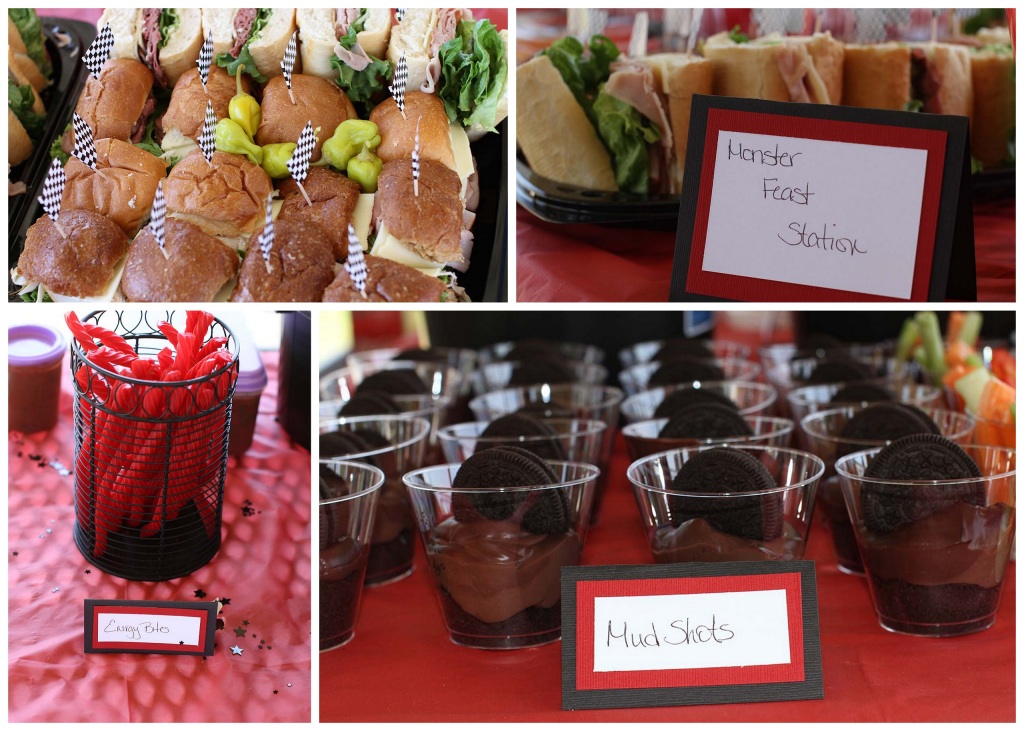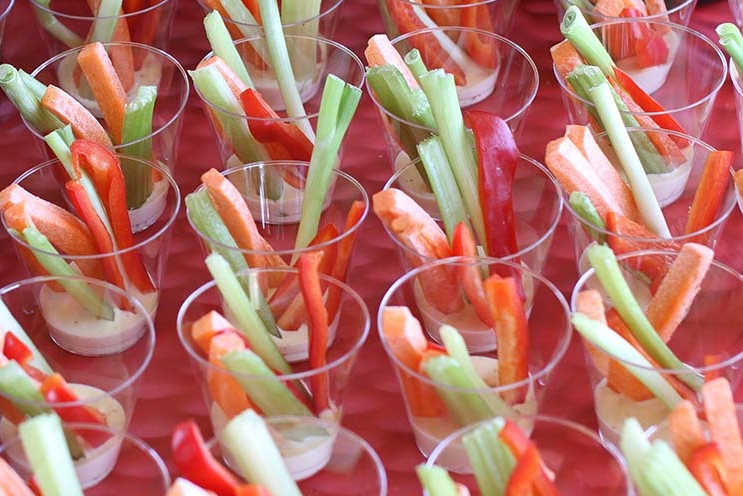 I first saw these individual veggie cups on Pinterest a while ago and then Janice over at Celebrating Family had them at her daughter's party last year. They are super fun and easy. Just put some dressing in the bottom of a little cup and fill with chopped veggies. EASY!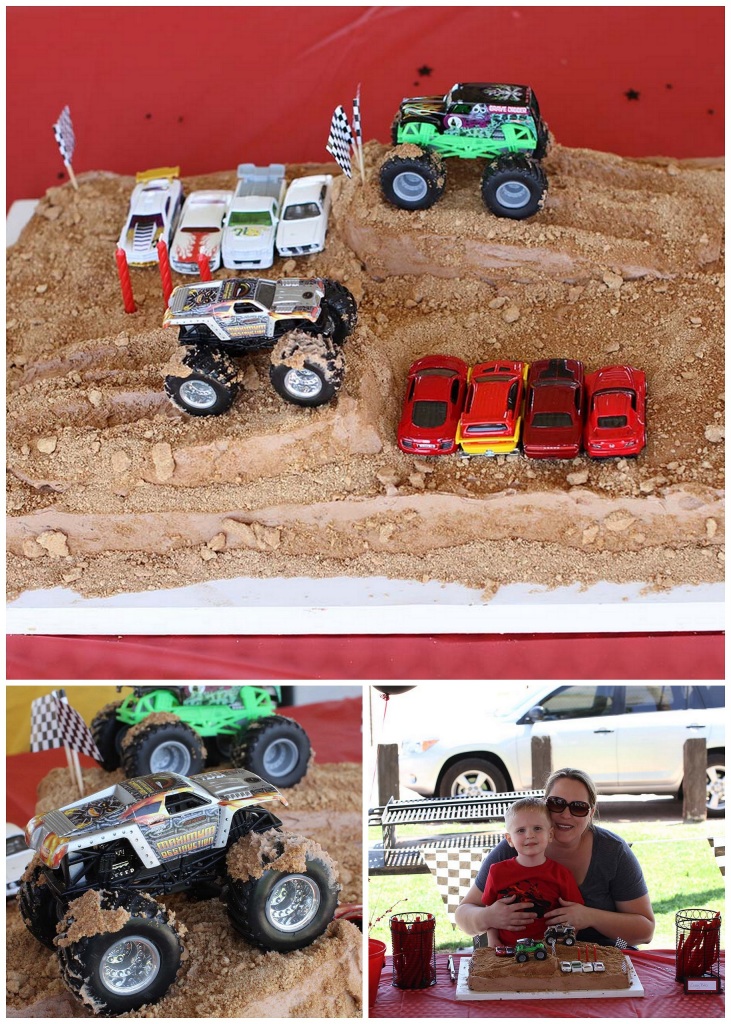 Well, the cake is not my best work at all! I spent 6 hours the day before the party in the hospital with the little man. So my time to make the cake was shortened from an all day activity to an hour before the party. I made a chocolate cake with chocolate buttercream frosting. The "dirt" is crushed graham crackers with a little cocoa powder added to darken it up. The dirt ramps are actually large blocks of fondant covered in frosting/dirt. And of course, the monster trucks and cars! Don't forget to wash the cars before placing them on the cake. I "drove" the trucks over parts of the cake to give it the look that it was actually a used MT course.
I decorated with red and black and strung up a checkered flag banner around 3 sides of the ramada. The kids went to "body shop" for temporary tattoos and MT coloring pages. But mostly they just ran around and played on the playground. The kids all went home with a goodie bag filled with a monster truck, tattoos, a curly straw, and more!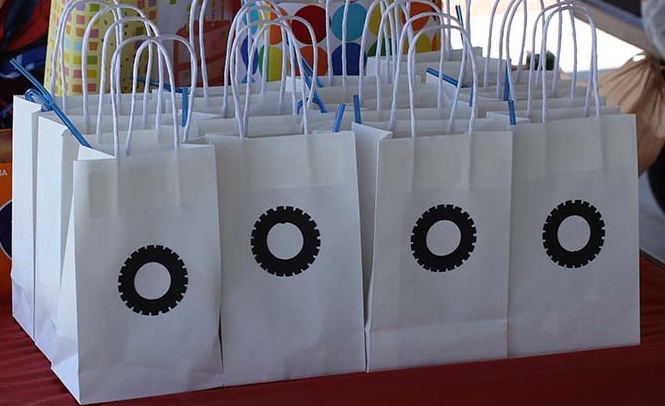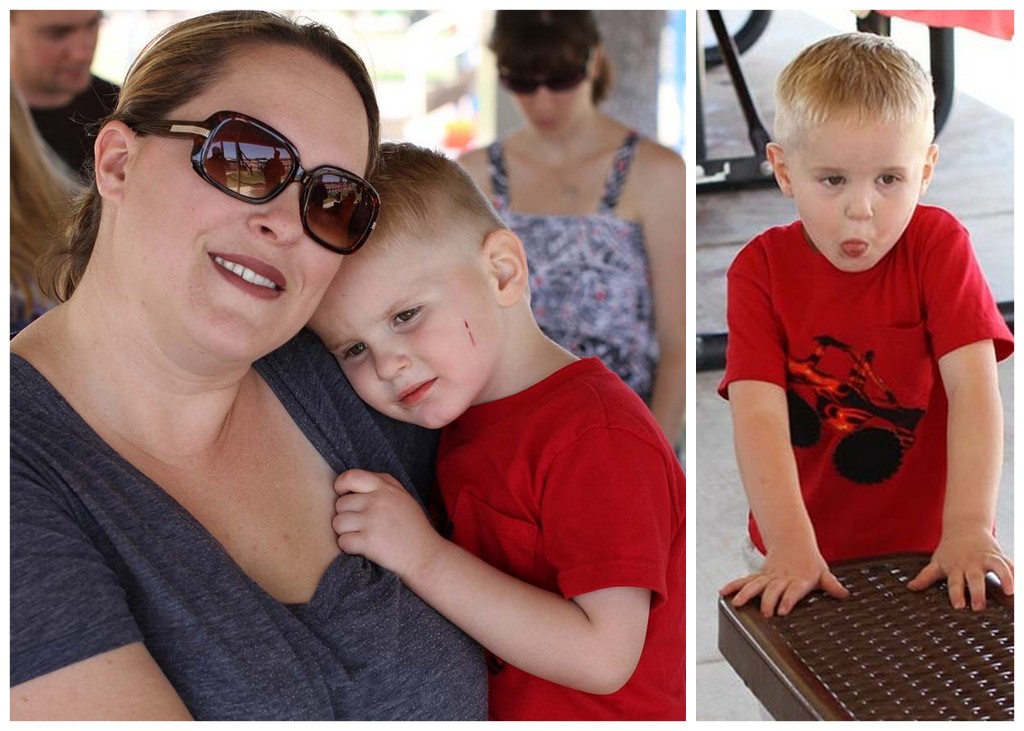 Me and my little man! Happy 3rd Birthday!
And if you're looking for more birthday party ideas, check out my Lego Party that includes some adorable Lego Cupcakes.