This post may contain affiliate links. Please read my disclosure.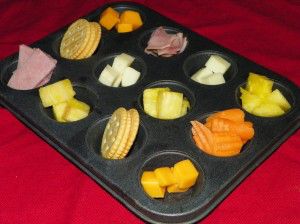 I first heard about doing this about 6 years ago when I heard Dr. Sears speak about nutrition for kids.
His idea was mostly for snacking, but my kids love it so much that I started doing it for lunch. It's like a healthy version of that overly processed kids lunch pack you find in the deli section at the supermarket…only I control what goes in it and it's a lot cheaper.
I think this is starting to become a bit more popular now, but was a fairly new thing when I first heard about it.
Today's lunch includes: 2 kinds of cheese, carrots, pineapple, crackers, ham. Mix it up, use the idea for snacking too! Kids love anything new and certainly anything they are allowed to eat with their hands.