This post may contain affiliate links. Please read my disclosure.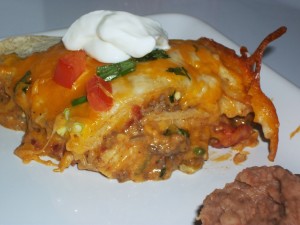 For Christmas, my Mother-in-Law bought me a cute cookbook, All Through The Seasons, filled with wonderful craft and recipe ideas. As I was flipping through it, this recipe caught my eye for two reasons…1. we love Mexican food and 2. I had everything on hand already to make it (of course I adapted it just a tad).
It was okay. Not great, but okay. No one complained and everyone ate, but I guess it was just to similar to the stacked enchiladas that I already make. This one wasn't too special for us.
It's worth giving it a try…who knows…y'all might like it!
Mexican Lasagna Casserole
1 lb ground beef
1 jalapeno, seeded and finely chopped
1 can Rotel
1 tsp garlic powder
1 tsp cumin
1/2 tsp salt
1/2 tsp pepper
1 can (10 3/4 oz) cream of celery soup
1 can (10 3/4 oz) cream of mushroom soup
1 can (10 oz) red enchilada sauce
18 (6-inch) corn tortillas
3 cups Mexican blend cheese
1 tomato, seeded and diced
4 green onion, chopped
1/4 c cilantro, chopped
Cook the ground beef in a large skillet over med-high heat until meat is no longer pink. Drain. Stir in jalapeno, Rotel, garlic powder, cumin, salt, and pepper. Cook until thoroughly heated.
In a saucepan, combine soups and enchilada sauce. Cook until heated through.
Spoon about 1/3 of the sauce into the bottom of a 9×13 pan sprayed with non-stick cooking spray. Top with 6 tortillas. Spoon on about half of the beef and another 1/3 of the sauce; sprinkle with cheese. Top with 6 more tortillas, repeating the layers, ending with tortillas. Top with remaining cheese, tomato, green onions, and cilantro.
Bake at 350F for about 30 minutes or until heated through and cheese is melted. Serve with homemade refried beans.