This post may contain affiliate links. Please read my disclosure.
I'm starting a new series called "Kids in the Kitchen". Somehow, my blog got away from me and became only recipes. I want to try to get it back to my vision which still includes TONS of recipes, but lots of ideas for the family, tips in the kitchen, favorite products, etc. Kids in the Kitchen will be featured the first Friday of every month. I'm still debating on making it a carnival or if it will be just me posting. I would love some input! In any event, today is the first Kids in the Kitchen post (even though it's not the first Friday).

So even though we are Irish, we have a traditional "American" St Patrick's Day Meal. Corned Beef with cabbage, carrots and potatoes along with Irish Soda Bread. Despite it being super tasty, it is not traditional fare in Ireland. I'd much rather stick with this, create memories, and have fun then worry about what do they really eat in Ireland for St Paddy's. My pictures didn't turn out to well for this meal, so just trust me….it's good and easy. The recipe comes from my MIL who uses the recipe in The New Basics Cookbook
.
Corned Beef and Cabbage
1 fresh corned beef (5-6lbs)
2 onions, studded with 3 whole cloves
4 carrots, peeled and halved
2 ribs celery, halved
4 sprigs Italian (flat-leaf) parsely
1 green cabbage, cored & cut into 4 wedges
12 small red new potatoes
6 small leeks (white part & 2 inches of green), well rinsed
6 carrots, peeled and cut into 2 1/2 inch lengths
salt & pepper
4 tbls chopped fresh Italian (flat-leaf) parsley
Place corned beef in a large soup pot. Add the onions, halved carrots, celery, & parsley. Cover with cold water and bring to a boil. Reduce heat, cover, and simmer for 2-3 hours, turning the beef over in the broth every 30 minutes or so. When the meat is very tender, remove it from the pot and keep warm.
Strain the broth and return to pot. Ad the cabbage, potatoes, leeks, cut up carrots, salt, pepper, and 2 tbls of chopped parsley. Bring to a boil, reduce heat, cover, and simmer until veggies are tender; about 30 mintues.
Arrange beef on a serving platter and surround it with the cooked veggies. Ladle the broth over the beef and veggies and sprinkle with remaining 2 tbls of chopped parsley.
(Um, is it bad that I just throw it in the slow cooker? When the meat is almost tender (about 5 hours), I remove it and use my straining spoon to get all the veggies out. Put back in the meat and remaining veggies, cook for about 2 more hours.)
~Kids In The Kitchen~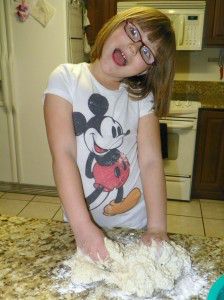 Irish Soda Bread
3 1/2 cups all-purpose flour (plus more for kneading)
1 tsp baking soda
1 tsp salt
1 1/2 cups buttermilk
Preheat oven to 425. Lightly grease a baking sheet. In large bowl combine flour, baking soda, and salt. Add in buttermilk to form dough into ball. You may need to a little additional buttermilk.
Turn out onto lightly floured surface and knead until dough holds together, 1-2 minutes. Shape dough into a round ball and place on baking sheet. Cut 1-inch large, deep X across the top of bread. Bake until bread is golden brown and sounds hollow when tapped on bottom, about 40 minutes. Transfer bread to a cooling rack to cool.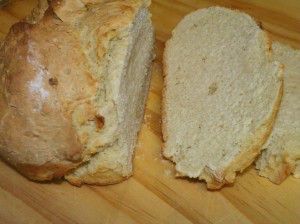 Teachable Moments: cleanliness, measuring, baking soda reaction, kneading, oven safety