This post may contain affiliate links. Please read my disclosure.
These 26 items are my must have items for any cruise so I'm sharing my essential Packing Tips for a Cruise with y'all. You don't want to over pack, but you'll want all the necessities.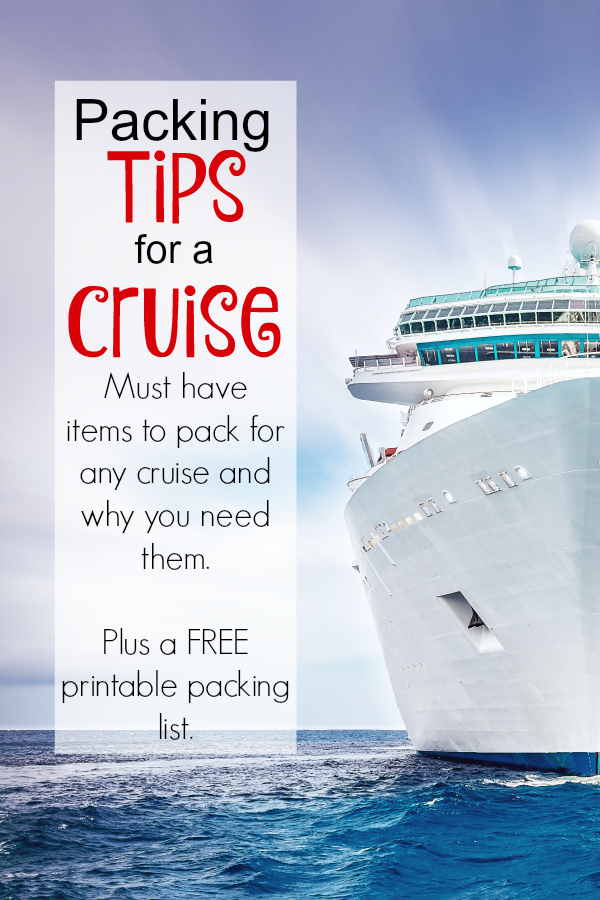 Since I'm preparing for my first cruise, I did some research on must-have items for the cruise. Whether you are looking for first time cruise tips, family cruise tips, or just general cruise tips…I've got ya covered.
My number #1 thing that I have to take is at least one of my mobile devices filled with audiobooks. I started using Audible over 19 years ago when there were no "smart devices". I used to have to download the books onto an MP3 player and take that with me. It's so easy now that it's part of Amazon and downloading couldn't be easier. Don't have an Audible account yet..here's a free downloadable book + 30 day trial.
I always download 5 or 6 books for a week long trip. Why so many? There is travel time, canceled flights, relaxation time, time in the room after the kids are in bed but I'm not ready to go to bed and of course all those random down times.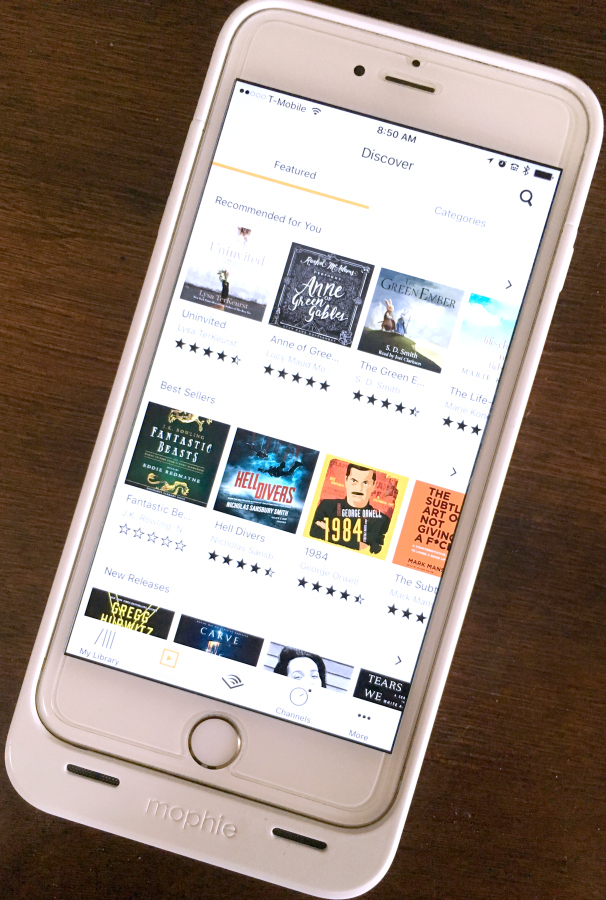 Check out my list of other Packing Tips and then download my FREE packing printable & grab your free book…details at the bottom of this post.
Packing Tips for a Cruise
Pump hand soap — I never leave home without some. It's so much better than hotel soap.
Starbucks Via — instant coffee
Little bottle of vanilla syrup (for coffee) or grenadine (for special kids drinks)
Boca Clips— they work great for wet swimsuits and beach towels on the lounge chairs. It gets so windy that it's hard to keep the towels from blowing away. Plus it helps mark your chair so it's easy to find.
Gallon sized zip top bags — for wet items, to keep your lanyard/phone/camera, glasses in so they don't get wet or sandy
Sand bucket and toys — if you go to the beach they rent toys, but they are really expensive. Pick up some cheap toys you don't mind leaving behind.
Pop-up hamper for dirty clothes & small packets of laundry detergent
Swimsuits in your carry-on — you can swim while waiting for your room
Medications — Tums, Pain Killers, Prescriptions (in your carry on)
Reusable beverage cups with a lid for each traveler — to get decent sized drinks from the soda machines
Highlighter for marking things to do in the itinerary
Beach bag — to take on excursions for sunscreen, beach/sand toys, goggles/masks, water bottles you've had chilling in your room mini fridge
Case of small water bottles — usually needs to be brought in your carry on (bottled water costs money on the ship and you'll want some in your room for nighttime)
2 regular sized water bottles per person — if you don't want a whole case of minis. Drink one & have one chilling in fridge, then refill and swap them out.
Soft Sided Cooler Bag — plus baggies to put ice in for water bottles by the pool.
Chargers — for electronics
Sun Protection — sunscreen, hat, sunglasses, aloe vera
Small air freshener for bathroom — um…it's a really small room with lots of people, just saying
Plug-in night light — the rooms get super dark at night
Ear plugs
Small bluetooth speaker
Sea Lice repellent — better safe than sorry
Corkscrew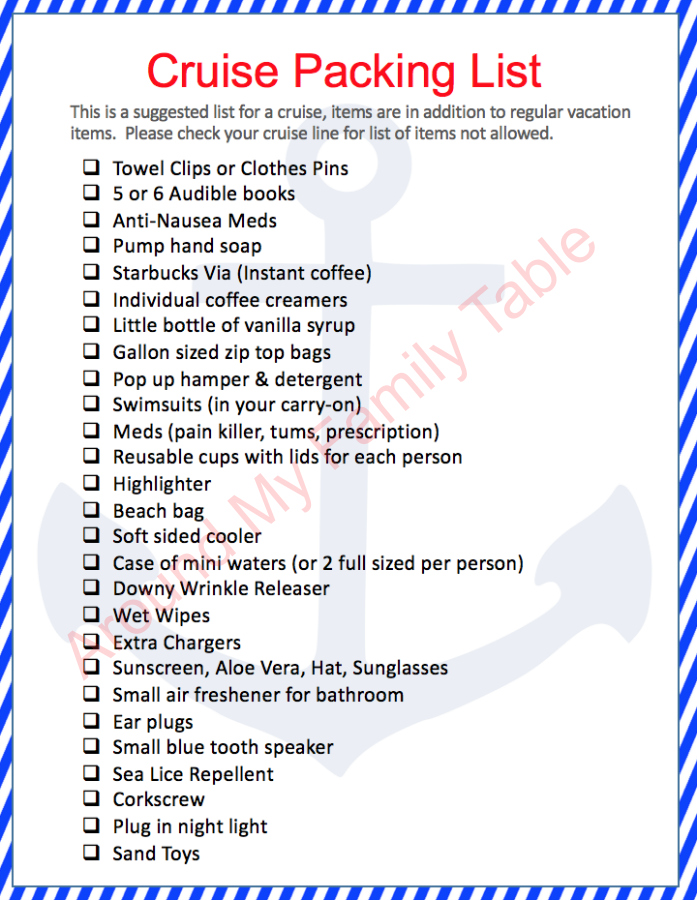 Make sure to grab your 30 day free Audible trial plus a free book download before your cruise and get your mobile device filled with great books. They have an unmatched selection of audiobooks that I bet you'll find tons of things to keep you busy.
This is a sponsored conversation written by me on behalf of Audible. The opinions and text are all mine.