This post may contain affiliate links. Please read my disclosure.
Take full advantage of lemon season, by processing and freezing them when they are at their peak. These Tips for Freezing Lemons will ensure you'll have delicious lemons all year long.
Be sure to sign up for my email list….seasonal recipes in your inbox every week!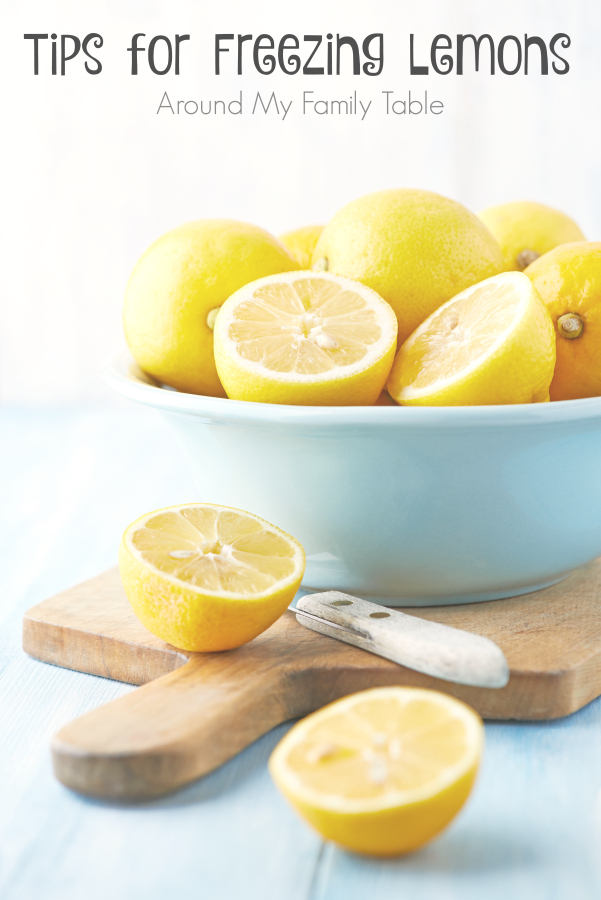 We are blessed with a huge lemon tree that produces tons and tons of fruit every January. There is seriously nothing better than those lemons. Whether you have tree or just love lemons you'll love these tips.
Lemons are in season in January and February every year, so take advantage of reduced prices at the grocery store, buy a case from a CSA or co-op, or find a you-pick location. We've even filled up a flat rate box for out of state family & friends and shipped freshly picked lemons out of state…so if you know someone with a lemon tree, offer to pay for shipping. A flat rate box is well worth the amazing free lemons.
So what do I do with a tree full of lemons? Process and Freeze and then I have everything I need all year long. I love having lemon goodness all year long…I can't remember the last time I paid for lemons at the grocery store.
Tips for Freezing Lemons
Wash and Dry lemons in warm water. It's always best to start with clean lemons.
Juicing: Use your favorite tool to juice lemons. I've found that the more lemons I need to juice the bigger my juicer needs to be. I love the kitchenaid attachment…it's a work horse. But if you are doing a small amount then a small electric juicer will work just fine. Strain the seeds out of the juice.
Use ice cube trays to freeze 1 or 2 tbls of juice into little cubes for just a splash of lemon juice in recipes. Measure how much liquid each frozen cube will before you freeze the juice. Once the cubes are frozen, place in freezer bags labeled with the date and portion size of the cubes. Pop in the microwave for 10 seconds or let it sit out for 30 minutes before using in your favorite recipe.
Using your favorite lemonade recipe as a guide, freeze gallon sized bags of lemon juice for quick lemonade over the summer. For example, my Carnival Lemonade recipe calls or 1 1/2 cups of lemon juice + 2 tsps of lemon zest. I place all of it in a freezer bag, squish out the air before laying flat in the freezer. Once frozen, I stand them up in a bin in the freezer. (Side note: if you need zest, it's easier to zest the lemons before juicing).
Line large baking sheets with wax paper and set aside. Slice lemons into 8 wedges or rounds and lay flat in a single layer on baking sheets. Place in freezer until frozen solid and then transfer to freezer bags. I keep the wedges in separate bags from the rounds just to make grabbing some easy. I throw rounds in my water all year long and the wedges are a great addition to lemonade or iced tea.
With these tips you'll have delicious lemon recipes all year long!
Lemon Recipes
Gluten Free Lemon Sugar Cookies
Check out all my Lemon Recipes for loads of great ideas!
Be sure to follow me on Instagram and tag #amftrecipes when you share one of my recipes….so I can see all the wonderful recipes YOU make!
Connect with Around My Family Table!
Make sure to follow me on social media, so you never miss a post!
Facebook | Twitter | Pinterest | Instagram | Bloglovin' | Google+
Sign up to receive seasonal recipes once a week or
receive an email in your inbox for each new recipe: