This post may contain affiliate links. Please read my disclosure.
I can't believe I didn't realize that last Friday was really the 1st Friday of the month. I got so excited to share our 4th of July picnic with y'all that I just totally spaced this.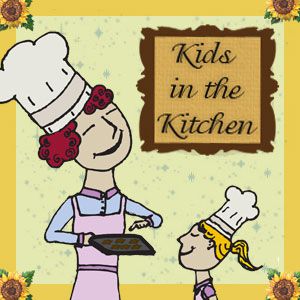 This month's KITK is from my sister. She is an awesome cook and is teaching her children well. Isaac, who recently turned 7, actually makes these enchiladas all by himself. I wish my daughter was at this stage, but she has a few more lessons in the kitchen before she can do this all by herself.
Want to feature your family and a family recipe? Send me an email to schedule a time….aroundmyfamilytable (at) gmail (dot) com.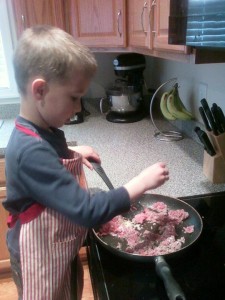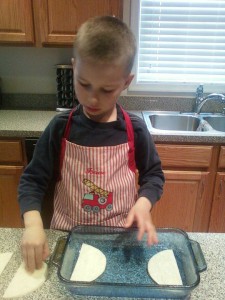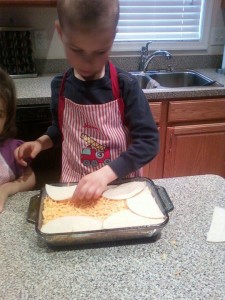 Easy Cheese Enchiladas
10 corn tortillas
1 lb ground turkey, beef, or left over chicken
shredded cheese
1 large can (19 oz) enchilada sauce (or 2 small)
dehydrated onion
green chiles (opt)
Brown the turkey with a handful of dehydrated onion and green chilies. Mix in half of the enchilada sauce. Cut 3 torillas in half and line flat edges on the sides of a casserole. Fill in the center with 2 more tortillas and spread the meat mixture on top. Add as much shredded cheese as you'd like. Add the remaining tortillas in the same configuration with 3 cut in half lining the sides and 2 filling in the center. Spread the remaining sauce on top covering the toritalls completely and top with a little extra cheese. Bake for about 30 minutes at 350 or until cheese in completely melted.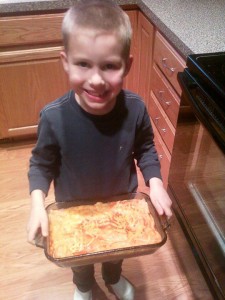 Teachable Moments: oven/stove safety, hygiene, knife skills, creativity
Kids in the Kitchen is a monthly feature on the first Friday of the Month.
Want to check out the previous KITK posts?