This post may contain affiliate links. Please read my disclosure.
Happy 4th of July! If you missed my posts last week, I shared some of my favorite picnic dishes which would be perfect for your party or picnic today!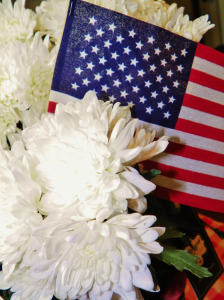 – Patriotic Fruit Kabobs
–Classic Mustard Potato Salad
–Roasted Sticky Chicken
I always make this chicken salad with leftover chicken. It's so easy and the best chicken salad I've ever had. I made my Roasted Sticky Chicken recently, so I had to make this with the leftovers to share with y'all. You can use any type of bread, the kids usually prefer a 9-grain bread, but hubbyman and I usually splurge and use croissants. YUM!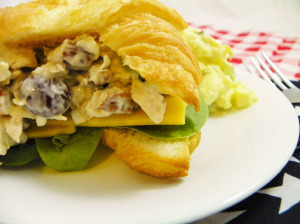 Chicken Salad with Grapes
3 cups diced cooked chicken
1 cup finely chopped celery
1 ½ cups seedless red grapes, halved
1 cup chopped pecans
1 small minced onion
1/2 tsp salt
1 ½ tsps Worcestershire sauce
3/4 cup mayonnaise
Combine all ingredients in a large bowl. Chill until ready to serve. Awesome for sandwiches or even for dipping with crackers.
*I love adding some cheddar cheese and spinach to my sandwich!