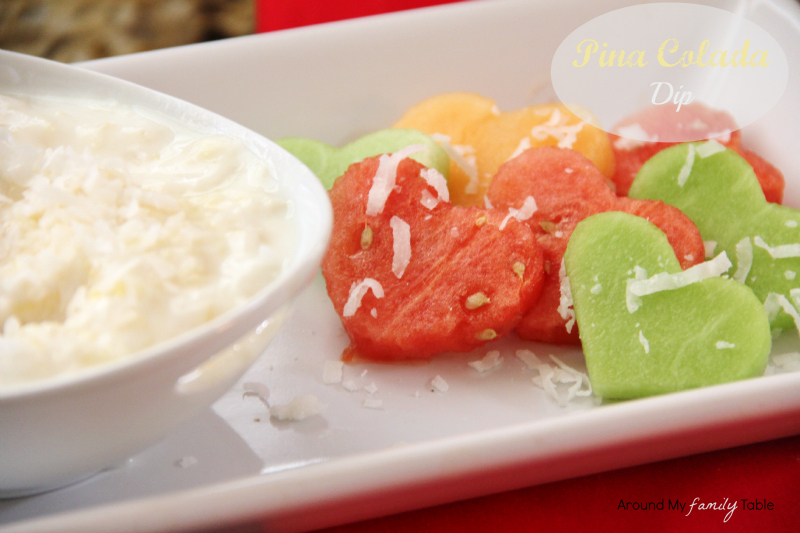 I'm always trying to figure out how to get healthy foods into my kids, but I have to stay on my toes or they get bored.  Unfortunately, many of the Pina Colada Fruit Dips call for instant coconut pudding, which is not healthy at all.  I knew I could make a similar tasting dip without pudding and make it healthy enough for even a fun breakfast.  I've done fruit dips before, but I think this one really impressed the kids!  This dip is so refreshing and I love this little chunks from the crushed pineapple; however, if you aren't a fan of slightly chunky dips then give it a whirl in the blender before serving.
Since it is January and I'm trying to feed my family healthier (darn those pesky resolutions), I thought a yogurt dip was perfect!   It has tons of calcium, healthy probiotics, protein, and all the other health benefits associated with dairy.
Plus aren't those cute fruit pieces perfect for Valentine's Day!   I just sliced the fruit thin and used a small heart-shaped cookie cutter.  Super simple, right?  I think these will make an appearance on our breakfast table for Valentine's.  Today, though, it was an after school snack.   My oldest usually begs for ice cream after school, not sure why…I hardly ever give it to her.  Once I placed this platter in front of her, she gobbled it and didn't even ask for ice cream.
I wasn't able to actually try this dip, but I served it to hubbyman and the piano teacher.  Both agreed that it was "super yummy" and hubbyman said it reminded him of the  Pina Coladas we had on our honeymoon in Jamaica (without all rum).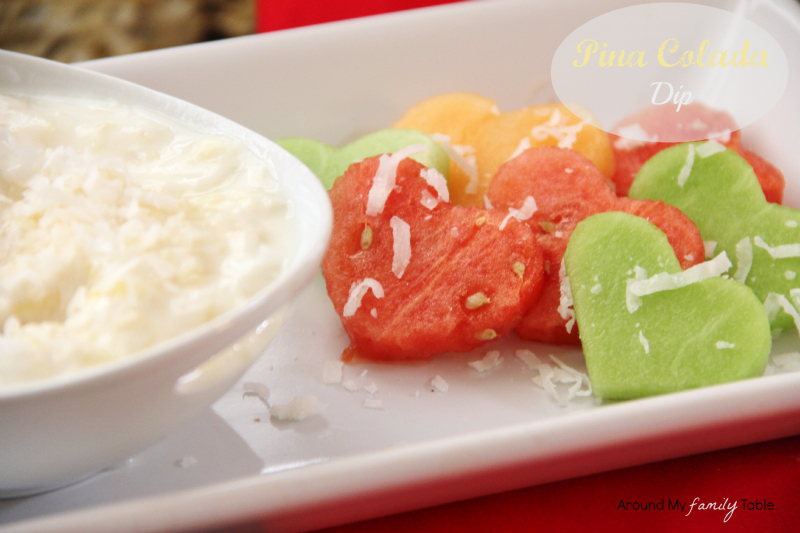 8 oz can of crushed pineapple, undrained
3/4 cup vanilla yogurt
1 tsp coconut extract
garish with extra sweetened shredded coconut
In a small mixing, combine ingredients. If you prefer a smooth dip, give it a pulse or two in a blender.
Serve with slices of melon, berries, grapes, pineapple, and apple slices.
7.8.1.2
101
https://www.aroundmyfamilytable.com/pina-colada-fruit-dip/
Disclaimer: This post was made in partnership with AZ Milk Producers.  All opinions and thoughts are my own.
Join the Club!
Get delicious recipes delivered straight to your inbox each week! Plus learn how to take back suppertime in your home.

And get started with my NEW Take Back Suppertime 5-Day Jump Start Guide.