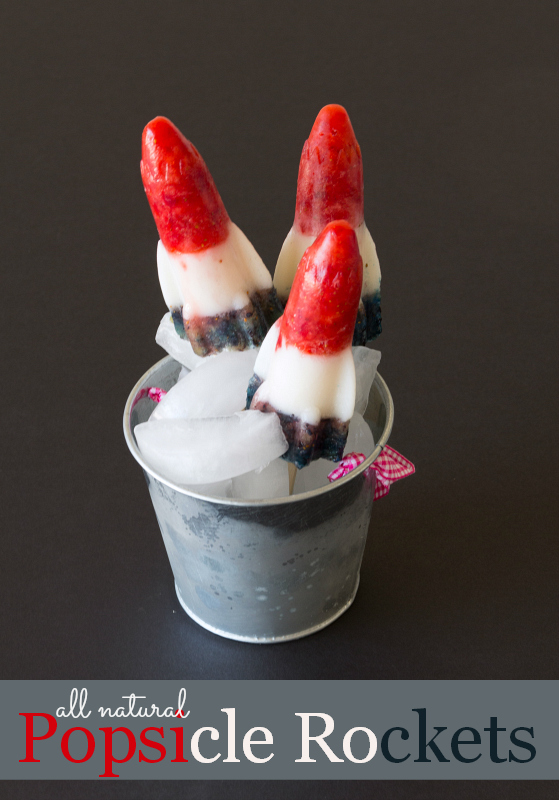 I am looking forward to this summer and all the yummy popsicles I'll make and share with y'all! I saw these rocket ice pop molds and they brought back childhood memories of Bomb Pops. Do you remember the excitement of hearing the ice cream truck music? I will admit that I would probably still run outside if I heard the ice cream truck coming down the street. My take on popsicle rockets has considerably less sugar and real fruit inside- guaranteed to make both you and your kids happy!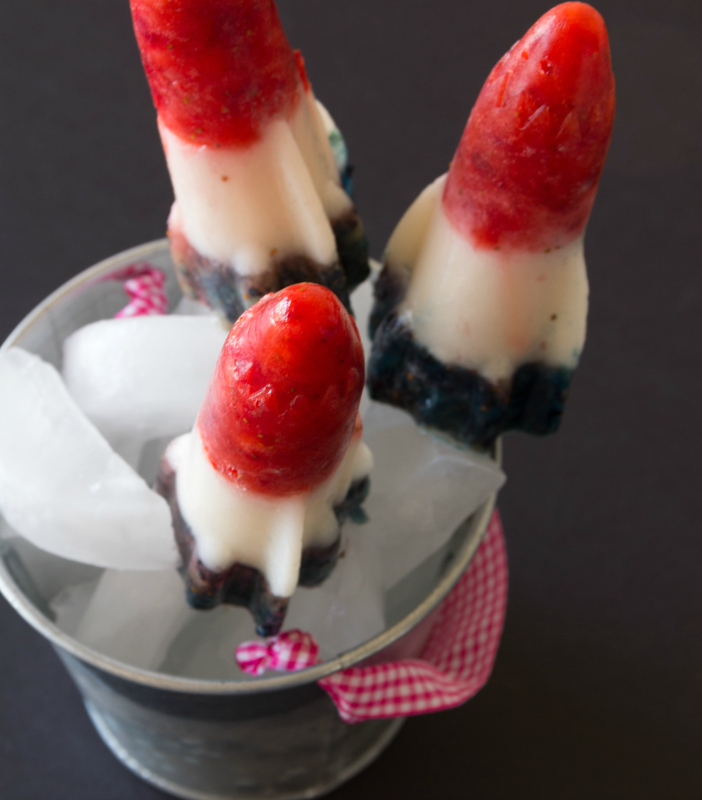 Feel free to use a different popsicle mold if you want- I was pretty happy with the way these molds worked out as they have a nice tray that allows you to pour in your ingredients and take out one popsicle at a time when you're ready to eat them. One note is that I ended up using plain popsicle sticks instead of the base that came with the mold only because I was adding layers and the base wouldn't work for my purposes.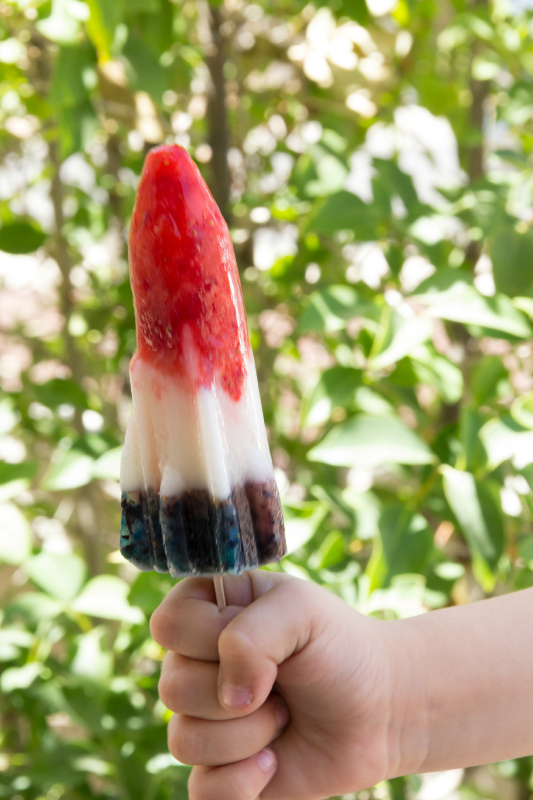 These popsicle rockets are dairy-free, but if you don't have allergies to worry about, you could substitute yogurt for the white layer. After you make these popsicle rockets, check out what the rest of the 12 bloggers is bringing to our 4th of July picnic today!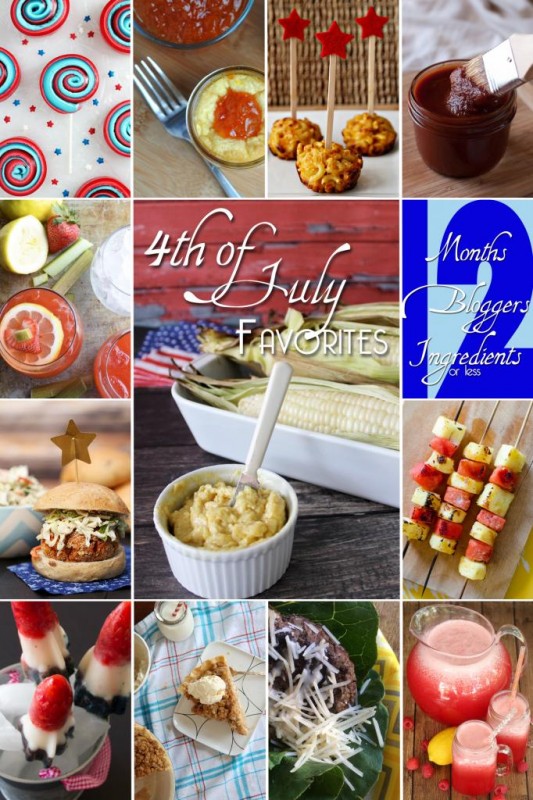 Popsicle Rockets
Ingredients
1 pint (2 cups) strawberries washed and hulled
1 pint blueberries
1/2 c sweetened almond milk
3 T simple syrup (divided)*
3 T water (divided)
Directions
In a blender or food processor, combine strawberries and half of the simple syrup and water. Pulse a few times until strawberry mixture is to desired texture ( I like my fruit popsicles a little chunky, but sometimes kids like it smoother). Add a bit more water if needed. Pour strawberry mix into molds 1/3 of the way full. (There may be some leftover.) Freeze until hardened, about 30 mins to a hour.
Take mold out of freezer and pour almond milk into molds, another 1/3 of the way up. Place popsicle sticks in- you may have to push a little into the frozen strawberries so it holds upright. Return to freezer for 30 more minutes till firm.
Pulse blueberries in a clean blender or processor bowl with the remaining simple syrup and water. Fill molds and return to freezer.
To remove pops from the mold, you may need to run under warm water for a second or two before they release. Enjoy!
*To make simple syrup, combine equal parts water and sugar in a medium saucepan. Bring to a boil, stirring, until sugar has dissolved. Allow to cool and store in the refrigerator until ready to use or up to a couple weeks.
Loading nutrition data...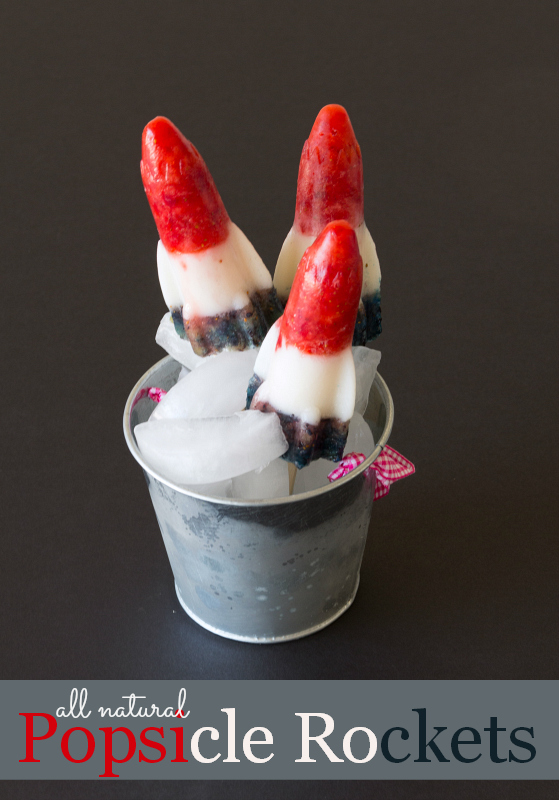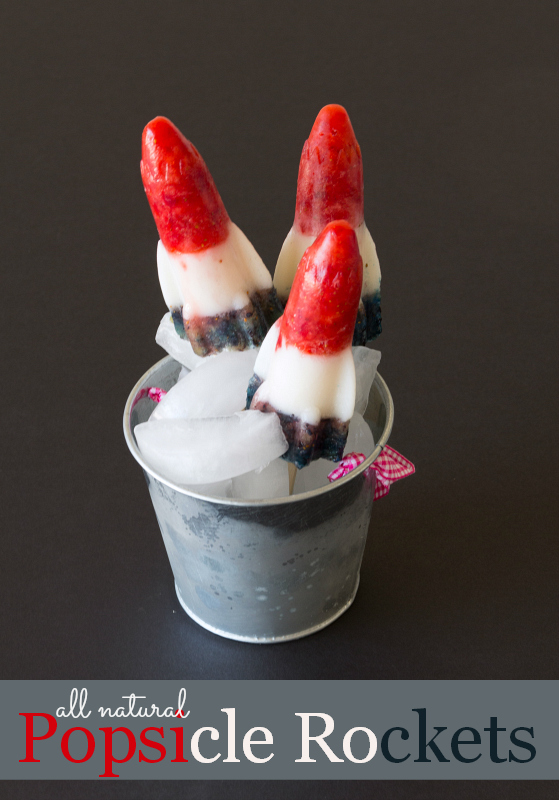 Did you make this recipe?
Leave review!
Join my Weekly Newsletter
And get my Free Slow Cooker Resource Guide! It's full of recipes with 5 or fewer ingredients plus plenty of slow cooker tips!

Plus, you'll get access to my free EXCLUSIVE downloads & printables for newsletter subscribers.