This post may contain affiliate links. Please read my disclosure.
Hello AMFT fans!! Laura here from
Pink Cake Plate
! I am so excited to be here sharing one of my
favorite gourmet fudge recipes
. This one only takes a few ingredients!! Yup only two main ingredients and this fudge is so versatile you can literally make so many different flavors! Today I'm sharing my
Pecan Pumpkin Pie Fudge Recipe
!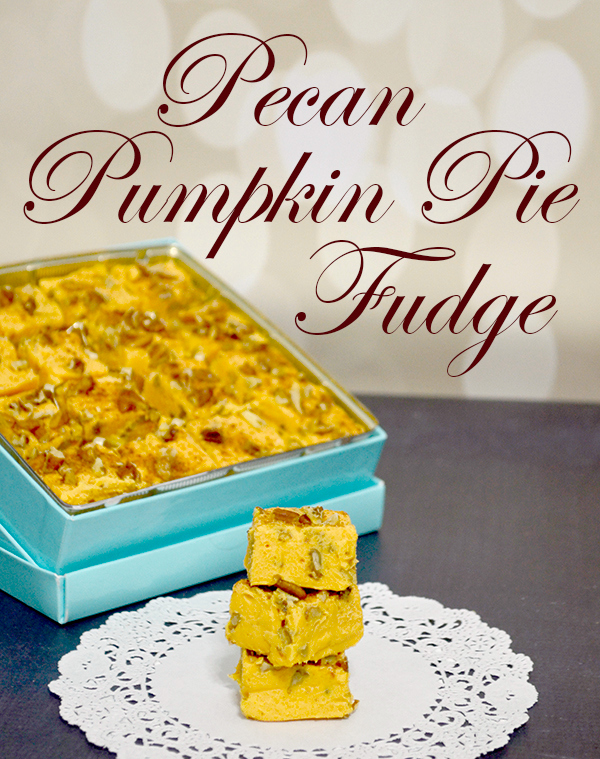 I have been making this fudge for the past few years and no one even suspects it's the "easy" version!! I think my favorite flavor is my Maple Nut Fudge. I just love maple and nuts together!! The possibilities of flavors for this fudge are endless! I think I want to make Egg Nog Fudge next, but can I put nuts in it?? I think fudge needs a little crunch to it, don't you?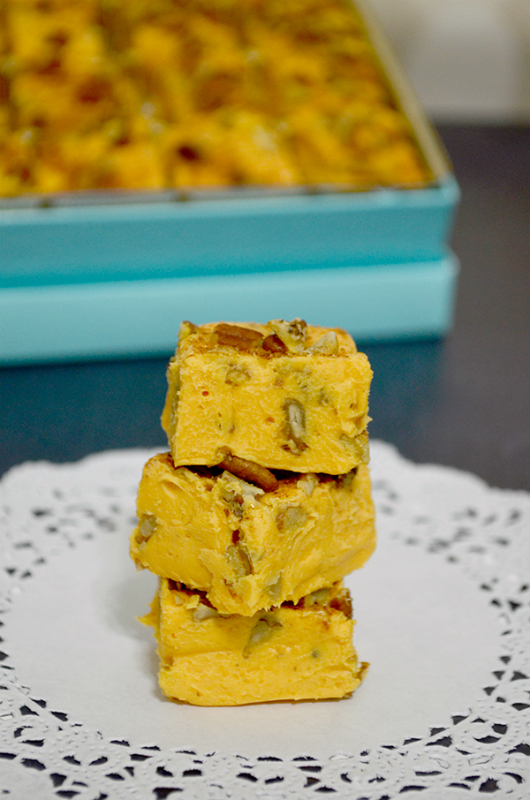 So you can see the frosting and baking chips can be interchanged to make sooooo many different flavors!! Below are a few of my favorites!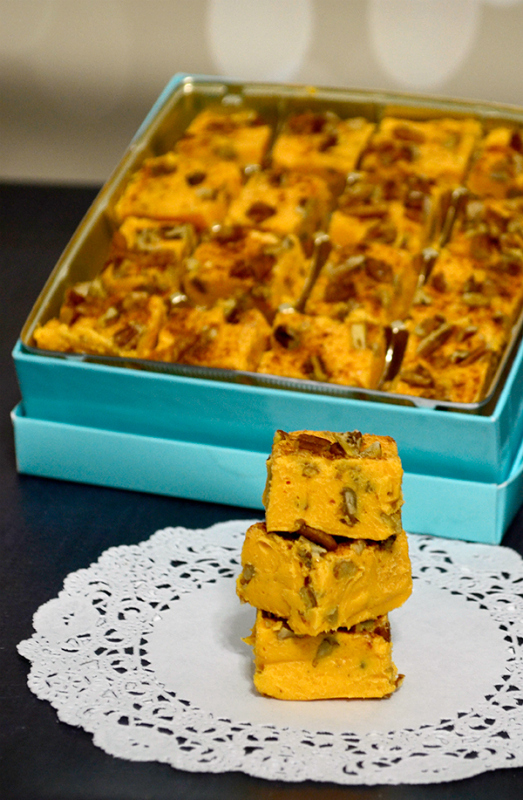 So are you ready for the super easy recipe?? It calls for only 4 ingredients! Here ya go!!!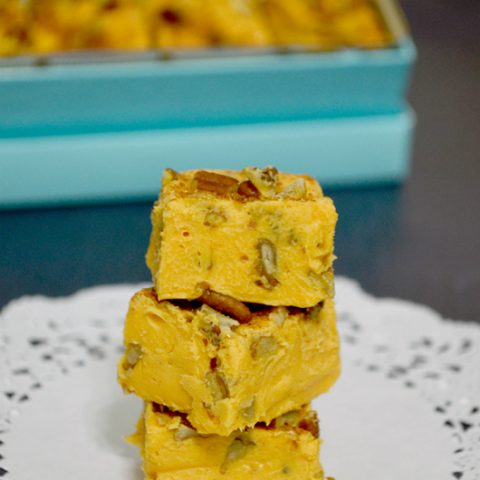 Pecan Pumpkin Pie Fudge
Pecan Pumpkin Pie Fudge is the perfect quick and easy gourmet fudge recipe for Fall. It has the flavor of classic pumpkin pie!
Ingredients
1 container ready made frosting (I used a Cream Cheese Frosting)
1 12 oz bag of pumpkin spice baking chips
1 c chopped pecans
1/2 tsp pumpkin pie spice
Instructions
Line an 8"x8" baking pan with foil leaving some hanging over the edge. Set aside.
Place baking chips in a heat proof bowl and set aside. Place container of frosting in a microwave, heat for 20 to 30 seconds until it is hot and melted. Once the frosting is melted pour over the baking chips and let the heat from the melted frosting melt the baking chips. Stir until all baking chips are melted, when blended add in chopped nuts and spices mix until combined.
Pour into foil lined pan and sprinkle with additional pumpkin pie spice. Let set up then cut into one inch squares.
Enjoy! Makes 64 one inch pieces of fudge.
Thanks so much for letting me share some fun and easy Fudge recipes with you today!! You can find more delicious recipes on
my blog
and you will find me at these social media Hot Spots!!