This post may contain affiliate links. Please read my disclosure.
Create your own edible flower arrangement of beautiful Rice Krispies Flower Treats on a stick and decorated with buttercream frosting.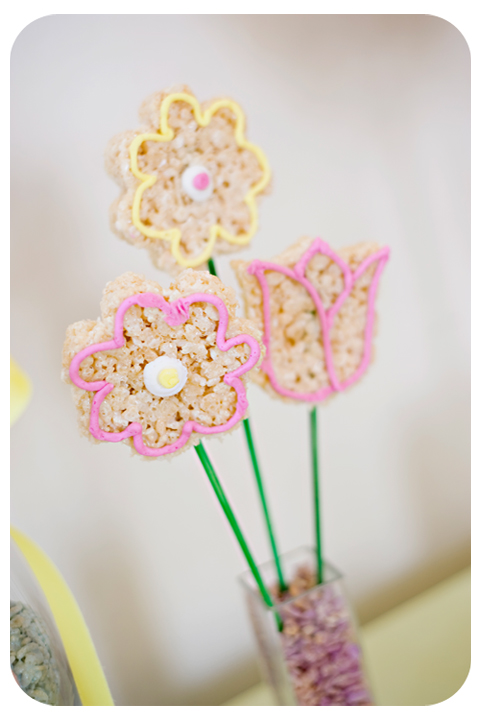 Find the details on how to make those adorable Chewy Gooey Chicks to create a beautiful Easter table.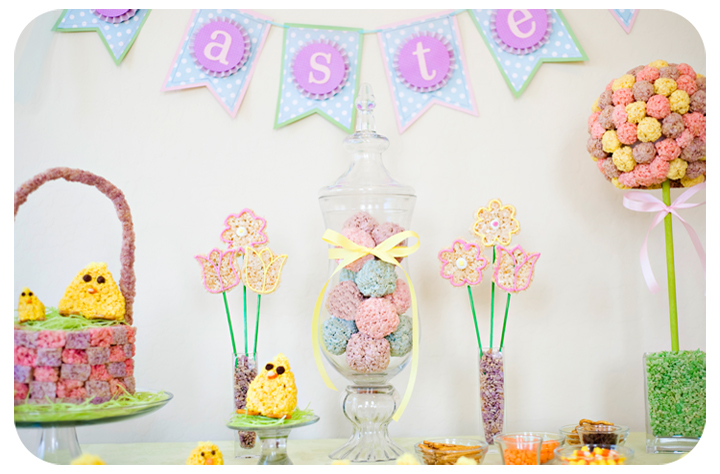 Join me on my quest as I discover the most delicious rice krispies treat recipe on the planet!
Rice Krispies Flower Treats
6 cups Rice Krispies cereal
4 cups mini marshmallows
3 tbls butter
prepared buttercream frosting
food coloring
metal cookie cutters, various sizes of flowers
12-15 bamboo skewers
1 tbl green food coloring
Melt butter in a medium to large saucepan over medium high heat. Add marshmallows and stir constantly until melted. Remove from heat and quickly stir in Rice Krispies until they are coated in marshmallows. While Rice Krispies are cooling, prepare a 13×18 inch jelly roll pan
(or 2 smaller pans) with non-stick cooking spray.
When the treats are cool enough to handle turn them out of the saucepan onto the jelly roll pan. Use butter or nonstick spray on your hands and press them firmly into the pan. Press it out to the edges and press down to compact the treats. Allow the treats to dry out overnight or 12 hours before cutting. You want them to be able to hold there shape on the sticks.
Meanwhile, fill a shallow bucket or dish with water and a tablespoon. Add the bamboo skewers to soak up the green color while the treats are drying. (If you spray paint the skewers, then the treats are not edible. This method allows the flowers to be eaten.) Color your prepared buttercream what ever spring colors you'd like. Add buttercream to piping bags fitted with a round tip (tip 3, 5, 10, or 12 are great sizes). Or use a zip top baggie with a small hole cut out on one corner.

After several hours, remove the soaking skewers from the colored water and allow to dry on a couple of paper towels. Press cookie cutters firmly into dry Rice Krispies treats. Move to another cookie sheet or cooling rack. Continue cutting out various sizes and shapes until all treats are used up. To easily insert the skewers into the treats, quickly roll the pointy skewer end on a stick of butter. Feed the skewer into the bottom end of each flower. Pipe with colored buttercream frosting.
Since the treats are already dried out a bit, they need to be eaten quickly or wrapped up so they don't dry out any more.