This post may contain affiliate links. Please read my disclosure.
Get in the kitchen with your kids and making lasting memories by creating this beautiful Easter tablescape and fun Easter Rice Krispies Chicks.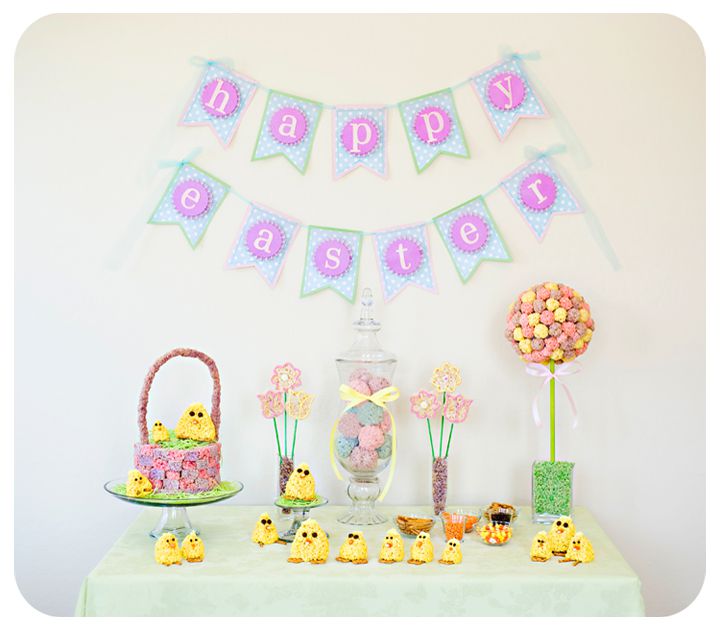 We really feel great about the recipe we have created to share with everyone. We know that these chicks are just as fun to make with your kids as they are to eat!
Chewy Gooey Rice Krispies Chicks
yields: approximately 24 chicks
1/2 cup margarine or butter
7 cups Kelloggs Rice Krispies
1 lb mini marshmallows
Yellow Food coloring
mini chocolate chips
Candy for beaks such as candy corn, jelly beans, or chocolate covered sunflower seeds
Pretzel sticks or twists for legs
Buttercream frosting
Melt 1/2 cup margarine or butter in a large sauce pan on low heat.
Add 1 lb mini marshmallows and stir constantly to avoid burnt marshmallows.
Add about 10 drops of yellow food coloring after the marshmallows are completely melted and stir until uniform in color. You can adjust the amount of food coloring based on your color preference.
Remove from heat and stir in 7 cups of Kelloggs Rice Krispies
Set aside for about 10 minutes or until the Rice Krispie treats are comfortable to handle. You want them to be warm so they are easy to work with.
Spray your hands with non-stick spray or coat with margarine. If the Rice Krispies start sticking to you, add some more non-stick spray to your hands. Take small handfuls of Rice Krispie treats and form into an flattened oval or rounded triangle shape to form the chick's body.
While the chicks are still warm, decorate the chicks according to your preference. We used:
mini and regular chocolate chips for eyes
candy corn, jellybeans, or chocolate covered sunflower seeds for a beak
pretzels for legs or feet.
While the chicks are setting up, use food coloring to color some buttercream frosting yellow.
Using a grass piping tip(#233), pipe little tufts of hair on each chick.
Have fun getting together and creating all kinds of different chicks. Make some that are big, little, and everywhere in between. You can really let your kids run wild.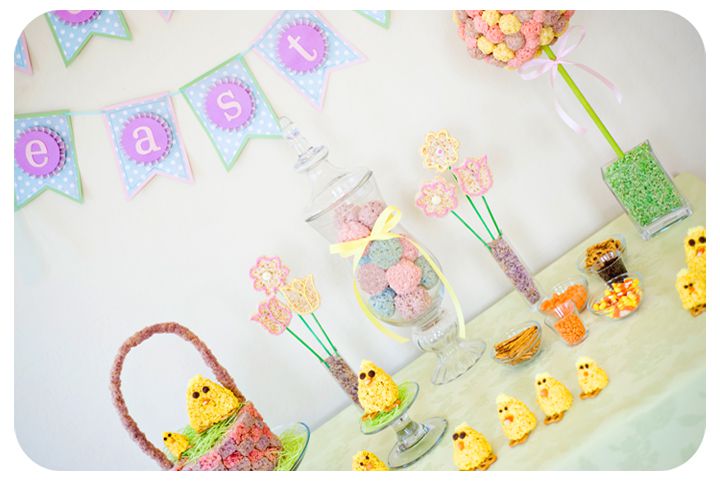 Each chick was a little different and had it's own personality.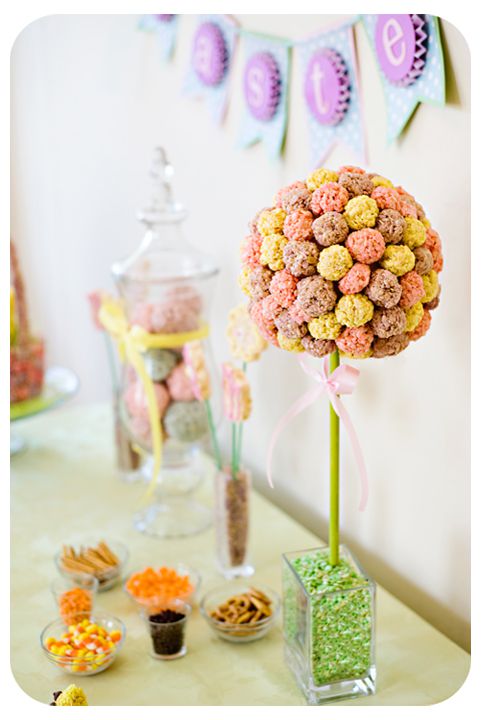 The Rice Krispie balls on the topiary are held on with toothpicks, so you can just pluck one off and eat it!
Find all the projects on the table:
Cute as a Fox – Rice Krispies Easter Basket and Rice Krispies Topiary
Around my Family Table – Rice Krispies Flower arrangements
Aly & Ash – Rice Krispies "decor" balls
Lil' Luna – Happy Easter banner
I love Easter! A few of my other most popular Easter recipes are my Resurrection Rolls (aka Empty Tomb Rolls) and my Resurrection Cookies. Both have great lessons about the real meaning of Easter.

Disclosure: I am working with Rice Krispies and TheMotherhood and have received a stipend for participating in this project.