This post may contain affiliate links. Please read my disclosure.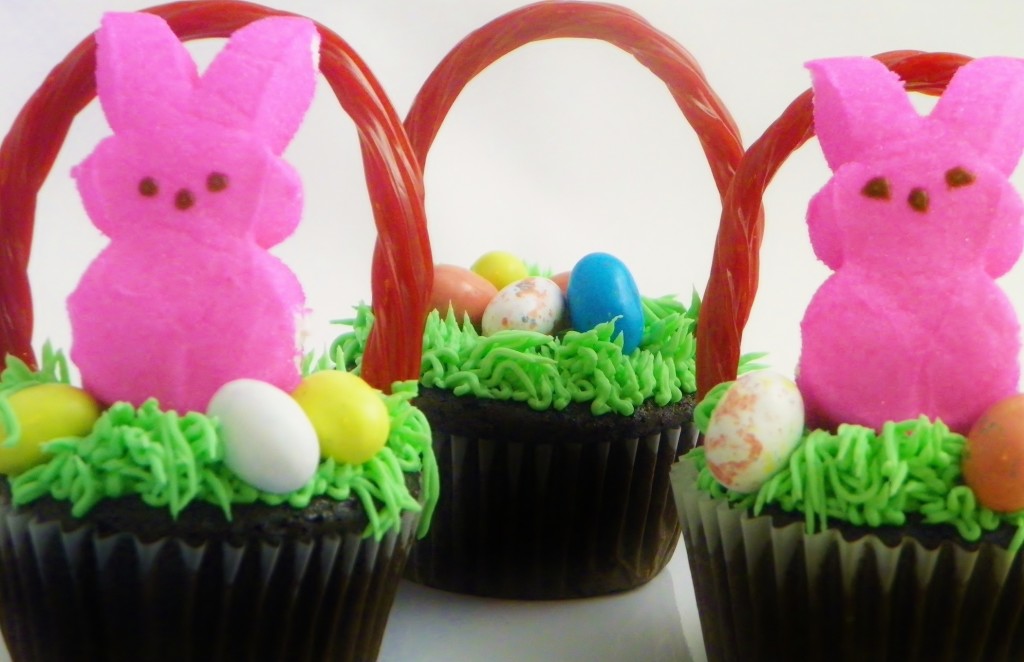 All the Easter candy was calling my name at the store last week. I had to have it, but I felt bad just eating it so I came up with this cute idea using Easter candy. They were super easy and used a bunch of my favorite treats. These could easily be made by all the kids while mom finishes up Easter supper or use them as display on your table (and then eat them). I had as much fun eating my cupcake as I did making it.
I love all part of Easter and my favorite way to celebrate is with my Resurrection Rolls (Empty Tomb Rolls). They are one of my most popular recipes and I'm sure you'll love them too. But there is just something about these cute cupcakes that I have to make them every year. Maybe it's the peeps, or the red licorice, or the robin's eggs…I don't know, but they are delish!
Fun Easter Basket Cupcakes
1 box cake mix, prepared as directed for cupcakes
2 boxes (12 bunnies each pgk) Peeps Bunnies
1 bag of mini Robin Eggs
1 pkg Red Vines licorice
green buttercream frosting*
72 toothpicks
Prepare and bake cake mix according to package directions for cupcakes (should make 24) making sure to use paperliners. When cupcakes are done, remove from pan and place on a cooling rack. When the cupcakes are completely cooled, use a piping bag fitted with the grass tip (#233) to frost the cupcakes (*see note below).
Cut the very ends off each piece of licorice, revealing the center opening. Insert a toothpick into each opening and set then push into the cupcake making the basket handle. Insert another toothpick into the bottom of each Peep Bunny and place in the cupcake. Add some Robin's Eggs around the Peeps for decoration. Fill in any bare spots with more green frosting.
*If using store bought frosting, you may need to add some powdered sugar to thicken the frosting. You want a medium-stiff frosting for piping with the grass tip. Otherwise, just spread your green frosting on with an offset spatula.