This post may contain affiliate links. Please read my disclosure.
You'll love this spicy take on traditional roasted pumpkin seeds in my Roasted Spiced Pumpkin Seeds recipe. It's a family favorite!
I've used my Mom's Roasted Pumpkin Seed recipe since I was in high school. I've never thought to change it up as it is perfect the way it is. However, my cousin called last night asking for a good recipe…of course I sent her that one, but she decided to kick it up a little bit. So, I had to do it too…and boy was it good. I didn't do exactly as my cousin, but they are still pretty similar. Hope you saved your pumpkin seeds from your latest pumpkin carvings because these are great!
Perfect Roasted Pumpkin Seeds
I've found that making sure the pumpkin seeds are really dry before adding the seasoning is really the key to perfectly crispy pumpkin seeds. Also, I love mine to have a ton of flavor, so I usually double any recipe per amount of pumpkin seeds called for. You'll notice my recipe already accounts for the increase in volume per pumpkin seed ratio. (FYI…I do the same for Chex Mixes too.)
Looking for more pumpkin recipes? Make sure to check out all my Easy Pumpkin Recipes.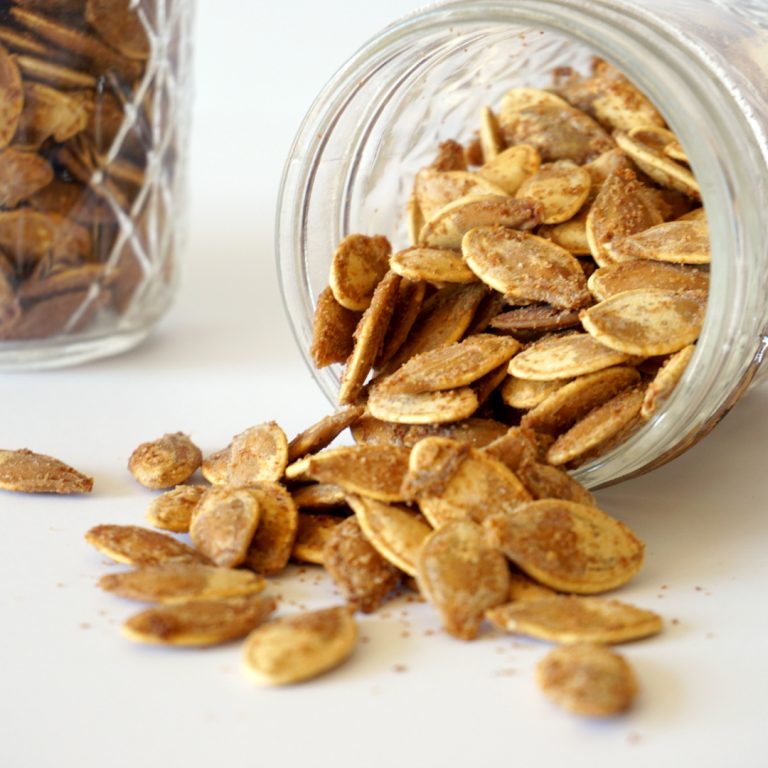 Roasted Spiced Pumpkin Seeds
Ingredients
2 c Pumpkin Seeds
1 tsp Worcestershire Sauce
3 tbls butter, melted
1 tsp salt
1 tsp garlic powder
1/2 tsp cayenne powder
Instructions
Preheat oven to 250 degrees.  Clean pumpkin pulp from seeds, wash, and drain seeds.  Shake seeds in colander to remove excess water.  Combine everything in a large bowl and mix well to coat seeds.    Spread seeds on baking sheet in a single layer.  Bake 1-2 hours and stir often (watch for burning).  Seeds will get crispy if turned often (and you want them crispy).
Nutrition Information:
Amount Per Serving:
Calories:

441
Total Fat:

40g
Saturated Fat:

11g
Cholesterol:

23mg
Sodium:

180mg
Fiber:

4g
Sugar:

1g
Protein:

20g
Join the Club!
Get delicious recipes delivered straight to your inbox each week! Plus learn how to take back suppertime in your home.

And get started with my NEW Take Back Suppertime 5-Day Jump Start Guide.