This post may contain affiliate links. Please read my disclosure.
Mountains, piles, loads- whatever you call it, laundry can be daunting at times. Learn how to simplify this chore and organize your laundry area. I have several manageable solutions for your next laundry day. You'll love my Simplified Laundry System for Busy Families that includes a free Laundry Stain Removal Guide printable.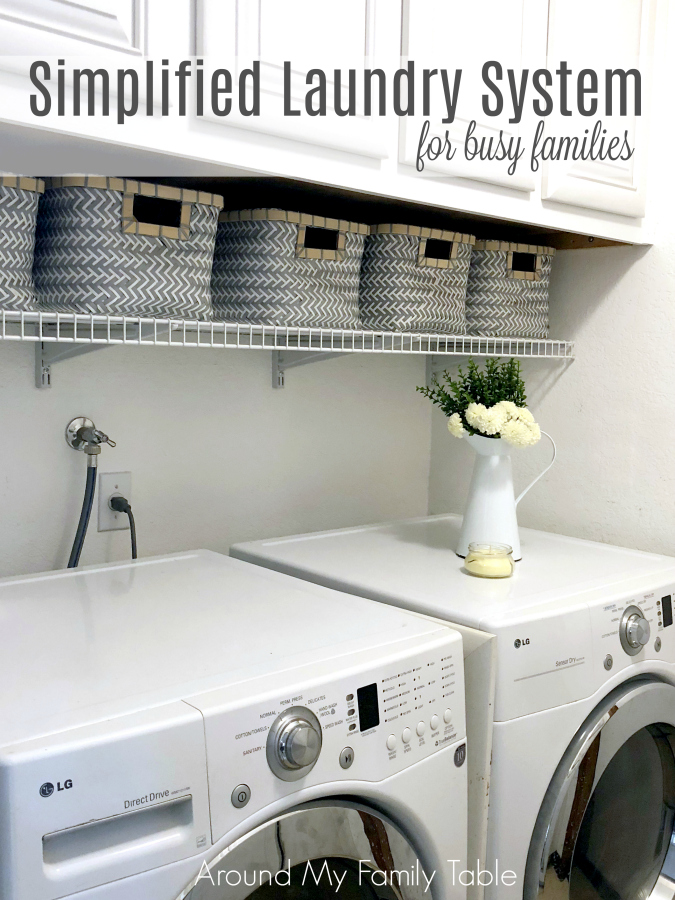 Simplified Laundry System for Busy Families
Sometimes I look around my house and can't believe how much stuff piles up on a weekly basis. How is it possible to dirty this much laundry in ONE WEEK! (Can I get an amen?) Seems like every laundry day tells the same story. I know for a fact that that pair of shorts now living on the floor was worn for one whole minute, and it is truly an unfathomable smell coming from the sports uniforms. Most of all, fighting stains is a challenge because I need something strong enough to get out the stain, but also make sure no one in the family is having a reaction due to sensitive skin. That, plus all the linens and towels amounts to a literal mountain of laundry for a family each week.
The never-ending cycle of can be frustrating, but it doesn't have to be!! With a few simple changes, I can actually enjoy laundry and not see it as such a chore. I've tried pretty much every method for laundry out there and none really worked for me, so I created my own version. My Simplified Laundry System is perfect for busy families.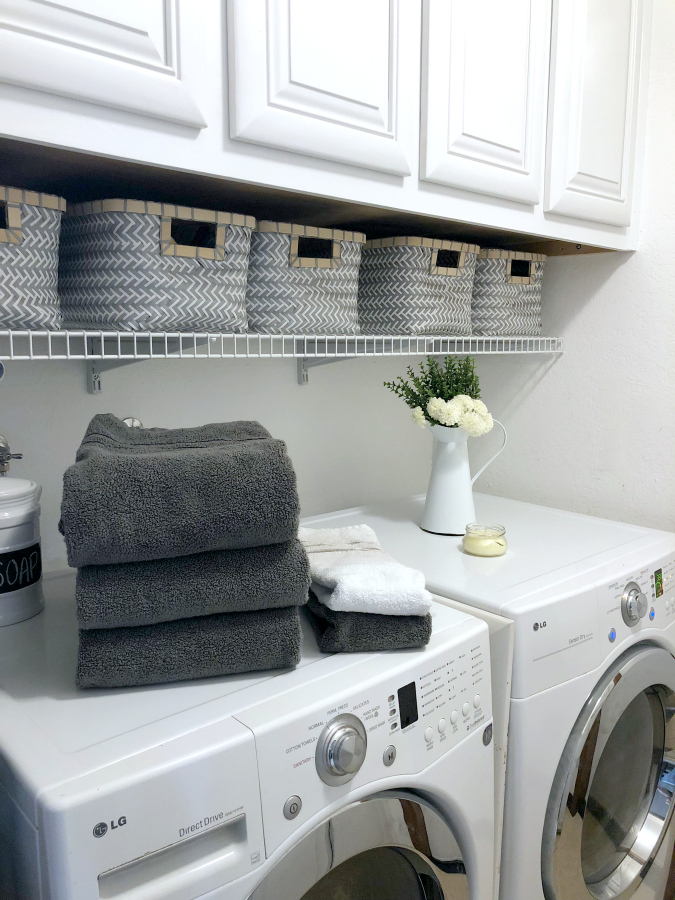 Laundry Every Day
Do one load of laundry every day. Yep, I said it. Every day! Start a load during your morning routine or when the kids sit down to breakfast (I have it added to my morning routine chart, so that I can cross it off as I do it). I also find that using the quick cycle is all the that is really needed for normal soiled clothes, which means the load is done in about 30 minutes. Move it to the dryer and fold right away..one little load doesn't take much time out of your day.
On the other hand, doing all the family laundry on one day is a huge task and I don't like to devote one whole day to it. I can handle 30 minutes of hands on in a day.
If I have a particularly busy morning (meeting, doctor appointment, etc), I use the delay was feature on my washer. Best invention ever! I put the clothes in at night and delay the start until the morning. Then they will be washed and waiting for when I have a minute to switch them to the dryer.
I have a family of 4, so your schedule might a little different than mine, but mine looks something like this…I do mine/hubby's Monday, my daughter's on Tuesdays, son's on Wednesdays, towels on Thursdays, and sheets on Fridays. The days change around over the years based on sports or level of dirtiness…if someone has stinky sports clothes, those get scheduled for the next day.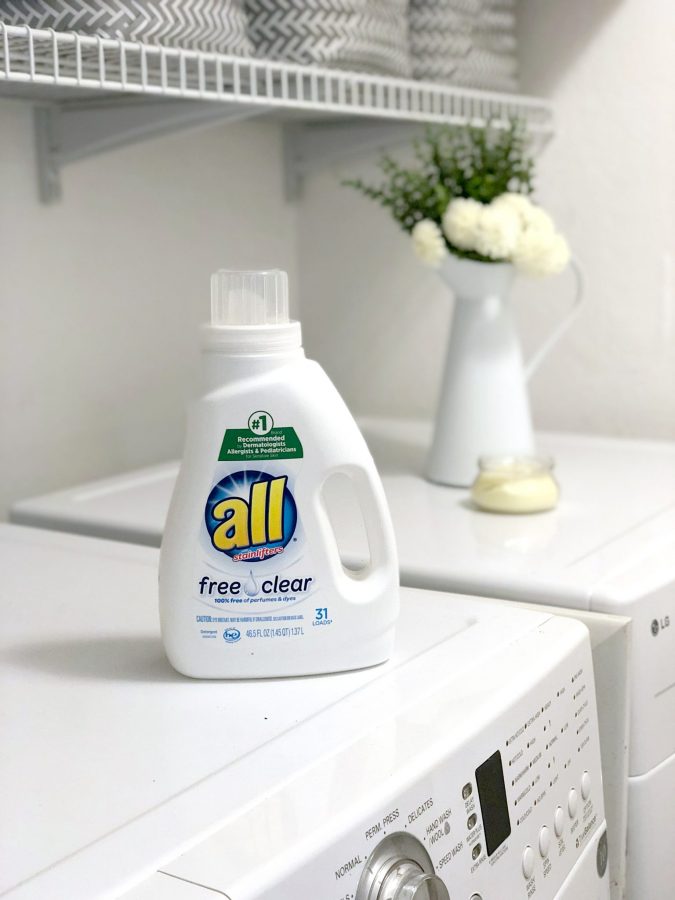 Allergy Free Laundry Detergent
I used to have to sort everything and make sure that I was using special detergents that wouldn't give my son's sensitive skin a bad reaction. Anyone with allergies and sensitive skin will tell you how horribly uncomfortable it is to find out you're allergic to a certain soap. Finding a detergent that is tough enough to fight stains and be gentle enough for skin was irritating to say the least (pun intended!). That's why I was so glad to find all® free clear was safe for the whole family. No fragrances or dyes. No irritating residue.
For really smelly sports stuff (ahem….skateboarding gear is sooo stinky) that requires a powerful clean and odor benefit (but is 100% free of dyes and perfumes), I use the new all® free clear Odor Relief. It's the perfect option when you need to protect delicate skin but still need to fight smelly odors.



All® detergent is my go-to for washing most of my regular loads of laundry. However, I keep a stash of the new all® POWERCORE™ free clear for the convenience of a single pac. It's gentle on skin but will still deliver a powerful clean.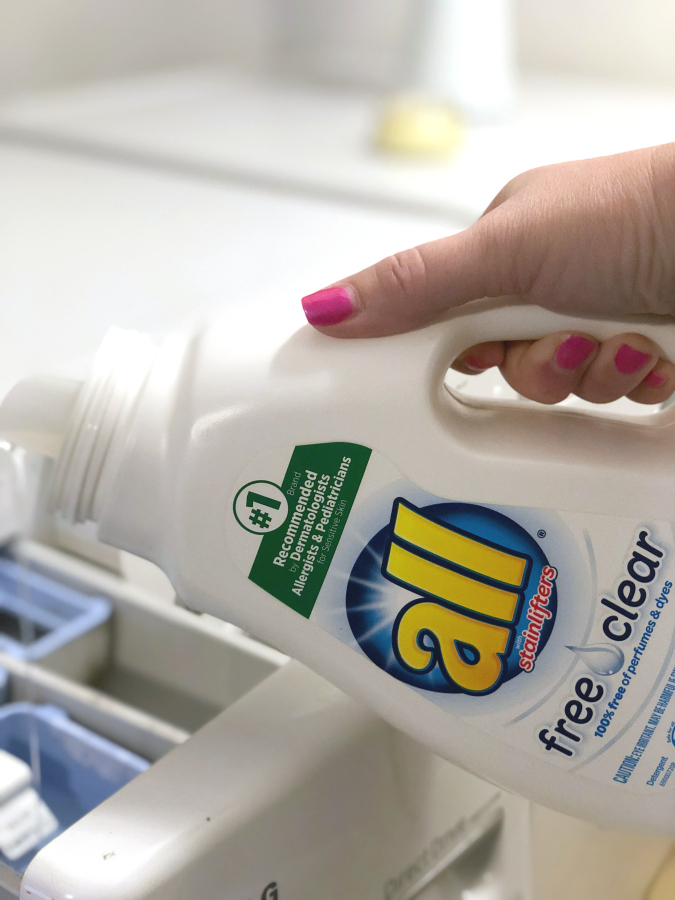 Don't Sort Your Laundry
I never sort colors and whites! Shocking, I know. But for regular, everyday laundry there is no need to sort. Wash in cool water and you should be totally fine. However, I do wash towels/sheets separately on hot. Anything that's been soiled from a sick family member gets washed separately on hot. And anything new usually gets separated with like colors for the first washing just so there aren't any color bleeding.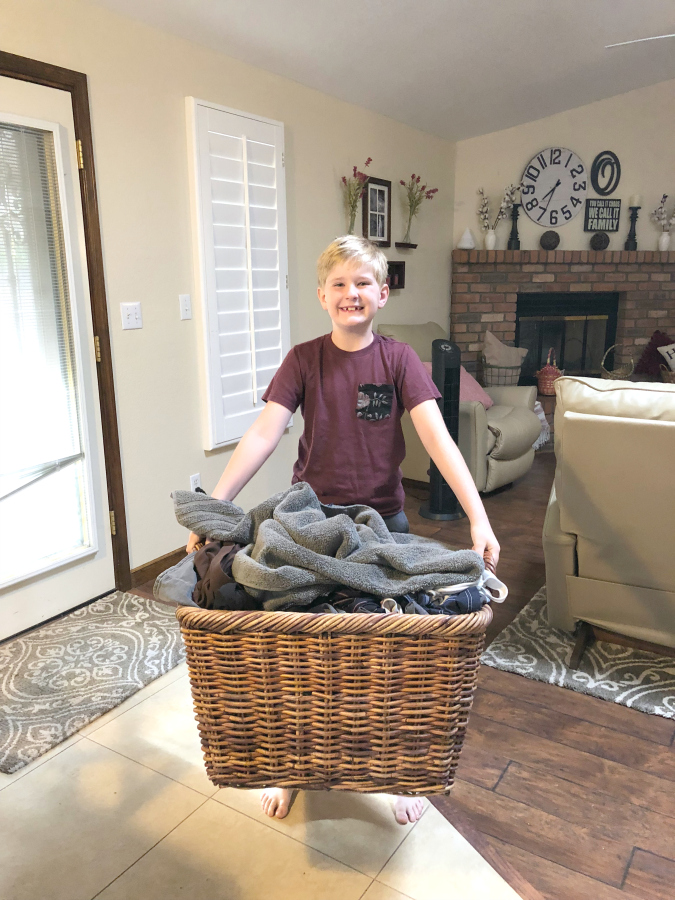 Use the Kids
No matter how old your kids are, they can help! There is a laundry basket located in every bedroom of the house. The kids are responsible for putting their dirty clothes in the basket at the end of the day. On the day I am doing my son's laundry, he brings out his basket of clothes and puts it in the washer (I add the soap and turn on the machine). My daughter is older (and taller, which means she can reach the soap) so she is responsible for starting her own laundry on her day.
I move the clothes to the dryer and then take the clothes to their rooms. I fold what I know they need help with (we are at different levels of teaching the kids how to do what with their laundry) and leave their clothes for them to finish putting away. It's definitely more work at the beginning to teach them how to take care of their laundry, but it will be worth it in the end. Their spouses will thank me!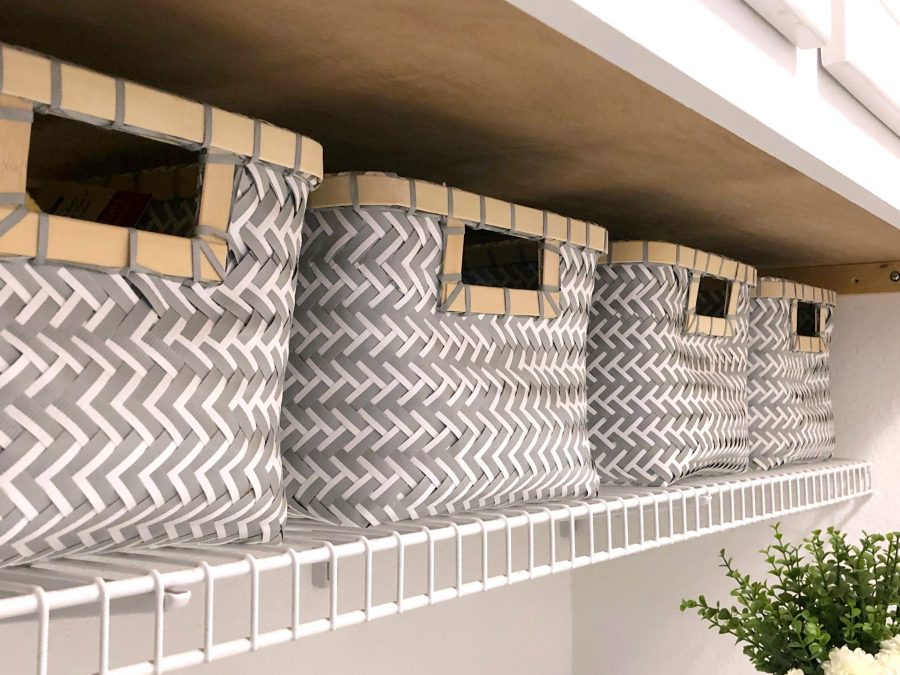 Laundry Room Makeover
Give your laundry room a little makeover. There is no need to spend a lot of money on a laundry room makeover. It doesn't have to be fancy. I have a very small laundry room and we always walk through it to get into the house, so it became the family dumping ground. There was stuff piled so high on machines that I hated going in there and I hated coming home and seeing that mess first thing.
Quick laundry room makeover:
Clear out all the clutter.
Scrub the machines so they are clean and shiny.
Paint the cabinets.
Add a shelf with some pretty baskets.
Add a little decoration that makes you happy. For me, it is the little vase with flowers and a candle. (Side note: It also subconsciously tells your family that this is a clean space and don't throw your junk there.)
Laundry Stain Removal Guide
Lastly, to help keep you on track, I've created a laundry stain remove guide printable. It's free! Download it now and print it off. Put it in a cute frame and hang it up or add it to your home binder. Make sure to stock up on the products to keep your laundry moving, including a great laundry soap, like all® free clear that's great for family members with sensitive skin.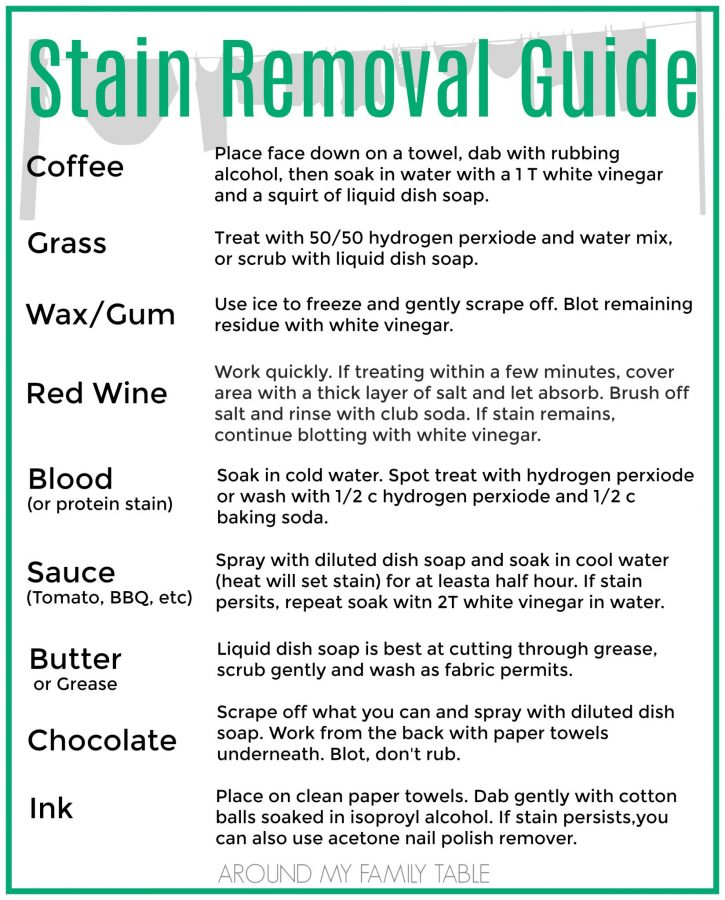 Right Click HERE to Download
This is a sponsored conversation written by me on behalf of all® . The opinions and text are all mine.