Summertime means grilling time!  If you're a little nervous, don't be, my How to Grill using a Charcoal Grill guide will get you to grill master in no time! It's part of my Grilling 101 Summer series!
Be sure to sign up for my email list….seasonal recipes in your inbox every week!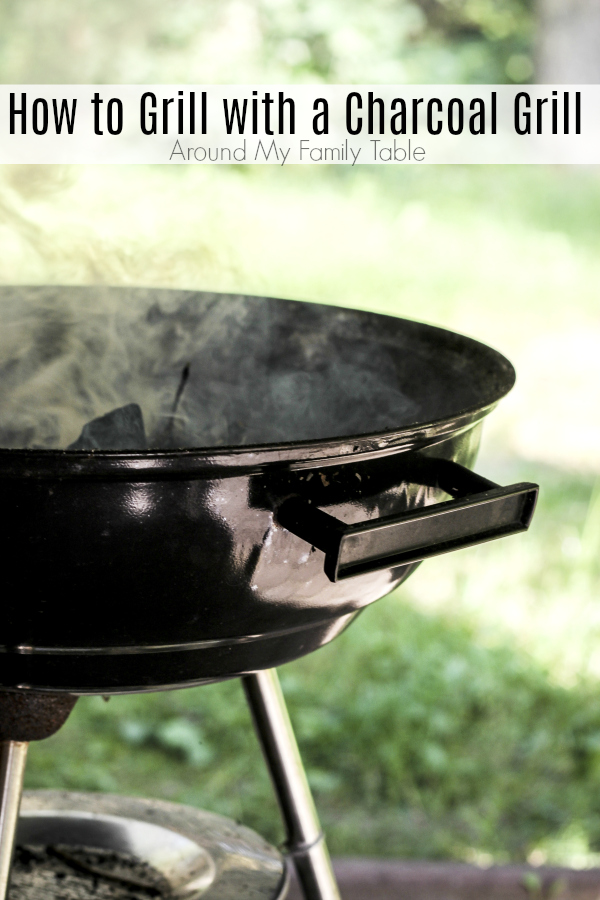 How to Grill using a Charcoal Grill
How to grill over charcoal is something everyone needs to know.  It can be fun, easy, and gives the food a great flavor.  Even if you have a gas grill, it's still good to learn how to use a charcoal grill because there are plenty of opportunities to use one.  Do you go camping? Do you use the grills at your local park? Tailgating can be fun and easy with a tabletop charcoal grill.  Charcoal grilling is definitely something everyone should be familiar with. There are a lot of grilling recipes in books and on the internet, but they often don't tell you exactly how to grill or how to use the equipment.
There are plenty of variables that will affect your charcoal grilling time.  The size of grill, type of briquettes, weather, amount of food, etc.  However, don't let this discourage you…it's actually not as scary as you might be thinking.  We have a little tabletop charcoal grill which is perfect for picnicking, hot dogs (they just taste so good over those charcoal briquettes), tailgating, and more.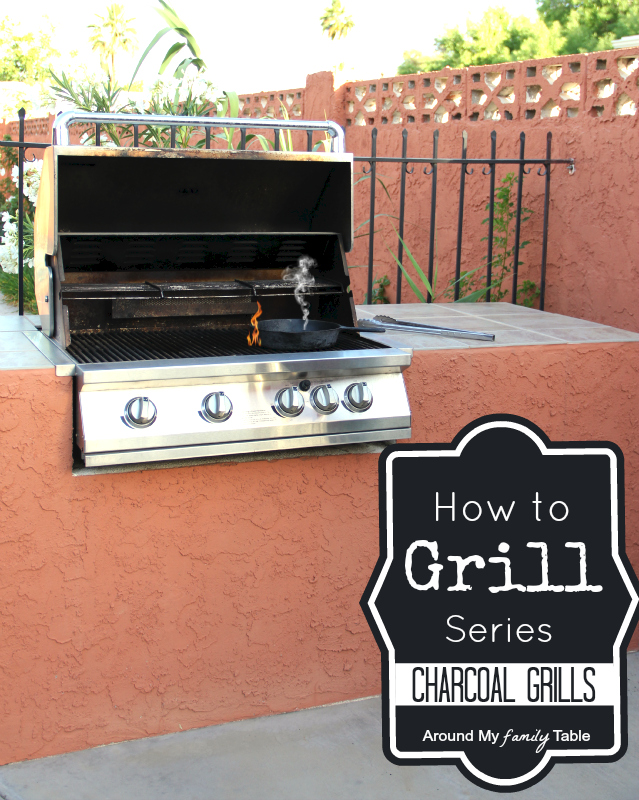 CHARCOAL GRILLING TIPS
The number of briquettes you use depends on several factors, but a good starting point is to plan on 30 briquettes to cook 1 pound of meat. (FYI: A 5-pound bag contains 75 to 90 briquettes.)  There should be enough briquettes to cover the grill pan in a single layer and the layer needs to extend about 2-3″ past the area of food on the grill.
If  the weather is cold or windy, you will need more briquettes to reach the perfect cooking temperature.
Use lighter fluid, but NEVER use gasoline!
Remove the lid (or open it all the way) and completely open the lid vent. Remove the wire rack and open the intake vent near the bottom of the grill. The vents control the airflow and the strength of the fire. The more air flowing through the grill, the hotter the fire will be.Make sure the bottom vent on your grill is open all the way before lighting.
It's a good idea to put spray the grates with nonstick cooking spray (such as Pam) before you add meat, but take the grill grate off the coals to spray it. Cooking spray is nice, but it is not necessary.  Or saturate a paper towel with your choice of cooking oil.  Using a pair of long-handled tongs, wipe the oil-soak paper towel across the hot grill rack to lubricate it and prevent food from sticking.  Allow oil to sit on grill for about 10 minutes before adding food.
When the majority of the coals are covered with a white ash, the grill is ready to use. The briquettes will look ash gray during the day, but will glow red at night.
Test the temperature of your grill by holding your hand palm down over the grill at cooking height.  Count how many seconds you can hold it there: two seconds means it's high while five seconds means it's low.
After embers have cooled completely, scoop up ashes and embers with a small grill shovel (or metal garden trowel) and place in a non-combustible container for disposal.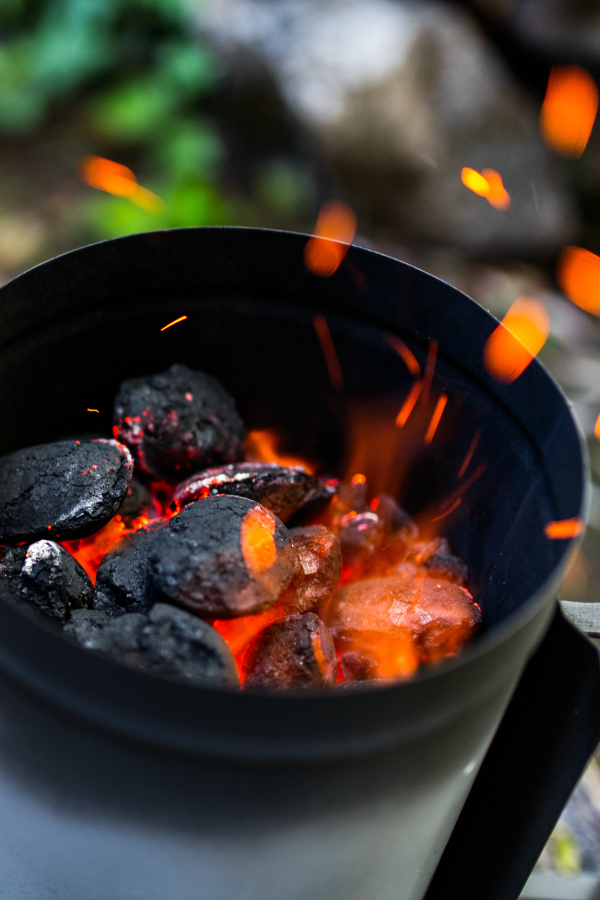 TYPES OF CHARCOAL STARTERS
Chimney Starter
One of the most used methods to start the briquettes is by using a chimney starter. It's great if you prefer to start your fire without the use of chemicals (aka lighter fluid).  Place crumpled newspapers in the bottom portion of the starter.  Then remove the rack from the grill and place the chimney starter in the bottom. Fill the top half of the starter with charcoal.  Then light the newspaper through holes in the bottom of the starter. The fire will draw up through the starter, lighting the charcoal. Leave the chimney starter alone for 20-30 minutes, until the coals are ready.  With a long-sleeved heavy-duty oven mitt, carefully empty the coals into the grill pan.  Arrange the coals into an even layer with long tongs.
Electric Starter
Electric starters have plug-in heating elements that start the fire with no chemicals as well (however you need to have an outlet nearby). Simply place the electric starter in the grill pan and stack the charcoal briquettes over it in a pyramid shape. Plug in the starter (use a heavy-duty extension cord).  You will notice ash will beginning to form on the coals after 8-10 minutes. Unplug the starter, use tongs to pull it out, and set aside on a heatproof surface to cool. Then arrange the coals with tongs into an even layer.
Pyramid Starter
Stack the charcoal into a rough pyramid shape. Soak the charcoal with at about 1/2 cup of lighter fluid and allow it to soak into the briquettes for several minutes, then light the charcoal with a long handled match or fire starter. As the coals begin to burn and ash forms, arrange them with long handled tongs into a single layer. Warning: Do NOT squirt lighter fluid onto hot coals, the fluid could catch on fire and burn back up to your hand.
Pick up one of my outdoor cooking books on Amazon or in your local Barnes & Noble.  
Smoke it Like a Pit Master
 and 
Smoke it Like a TEXAS Pit Master
!
Want to know more? Check out the other posts in this series:
How to Grill: Using a Gas Grill
How to Grill: Using a Smoker
How to Grill: Using a Charcoal Grill
How to Grill Chicken
How to Grill Steak
How to Grill Seafood
How to Grill Pork
How to Grill Vegetables
How to Grill Fruit
How to Clean Your Grill
photo credits:  chimney starter and two grills
Org Published: 6/2/13 Updated: 4/16/18
Join the Club!
Get delicious recipes delivered straight to your inbox each week! Plus learn how to take back suppertime in your home.

And get started with my NEW Take Back Suppertime 5-Day Jump Start Guide.