This post may contain affiliate links. Please read my disclosure.
These are 30 of the Best Gourmet Grilled Cheese Sandwiches that will satisfy your craving for the cheesy classic.
Be sure to sign up for my email list….seasonal recipes in your inbox every week!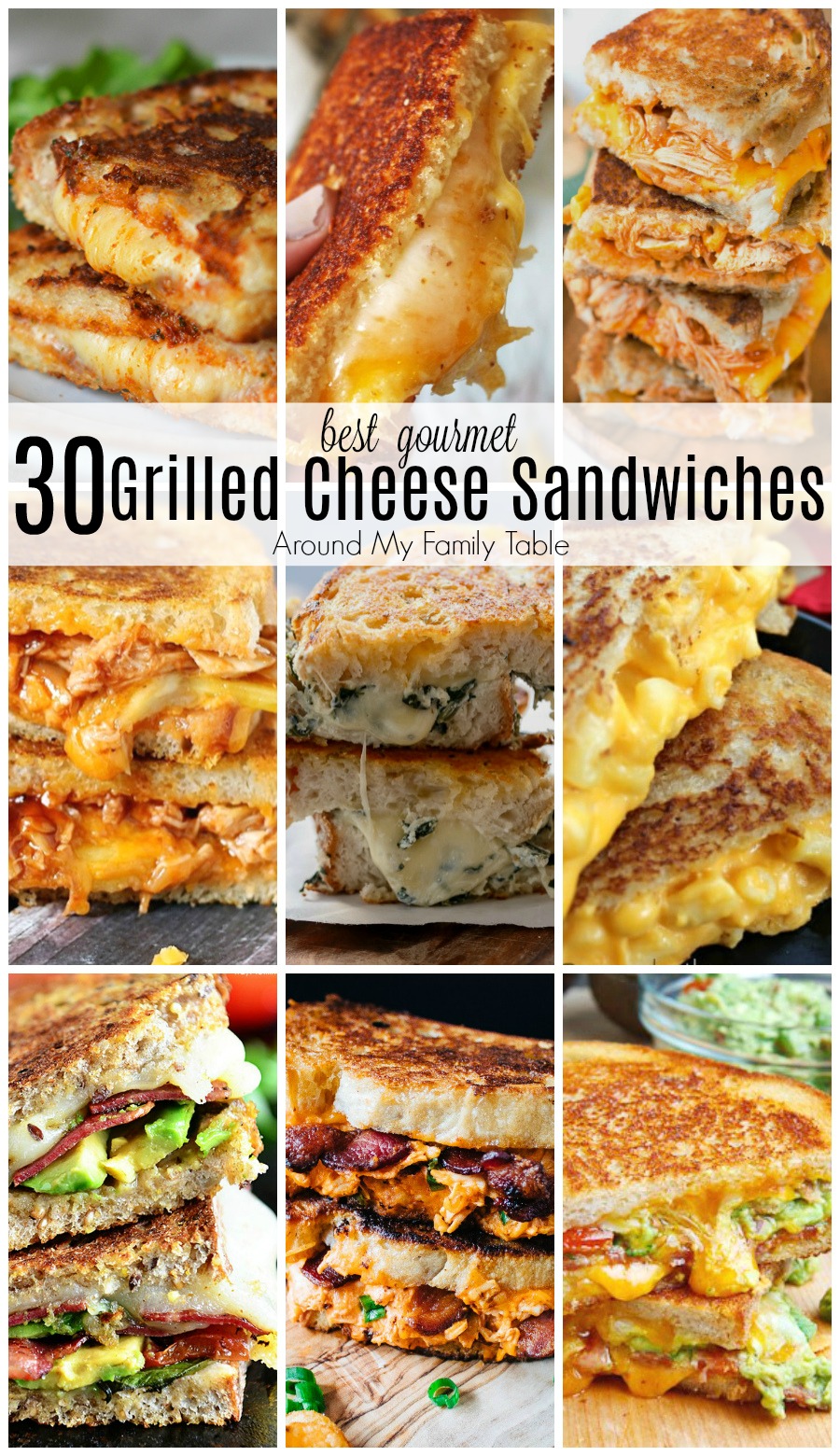 Grilled cheese sandwiches are known for being a fast and easy meal option that even the pickiest kid will happily eat. It's really no wonder with the crispy, golden brown toast oozing with melty cheese. Growing up, we ate grilled cheese sandwiches quite a lot for lunch, and sometimes next to a hot bowl of stew for dinner. Our sandwiches were always made the same. They had a single slice of American cheese set between two slices of white Wonder bread, smeared with Country Crock margarine spread. It's all I knew at the time, and I loved them as a kid.
I don't prepare them the same way now though. It is just as easy to use better quality ingredients, but still maintain the fast and easy reputation of the original version. Better ingredients obviously make for a better sandwich.
And if you know me at all, you know that I love variety in my meals. I enjoy trying new variations of old classics. There are so many different types of breads and yummy cheeses, that I can't just stick with one recipe. And I pretty much never just use cheese alone anymore. I love adding extra fillings such as avocado slices, fresh spinach, or crispy bacon. Even though my sandwiches are nothing like the ones from my childhood, they always bring back fond memories.
I would love to say that these are the grown-up versions for a childhood classic, but in truth, my kids love these sandwiches just as much as I do. I hope you love them too.
Best Gourmet Grilled Cheese Sandwiches
Grown Up Grilled Cheese Sammies
Grilled Turkey Cheese Sandwiches
Grilled Mac Cheese Sandwiches
Grilled Strawberry Goat Cheese Sandwiches
Ultimate Gourmet Grilled Cheese
Fancy Schmancy Grilled Cheese
Pizza Margherita Grilled Cheese
Turkey Bacon and Avocado Grilled Cheese
Hot Buffalo Chicken and Bacon Grilled Cheese
Jalapeno Popper Grilled Cheese
Apple Gouda Grilled Cheese
Bacon Guacamole Grilled Cheese Sandwich
Fried Egg Grilled Cheese Sandwich
Grilled Mac Cheese Sandwich
Spinach and Ricotta Grilled Cheese
Caramelized Onion Mushroom Swiss Melt
Buffalo Chicken Grilled Cheese Sandwiches
Bacon Dill Pickle Grilled Cheese
Grilled Cheese Sun Dried Tomato Pesto
Monte Cristo Style Grilled Cheese
BBQ Chicken Pineapple Grilled Cheese
Pulled Pork Grilled Cheese Sandwiches
Gourmet Grilled Cheese
Mediterranean Grilled Cheese Sandwich
Mexican Fajita Grilled Cheese
Spicy Mini Meatball Grilled Cheese
Taco Grilled Cheese Sandwich
Pesto Mozzarella Baby Spinach Avocado Grilled Cheese Sandwich
Bacon Pepperjack Grilled Cheese