This post may contain affiliate links. Please read my disclosure.
I finally reached the end of my turkey stash, but I didn't have enough for it to be the star of the dish. I also didn't have time to really prepare supper at the end of the day, so I thought I would give slow cooker enchiladas a try. Guess what…it totally worked!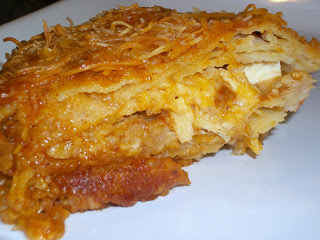 Slow Cooker Turkey Enchiladas
corn tortillas
large can of enchilada sauce
turkey
4 cups shredded cheese (cheddar or mex blend)
1/2 onion, finely chopped (or dried onion flakes)
Spray a 4-qt slow cooker with non-stick cooking spray. On the bottom of the cooker, spoon in just enough sauce to cover the bottom. Place a single layer of tortillas down and then layer in the turkey, cheese, and onion. Add another layer of tortillas and sauce to cover. Repeat with turkey, cheese, onion, tortilla, sauce until you reach the top. Sprinkle the last layer of tortilla and sauce with a little cheese.
Cook on low about 4 hours.
**Of course, this would work with any leftover meat (chicken, beef, pork, seafood).**