This post may contain affiliate links. Please read my disclosure.
From birthdays to end of season parties these Soccer Theme Party Ideas will impress all your little soccer fans! This soccer birthday party was for my son turning 5, who is a huge soccer fan and has already done 4 seasons of soccer. However, as I write this I'm helping plan our end of soccer season party for our team and I think some of these ideas will be absolutely perfect for our team!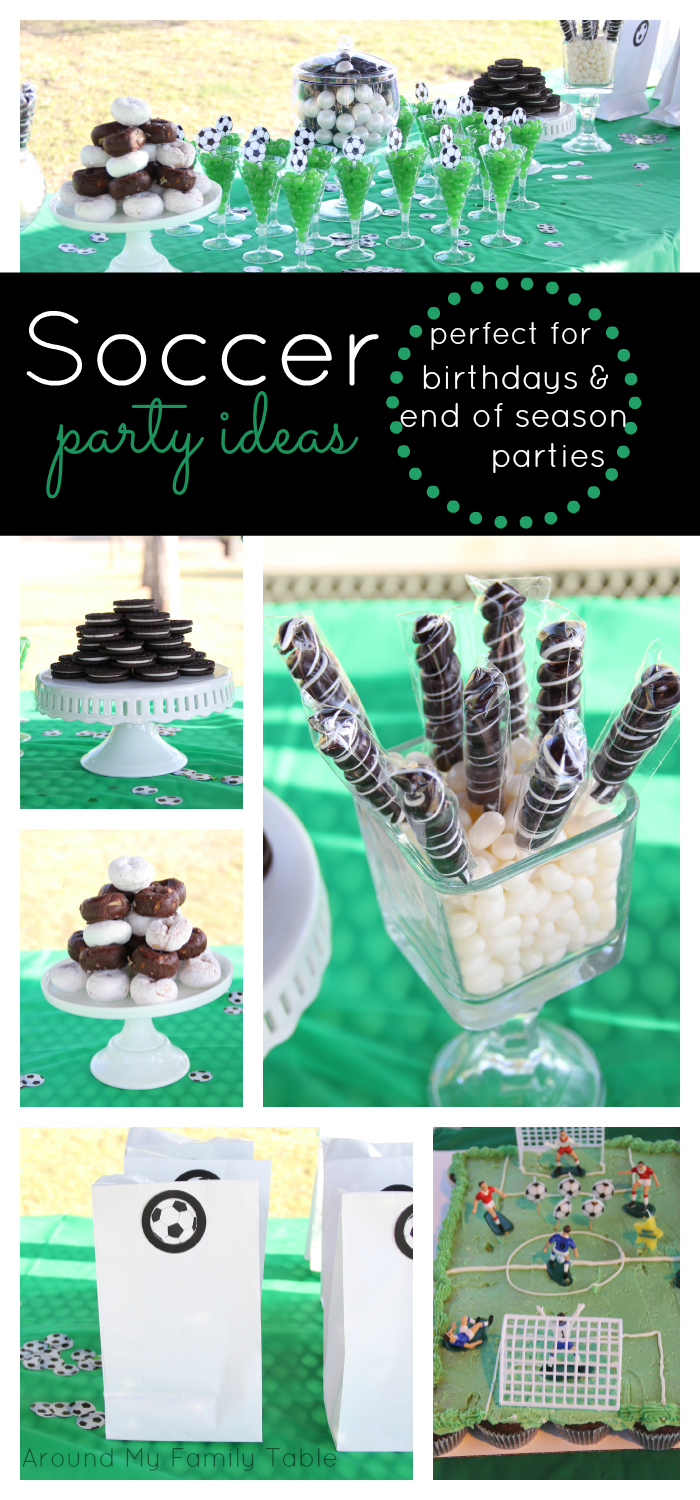 Soccer Party Games
There really isn't much needed to entertain a bunch of little soccer fans besides a couple soccer balls and cones. Besides a friendly soccer game, the kids had soccer pinata filled all sorts of toys and candy. You can never go wrong with a pinata!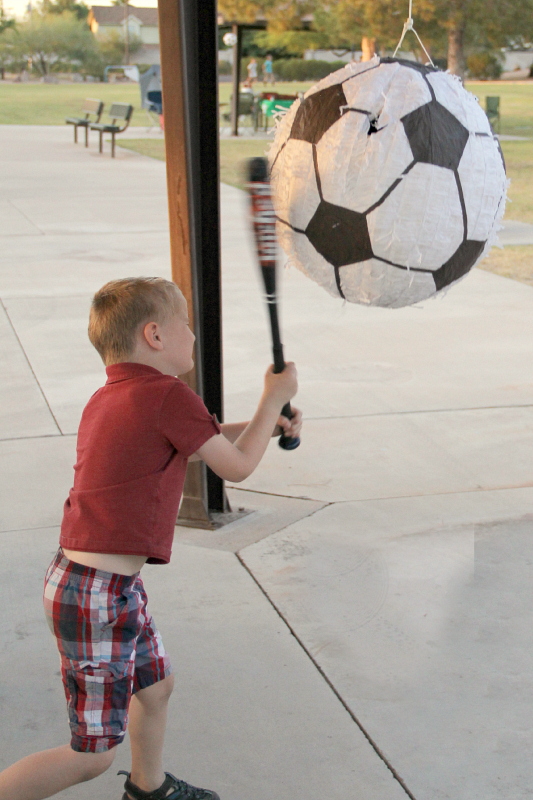 Soccer Party Centerpiece Ideas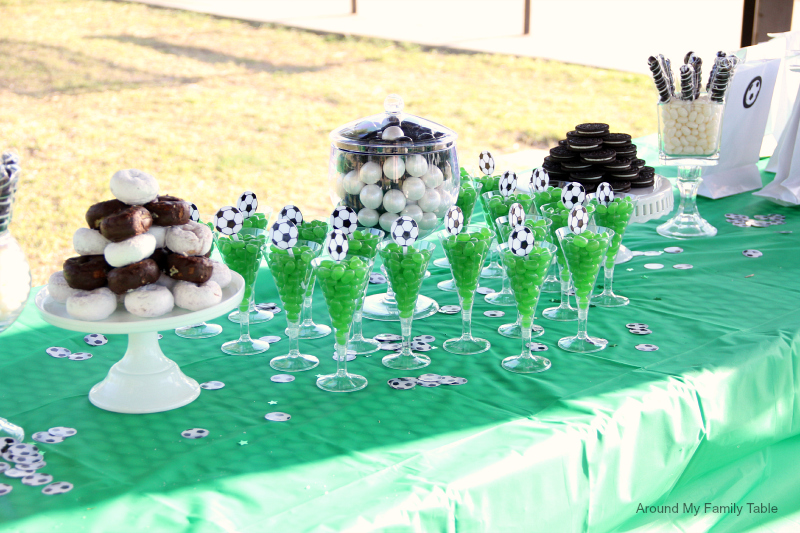 I just loved the way the table turned out. Jars full of black and white candies, platters with mini donuts and also mint oreos. Tons of green jelly beans with cute soccer picks. I filled plastic champagne glasses with green jelly beans (the grass) and added the soccer ball pics for a fun treat.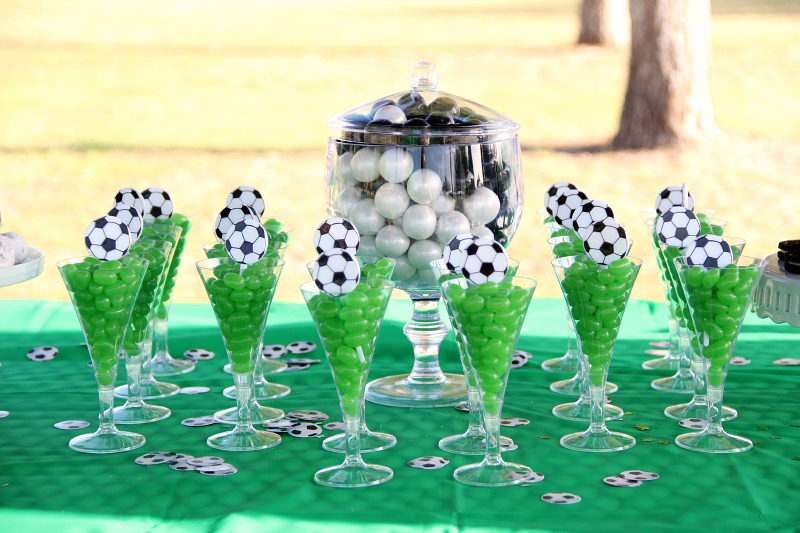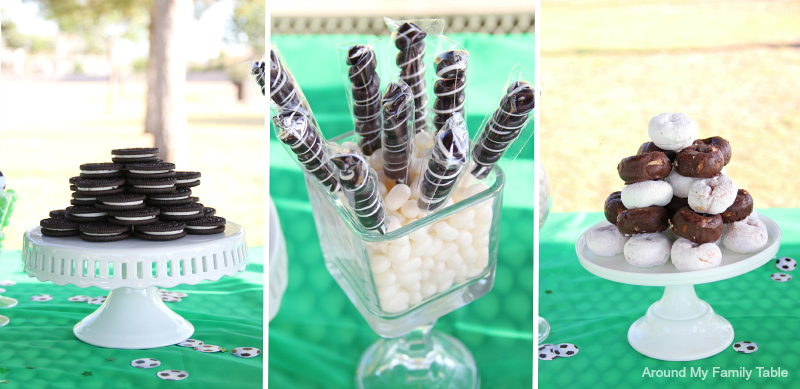 Soccer Party Cupcakes
The soccer party cupcakes were laid out on a board in a rectangle so that they were touching. I frosted the entire thing with green frosting, added the soccer toppers, and piped on the field markings. Cupcakes were perfect for the park because we didn't have to worry about plates or forks and knives.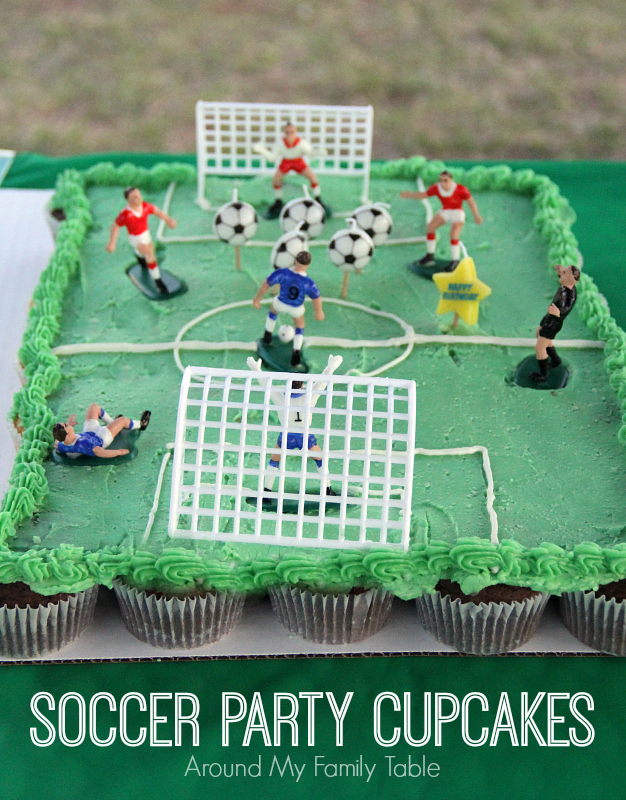 Soccer Party Invitations
I designed this simple soccer field invitation for the party. I had them printed as a photo at the drug store. Here is the one I made (I've censored out my phone number and address), but this was the actually invite sent out.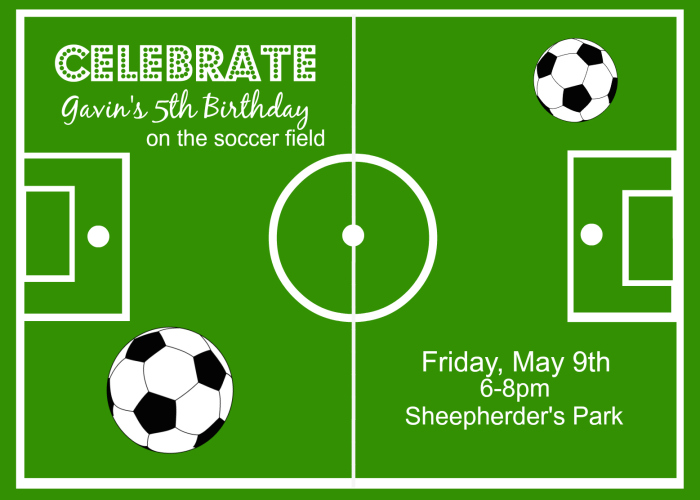 Download a plain version HERE for you to add your own party information to.

Soccer Party Favors
How fun are these goodie bags? Just a simple white paper bag with soccer cutouts. The bags were filled with little soccer balls, candies, pencils, and more. I picked these big bags so they could be used to collect candy from the pinata.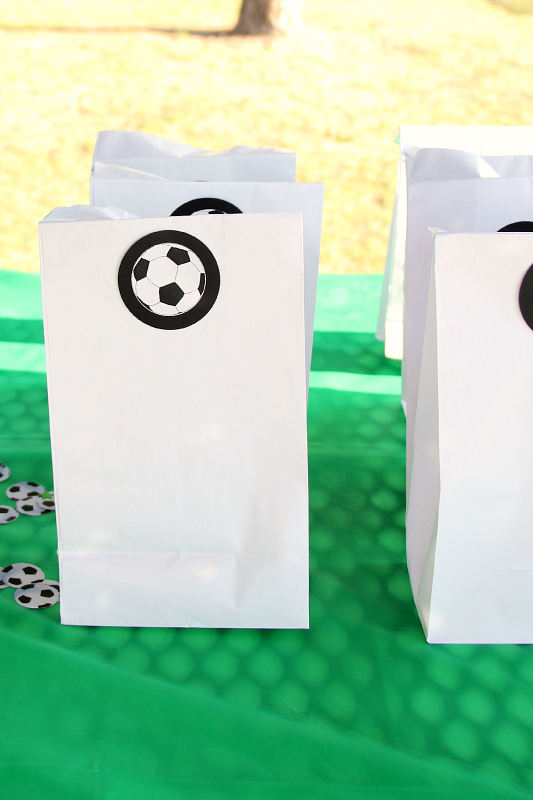 Punch out black cardstock circles with a 2 inch punch. Punch out soccer balls with a 1 inch punch. Glue or tape soccer punches onto the black circles then glue/tape to the bag. Grab a sheet of soccer balls to print out HERE!
Looking to add some party favors to your celebration? Check out my post about Party Favors on a Budget to help you stay focused and save some money when planning your favors.
Soccer Theme Party Supplies
Soccer Cake Toppers
White Paper Bags
Soccer Bouncy Balls
Soccer Candles
Soccer Pencils
Soccer Cupcake Picks (for the Cups of Jelly Beans)
Plastic Champagne Glasses
Green Jelly Beans
White Jelly Beans
2 inch circle punch
1 inch circle punch
Soccer ball lantern
Black Gumballs
White Gumballs
Black/White Suckers
Soccer Confetti
More Soccer Party Supplies