This post may contain affiliate links. Please read my disclosure.
Cinderella is such a classic story and movie that pretty much every generation of my family loves…from my Granny and Grandma-in-Law, to my Mom & Mother-in-law, all the way to my children and their cousins. We are so excited for the new movie to come out next week, so when I was asked to host a DisneySide party for MomSelect I knew I had to have a Cinderella Theme Party.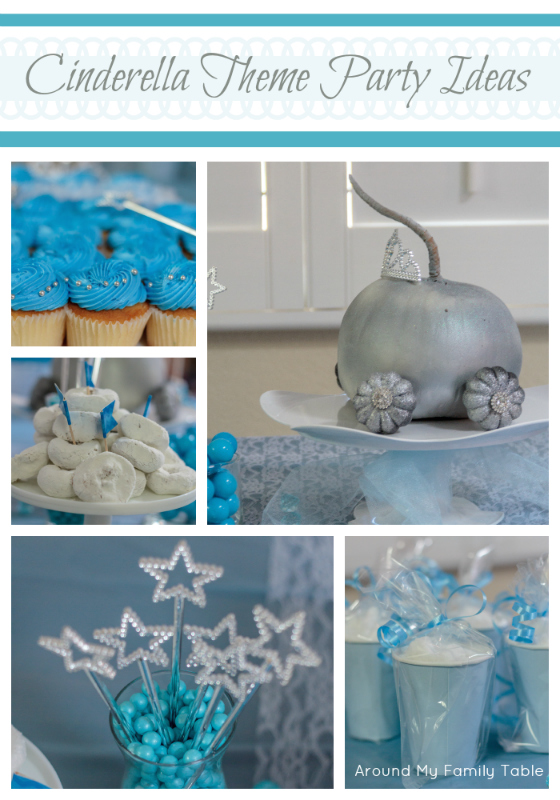 This Cinderella themed party is complete with all sorts of Cinderella party ideas and Cinderella party food too! Make sure you keep reading to check out all the details for the recipes and table ideas and shopping details too. This really could be the ultimate Cinderella birthday party!
Cinderella Party Decorations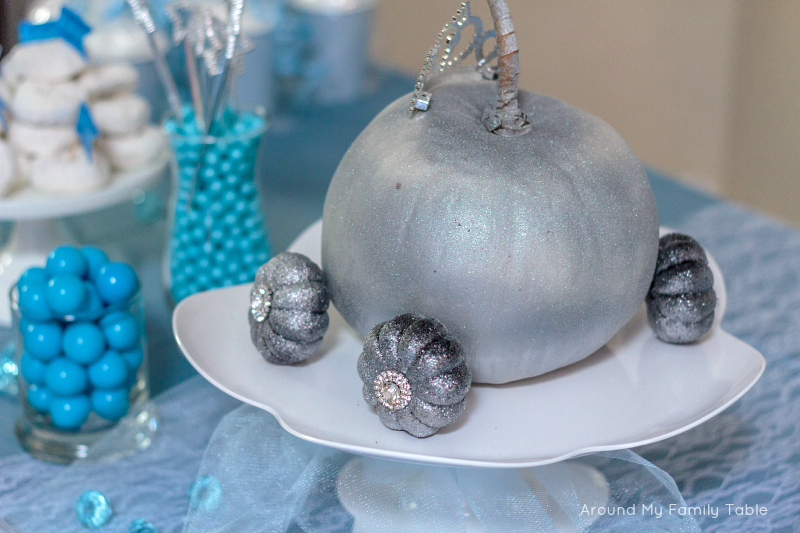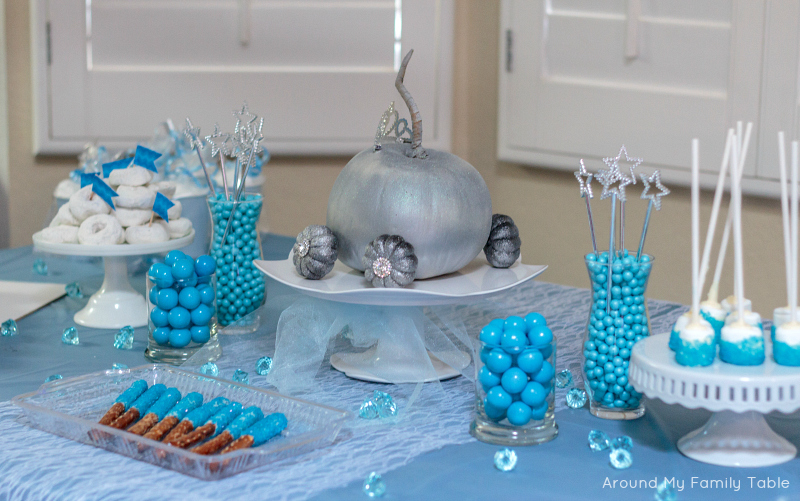 The table is covered with a dollar store blue tablecloth. I picked up a spool of large lace from the craft store (it was about 4 inch wide lace) to create the table runner. Cinderella's pumpkin is a halloween pumpkin spray painted silver. The wheels are mini pumpkins spray painted as well. I picked up some large "diamond" buttons for the center of the wheels and just pushed them in. The crown is a girl's party favor (it had a comb for attaching it in a little girls hair, but I removed it).
I sprinkled blue acrylic jewels all over the table to add a little bling!
Cinderella Party Favors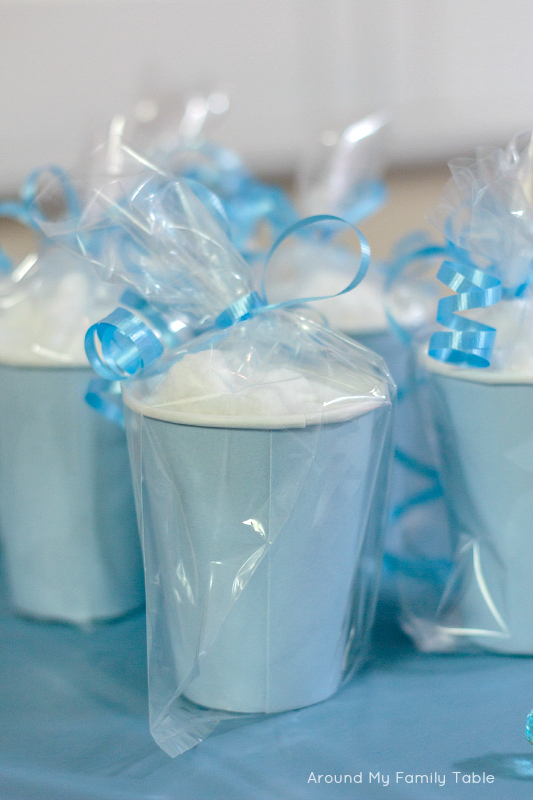 Aren't these so fun? They are just dollar store blue paper cups, clear treat bags, blue curling ribbon, and it's all stuffed with cotton candy! The kids went insane over these!
Cinderella Party Food Ideas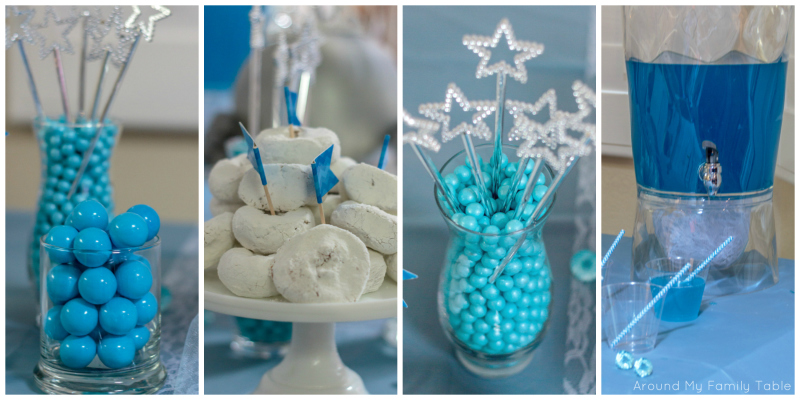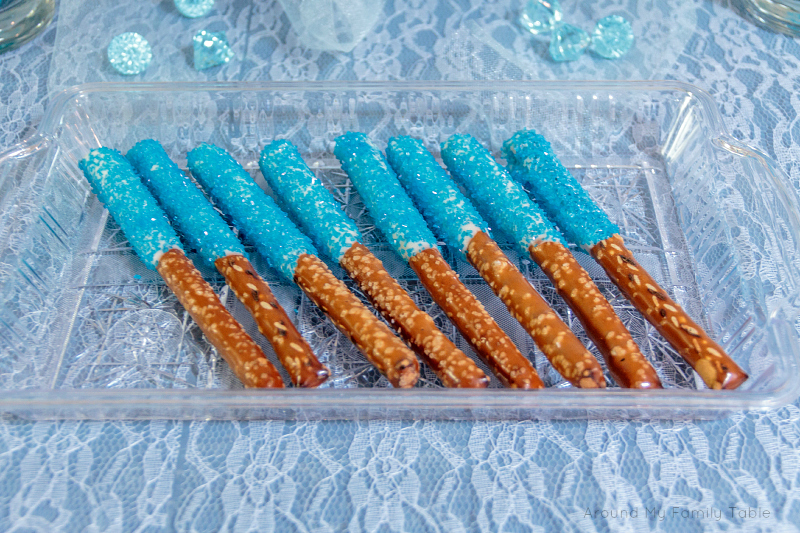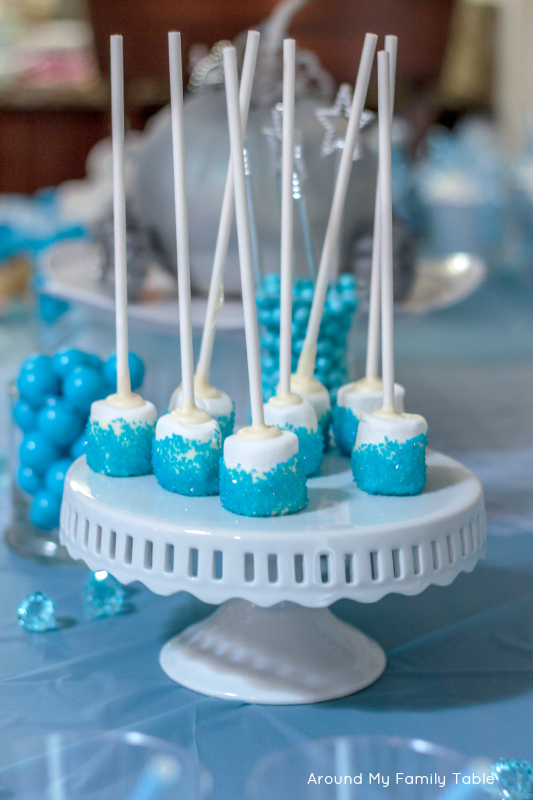 We had magic wands (aka pretzel rods dipped in white chocolate and homemade blue sugar), giant blue gumballs, powdered sugar donuts with blue castle flags, blue sixlets, Princess Marshmallows, and of course Princess Punch.
Check out the details on how to make those cute dipped marshmallows and learn how to make colored sugar in any color you want!
The Princess Punch was so easy and pretty tasty too! It was 2 bottles chilled Sprite and 1 large bottle chilled blue Hawaiian Punch. I poured some of the Hawaiian Punch into a class bowl and frozen it for 24 hours. Then at party time, poured all the sprite and remaining punch into my drink holder. I quickly dipped my frozen juice into a hot water bath and then gently turned it over and placed just the ice block in the punch bowl. This keeps the punch from getting watered down by a bunch of ice cubes….plus the large block of ice will last longer.
Cinderella Party Dress Cupcakes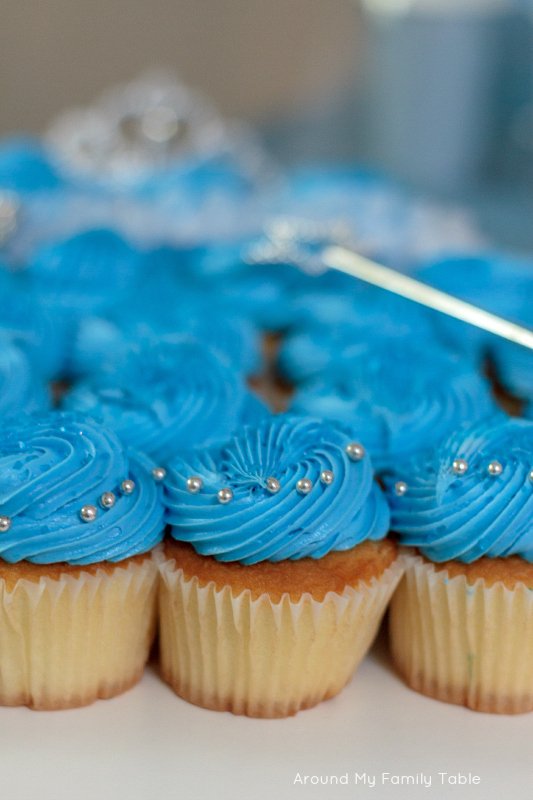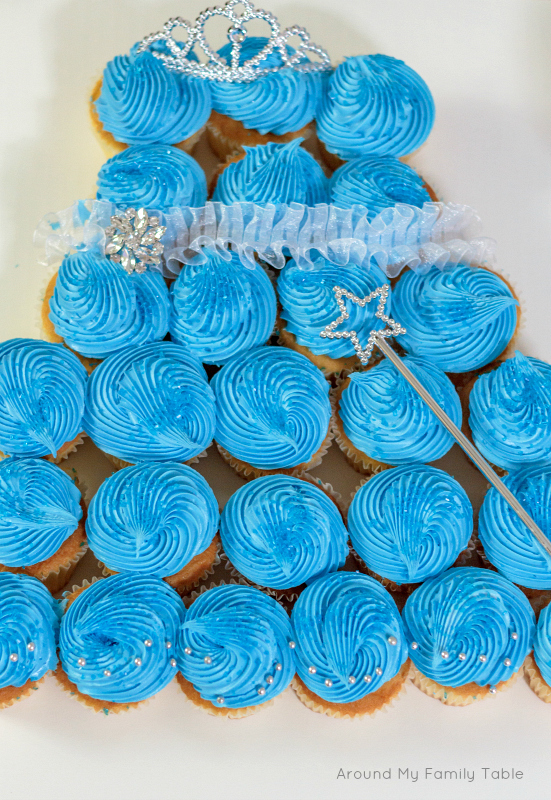 Cupcakes are made using these recipes: White Cupcakes & Almond Buttercream. Use tip 1M, 2A, or 2D with blue gel coloring and silver dragees to get the look. Lay the cupcakes out on a large white board in a dress shape, pressing them close together. Add a wand, ribbon, jewel, and a crown to complete the dress.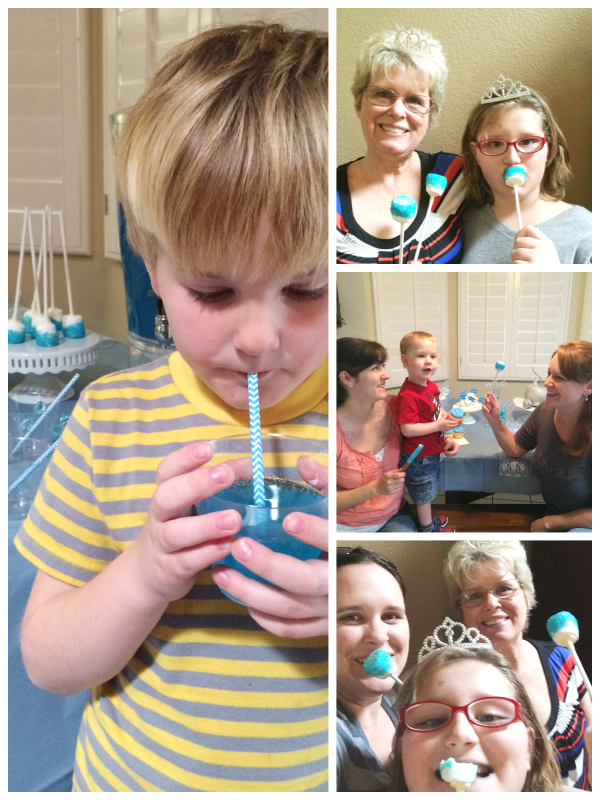 Cinderella Party Supplies
cotton candy
blue flag cupcake toppers (used on the donuts)
blue sixlets
1 inch blue gumballs
silver star princess wands
blue curling ribbon
clear treat bags
crown party favors (for the centerpiece and cupcakes)
silver dragees
Tip 1M, 2A, or 2D
blue gel coloring
blue paper straws
acrylic jewels (on the table for some bling)
This really was such a super cute Cinderella party. Everyone loved it and I know all the generations of Cinderella fans in your family will too!
Looking to add some party favors to your celebration? Check out my post about Party Favors on a Budget to help you stay focused and save some money when planning your favors.
Disclaimer: I was provided a box of goodies from MomSelect for a DisneySide party. And while I didn't end up using any of the items for bulk of my party, I was inspired to have a wonderful party with multiple generations of my family from my kit.