This post may contain affiliate links. Please read my disclosure.
One bite and you'll be hooked…Sonoran Hot Dogs are a delicious bacon wrapped hot dog with a Sonoran-style Mexican influenced selection of toppings.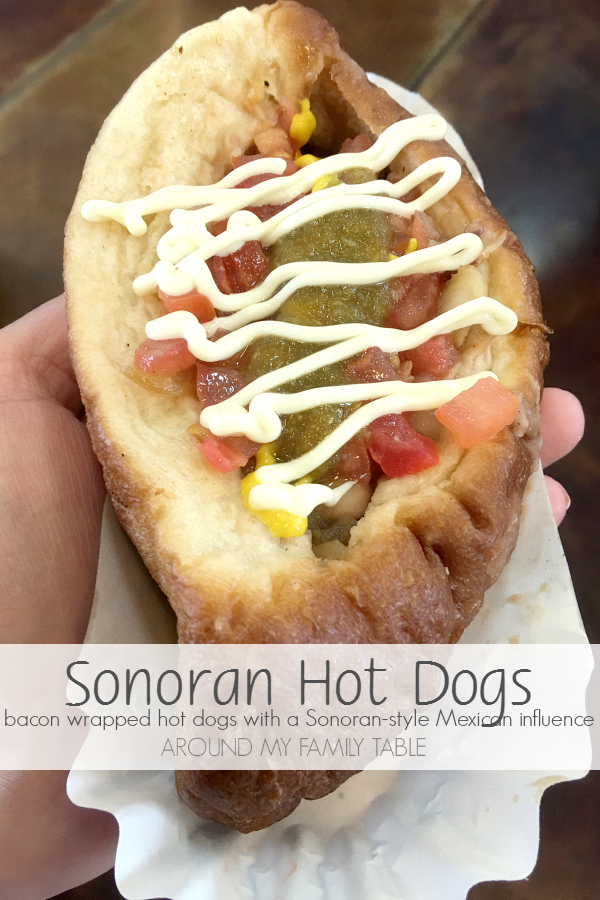 About a year ago, we were watching the Travel Channel's Man vs Food and Adam visited a tiny hole-in-the-wall place, El Guerro Canelo, in Tucson. Their claim to fame–the Sonoran Hot Dog. Hubbyman and I drooled during the entire show and promised each other that we would get one. One problem: it was about 2 hours South of us.
Luckily for me, Hubbyman surprised me with a trip South for our 12th anniversary in May and this was our destination (well, it was part of the trip anyway). Oh, it was so good. So very good! There is a lot going on in this tiny sandwich, but it all works really well together. I've heard it described as a chili dog on steroids!
As you can imagine, I had to try to duplicate these babies since there is no way we can regularly travel 4 hours for a hot dog. Some of the ingredients might be hard to find in different parts of the country…but do your best to find them…it's worth it. If you really are having trouble let me know and I'll help you come up with an alternative.
Sonoran Hot Dogs
1 pkg hot dogs
1 pkg bolillo rolls (or regular buns work too)
1 pkg bacon (2 slices/dog)
1-2 cans pinto beans, heated
onion, jalepeno, tomato (all diced)
mayo, mustard, (ketchup if you must)
jalapeno sauce (or a green chili salsa)
cheese (cotija is authentic, but cheddar or Mex blend work too)
Pan fry the slices of bacon just until it is starting to cook. Wrap 2 slices of bacon around each hot dog, use a toothpick on each end if needed to secure the bacon while it's cooking (don't forget to remove the toothpick before serving). Pan fry until hot dog is warm and bacon is crispy.
Steam or gently warm the buns. Bolillo rolls are very similar to a hot dog bun, but are heartier and hold up nicely with all the toppings. Slit the top and make room for all the goodies.
Put mustard and ketchup on the bun. Then the bacon-wrapped hot dog. Then the beans, onion, tomato, jalapeno, and cheese. Mix the mayo with the jalapeno sauce (start with 1/4 cup mayo with 1 tbls sauce…adjust to your heat preference). Put in a zip top baggie, cut one end, and squeeze over everything. Want to forgo the jalapeno sauce…thin the mayo with a bit of lemon juice or water.